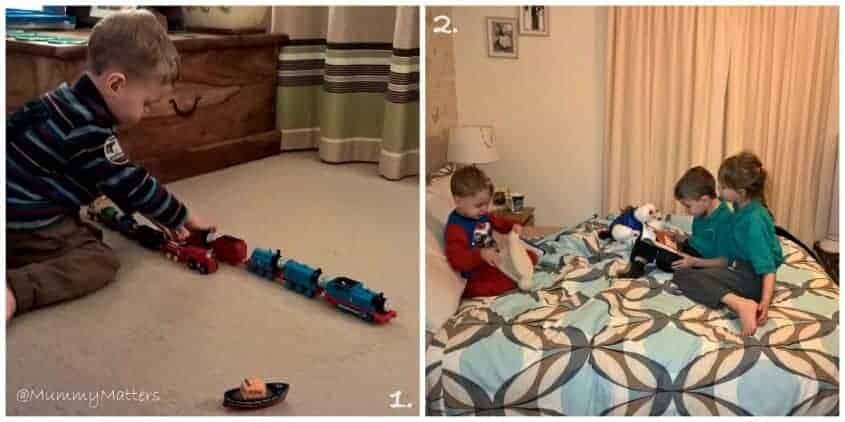 Project 366 – Week 2
Ok so I'm a day late in posting this but at least I have remembered to post. Yesterday wasn't a great day for me so please do forgive my tardiness.
Getting back to last week, all in all it wasn't a bad week really. The weather was pretty rubbish but then again, it is Winter!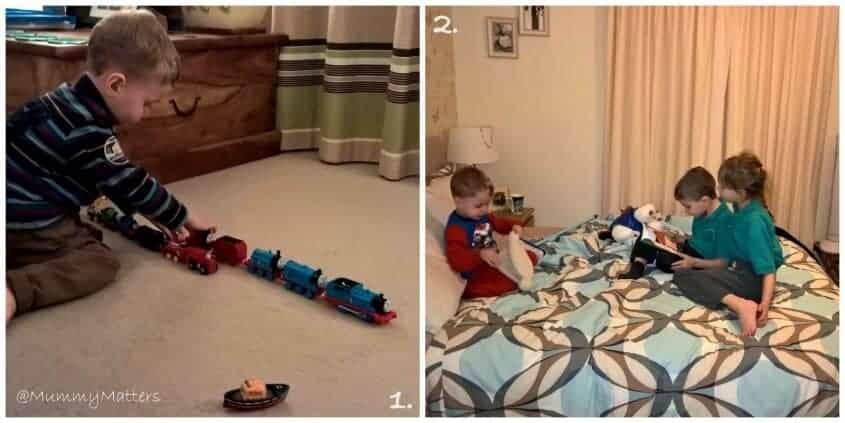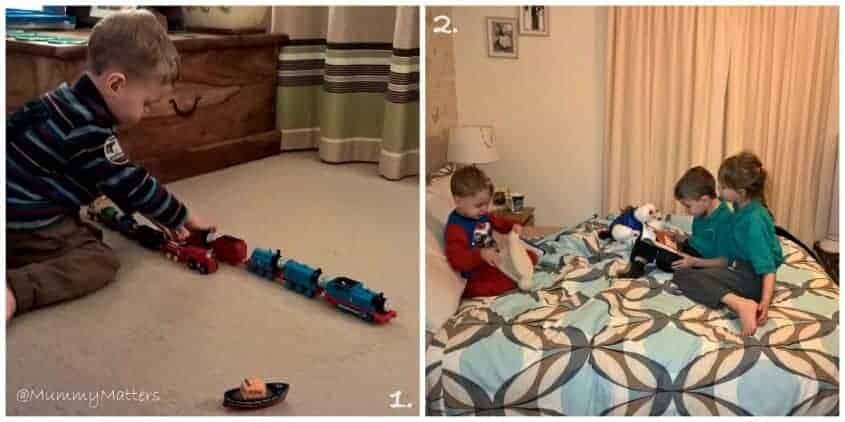 On Sunday evening we enjoyed a relaxing #familyfilmnight to end our week. As usual this meant Daddy fell asleep on the floor whilst the Beans and I watched the film. Jelly Bean became distracted by his Thomas trains on the floor towards the end of the film. He always makes me giggle when he links them all up together in one big long line. Thomas is definitely his favourite at the moment.
On Monday morning when I stepped out of the shower in the en-suite I heard voices in my bedroom and peeked out to see my little tribe sitting on my bed with Little Bean reading a story to the boys. It's moments like these I that will treasure. Whilst the Beans were at school I began my new exercise regime for 2016 (at last) and began with three sessions of Davina's 7 DVD. I wonder how long I will be able to keep it going this year?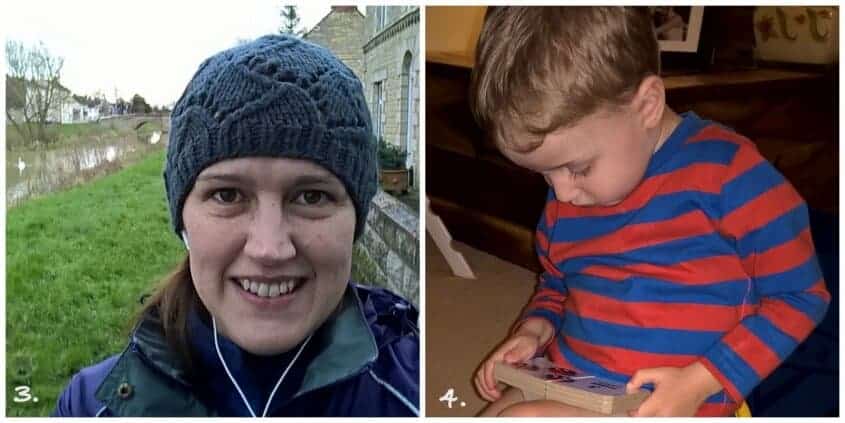 Tuesday morning I woke up determined to get my exercise done without excuses so I popped on my gym gear before the School run and once all the Beans had been dropped at school I set out (in the rain) for a brisk and very chilly walk. I didn't have a route in my mind I just decided to walk wherever the roads took me. Upon my return I was delighted to note on the iPod that I had walked a little over three miles!!
After Jelly Bean's #problemswithpoop last week I was bowled over on Thursday when he asked me if he could sit on his potty. He sat for about 5 minutes reading a book and then announced "I think I have done a poop . . . oh year I have, and a wee wee!". To say that I was delighted was an understatement, so proud of my little man. We are a long way from nailing this but we WILL!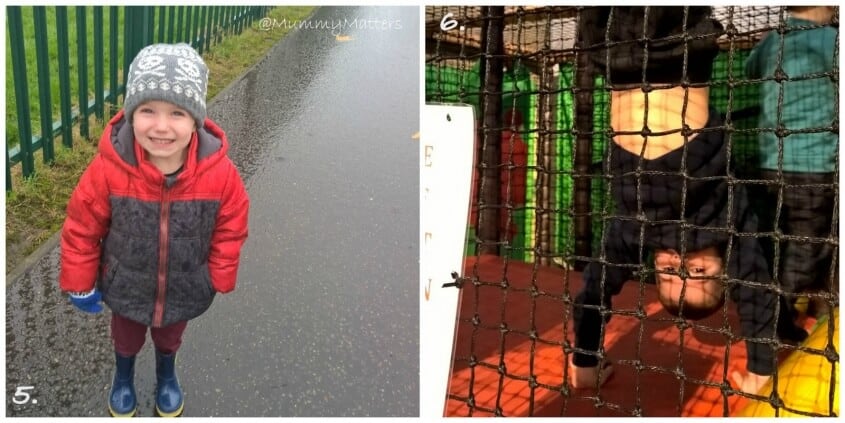 This smiling little face on Thursday was the result of a little boy noticing the heavy snowfall as we left preschool. Sadly for him it didn't last but I'm sure that's not the only snow we will be seeing in 2016.
This week we started a new routine after school on a Friday which will see us collect my Mum from work every other week and then go back to hers so that the children can have tea at Nanna's house on a Friday. Whilst we were waiting for Nanna to finish work we popped to a soft play so the Beans could let off some steam and I could enjoy an Amaretto Latte!! Lucky me!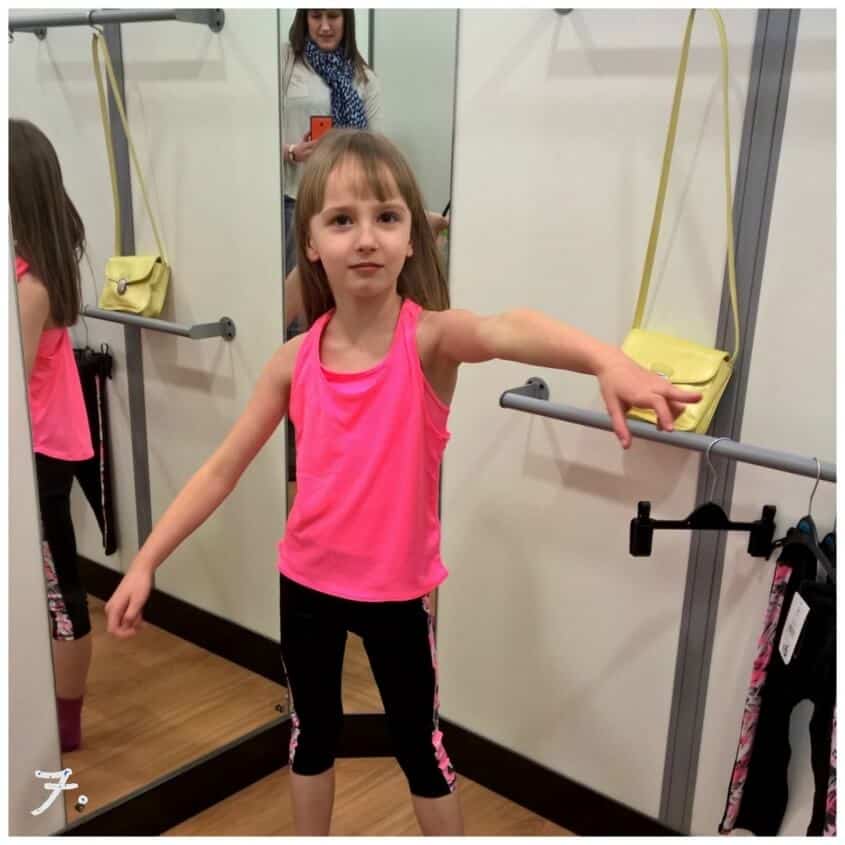 Now that Little Bean is a little bit bigger I have started taking her to the hairdressers with me more regularly for a haircut and so we have decided that on our Saturday's when we go to the hairdressers we are going to take the rest of the day for a 'girly day' together. This week she has been inspired by my dedication to exercising and has asked if we can start doing Yoga together again in a morning and so we found her a special 'Yoga Kit' so that she too can look the part when we are doing our 'thang'. We had a really lovely day together, we also ran into my Mum whilst we were out so that made our day even nicer with a visit to Costa for warming drink and a cake (I did run three times in the week) as well as a little bit of retail therapy. Good times!!
Have you started any new fitness regimes for 2016? How are you getting on?