Yellow Moon have crafting and fundraising covered!
The first time I heard of Yellow Moon was when I picked up one of their catalogues at Little Bean's preschool. I have always been big on doing crafts myself and so I'm keen to let my children do as much (or as little as they would like too). Luckily they all seem to really love doing it so I now have a rather large crafting cupboard that we raid every now and then to see what we can make. Sometimes it's just painting, sometimes drawing, although Little Bean's current favourites and cutting and sticking. I won't lie, I do get quite nervous when the scissors and glue come out but if I don't let her experiment under my supervision she will never get better at it and she may even attempt to do it on her own which could be a disaster.
But getting back to Yellow Moon, they are catalogue which sells all kinds of arts and crafts materials at seriously low prices and when you buy them through your local school, group or charity they receive up to 20% of the money from your purchases to help with their fund-raising so it's a winner all round and orders over £30 qualify for free delivery to any UK mainland address.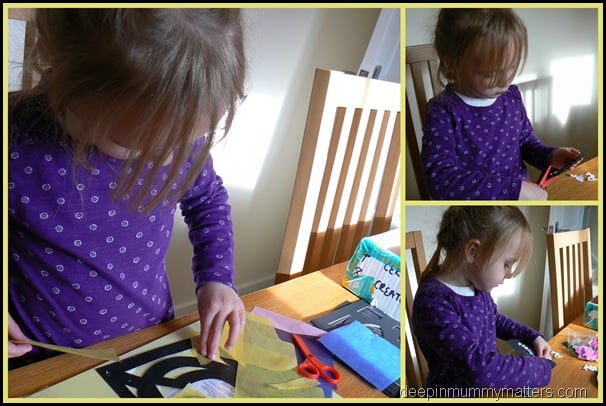 We have been sent a box of craft supplies for the Easter period and had loads of fun this week making various bits and pieces. I think it's really important to let your children just do as they see best with their crafting, they need to be able to expand their own imagination and create things which they enjoy doing, yet as a parent it can be really hard to sit back and say "why don't you do it like this" or "let's stick that there". I'm always pleasantly surprised by the pieces that Little Bean turns out and she always has a specific reason for doing what she has done, it's quite heart-warming to watch . . .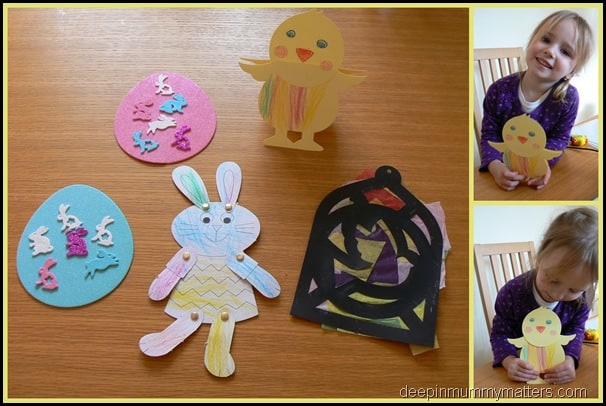 These were the results of Little Bean's creations (I do hold my hands up, Little Bean asked me to draw the chick's face but that was the total sum of my involvement) I think she did very well. She has said that she is going to make more of the glittery foam eggs so that we can hang them up in the playroom to make it look pretty for Easter. She has asked if we can do more this weekend when 'Bro' is here so guess what we'll be doing tomorrow!