My Citroen DS5 5 Star Experience: Day 2 – The Car
After a pretty good night's sleep (I don't sleep well in hotels), we woke up bright and breezy around 7.30 am, and then the nerves kicked in. Today I would be driving a left-hand drive car on the right side of the road, and I had never done this before. What on earth was I thinking! And worse still, I had agreed that I would be happy to go in front of a camera crew to talk about it. As I have told people before, I'm not actually a confident person; I just put on a confident front whilst inside I'm cringing. I always worry about what people think of me, and I pretty much always imagine that they think I'm a numpty, so my head and tummy were doing all kinds of somersaults and tumbles.
Citroen DS5 5 Star Experience
Breakfast was scrummy; I filled up on yummy cheesy omelettes and coffee. I was told that I would be first up to see my car for the first time and film my reactions. Yippee! NOT!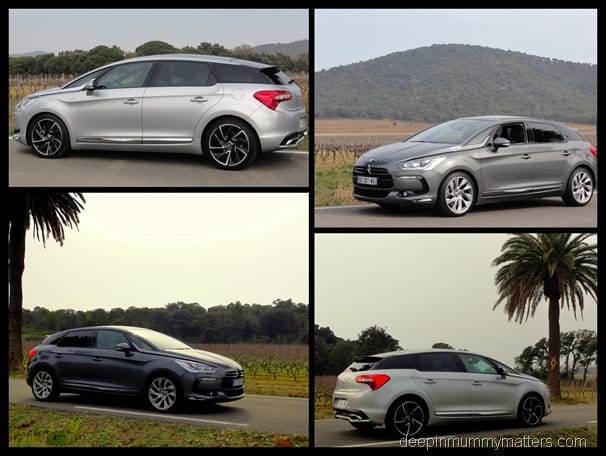 Short fashion interlude here: when planning my wardrobe for the trip I (as usual) completely forgot about what the weather would be like, and whether or not I would need a jacket so, in my foolishness wisdom, I packed a pair of trousers which looked good with my outfit until I added my jacket. Then I looked like a fashion DISASTER and should not have been allowed anywhere near the car, let alone on camera with the car! Shortly after filming the initial reaction, I ran up to my room and made the sensible decision to change into jeans – phew!
First Impressions
As I walked down the front steps of The Kube, I was faced with 5 gorgeous Citroen DS5's. Two silver, three greys, one press of my key told me that I was driving a sport silver number with a gorgeous red leather watch strap interior. The car is so deceiving from a distance, as you walk towards it you think it looks quite small, but then when you are upon it, you realise just how big it is. Its face resembles a sharks mouth, big and fierce, yet it has sleek, smooth lines which give it a real sporty feel.
The whole feel of the car is quite masculine, yet as a female, I was totally not put off by this; I could quite happily see myself driving this as 'Mummy's Taxi'. The wheels were 19" of solid beauty (or at least they were until I perhaps scuffed them slightly on a curb – whoops!). I particularly liked the lights on the tailgate, which are concave; they look really cool and stylish. The blacked-out windows from the B-pillar back make the car look truly sleek and beautiful.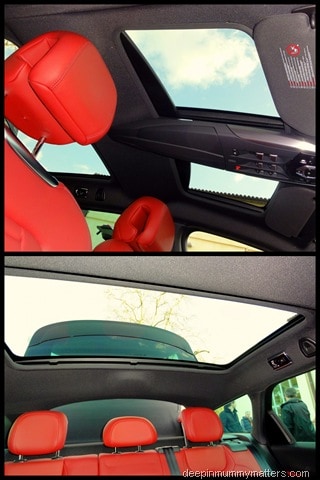 Upon opening the door, the red leather interior looked stunning, and although normally I wouldn't say I like black headlining, the car felt surprisingly airy. This was down to the dual sunroofs above the driver and passenger's heads and the full-width glass roof above the rear seats. The dash and centre console have been designed around that of the cockpit in an airplane. When the door is closed, you feel like you are part of the car, yet you still have space around you. I guess the feeling would be best described as safe, cocooned, yet not claustrophobic.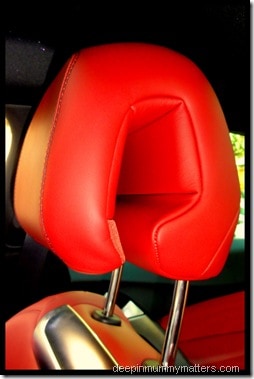 The seats were ultra-comfortable with extending leg-rests (a must for someone with legs as long as mine!) and lumbar support; the seats were easily adjusted via the electric controls and were programmable to revert the seat to my preferences at the touch of a button. I LOVED the headrests; they looked so modern and different from others that I have seen.
The central console stood out with the shiny chrome, black and buttons, chunky gearstick and gaiter. The steering wheel with its flat bottom gave it a sporty look while giving space for the driver's legs.
Sitting in the back seats, it was easy to see that there would be plenty of room for three people or, in our case, two children in car seats and one older child. Safety is always an important aspect of Citroen cars, so there are three 3-point safety belts across the rear seat.
The whole car felt like an explosion for the senses, the look, the sound of the engine when it started up, the smell of the leather, the feel of the controls and the taste for adventure that was about to begin . . .