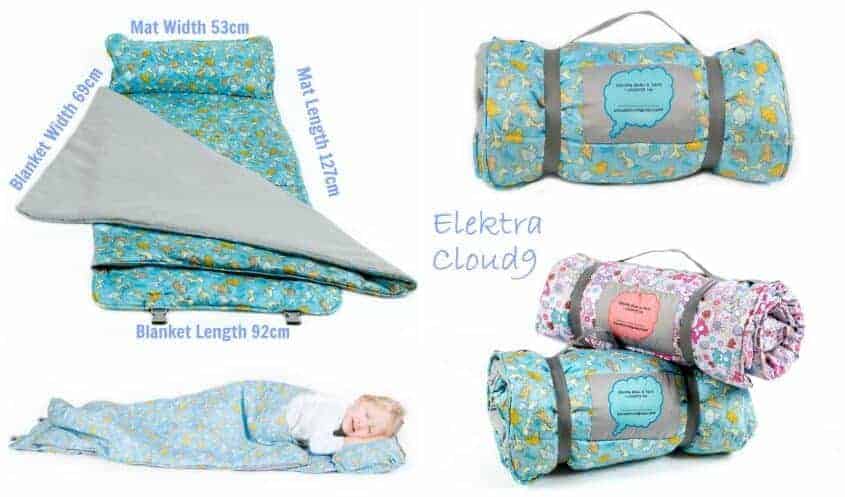 Sleep like a baby – Elektra Cloud9 Nap Mat Review plus Giveaway!
When Little Bean was a baby I remember having the discussion with other Mums about where their children would nap during the daytime. From about 6 weeks old all of my Beans had their daytime naps upstairs in their cots so that they weren't disturbed and I have to say I have been lucky since all of mine generally had naps of up to 3 hours at a time and would still sleep at night too. Little Bean would have two, two hour naps every day and she slept through the night 7pm to 7am from 8 weeks old. Many of my friends would simply lay a mat on the floor for their child to sleep on with the reasoning that if their child could sleep there, they could pretty much sleep anywhere and at times I did envy them this because mine would only really sleep in their own beds.
Still I carried on the same way with the boys as I had with Little Bean since we spend the majority of our time at home during the afternoons when they sleep anyway. This does mean that we can struggle to get them off to sleep when we are away for a weekend, on holiday or visiting friends.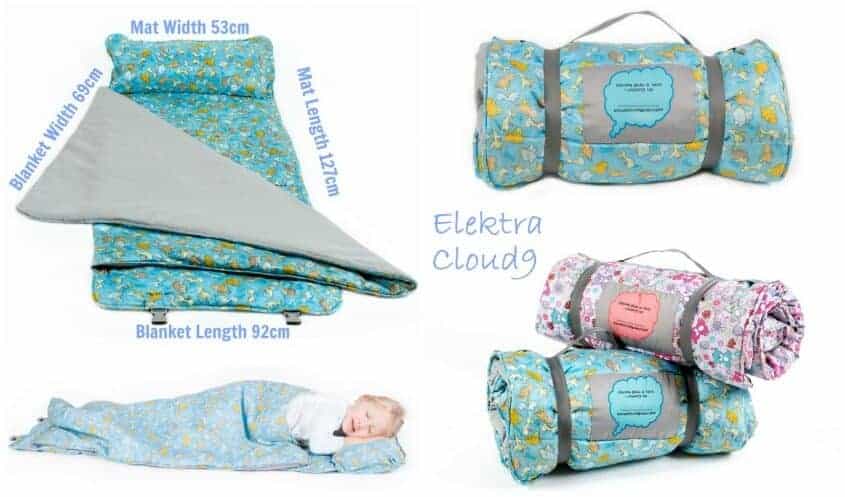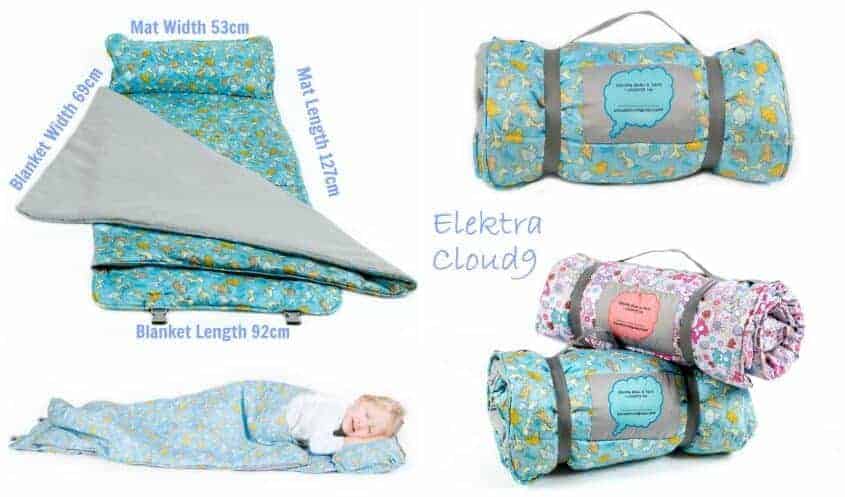 Before Christmas I was introduced to a product designed by Mum of two, Jessica Glover who has spent the last year working full time as well as running her own business to design a time-saving product for Mums with children in daycare or having sleepovers.
The Elektra Cloud9 Daycare/Travel Nap Mat is a 3-in-1 sleeping unit featuring a comfy mat, luxurious hotel-grade removable pillow and a soft blanket in a handy roll up pack. Once rolled up you simply click the plastic buckles closed and carry it using the simple carry handle. Elektra Bub offers a choice of two colours; pink teddy bears and blue dinosaurs in a quality polyester fabric which is both durable and stain resistant and the cotton fabric inner is soft against the child's skin for comfort and snugability!! The whole thing is machine washable and toddler tested.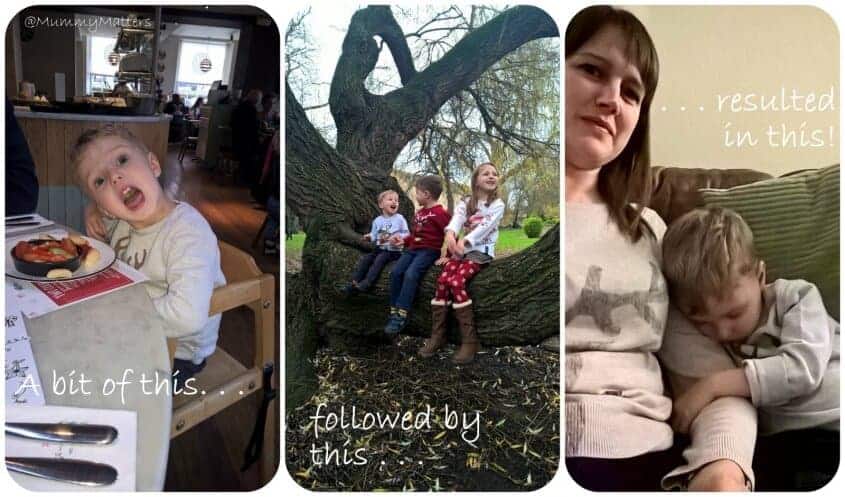 In the week leading up to Christmas the Blue Dinosaur Cloud9 arrived for Jelly Bean to put through it's paces. Little did I know that an opportunity to test it would lend itself so quickly. On the first day of the Bean's Christmas holidays from school I had suggested to Daddy that we meet him for lunch at Pizza Express in Stamford to get into the festive spirit. This would mean that Jelly Bean could potentially miss his daytime nap but since there were no time constraints to our days now I decided we could relax our routine a little.
Surprisingly he didn't fall asleep on the journey home and so we made the decision to snuggle up in front of a DVD. As usual Jelly Bean commanded the seat next to Mummy on the sofa and within 5 minutes of the film starting I realised his head felt extra-heavy against my arm and I knew he had fallen asleep. Little Bean suggested I try out the Elektra Cloud9 so she popped into the hallway to retrieve it from where it had been delivered in the morning. She quickly unclipped the buckles, rolled it out onto the mat in front of us and opened up the blanket so that I could lay Jelly Bean down. He slept that way for the majority of the DVD and looked very comfortable.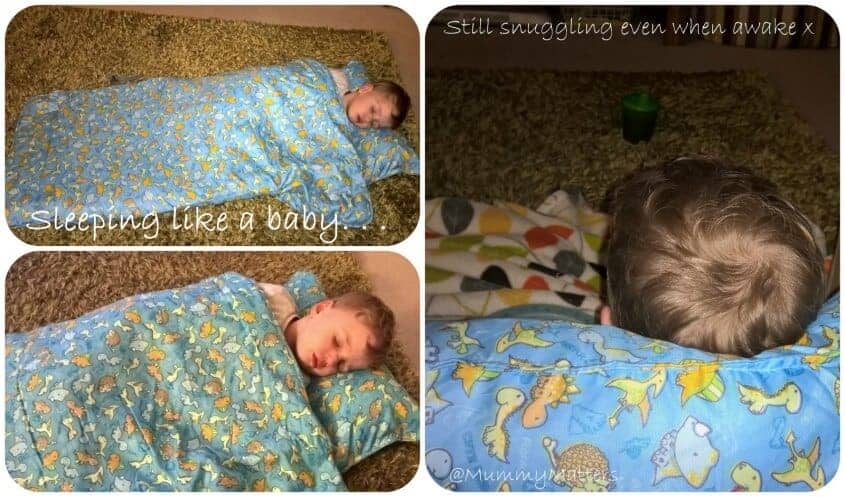 Personally, I don't think I would be able to sleep on such a mat on the floor but children are different. Curly (at the age of 14) will STILL fall out of bed and continue to sleep on the floor for the rest of the night thinking nothing of it, perhaps that's the boy scout in him. I could definitely see the Elektra Cloud9 being a useful nap mat for children in daycare as the pillow will not disappear whilst they sleep and the blanket will stay in place. Once rolled up the Elektra Cloud9 takes up minimal space and even came away with us when we visited my sister. Jelly Bean used it has his sleeping bag on top of an airbed and slept through the night without any problems.
If you would like the chance to get an Elektra Cloud9 for your little one then fear not, I have one to offer to one Mummy Matters reader in a colour of your choice. Just complete the Gleam application below. Good luck and thanks for entering!!
DISCLAIMER: We were sent an Elektra Cloud9 for the purpose of this post. All words, images and opinions are my own and may not be copied without my permission. I have not been instructed what to write.