Enjoy the outdoor life for longer with Heat Holders for Kids
As a family we love nothing more than to get outdoors walking, exploring, scooting and geocaching but this recent drop in temperatures has been a pretty tough one to weather when you have small children. I always remember as a child that I hated wellington boots because they were always so cold. I was NOT the child who loved to be outdoors in the snow, I preferred to be sat indoors next to the fire keeping warm.
My Beans are not like me as a child, they are more like me as an adult in that they love to be outdoors provided they are wearing the right clothing. Thankfully we all have lovely warm coats and over time have tried and tested many different types of hats, gloves and scarves but the one thing which will guarantee our time outdoors is cut short is cold toes!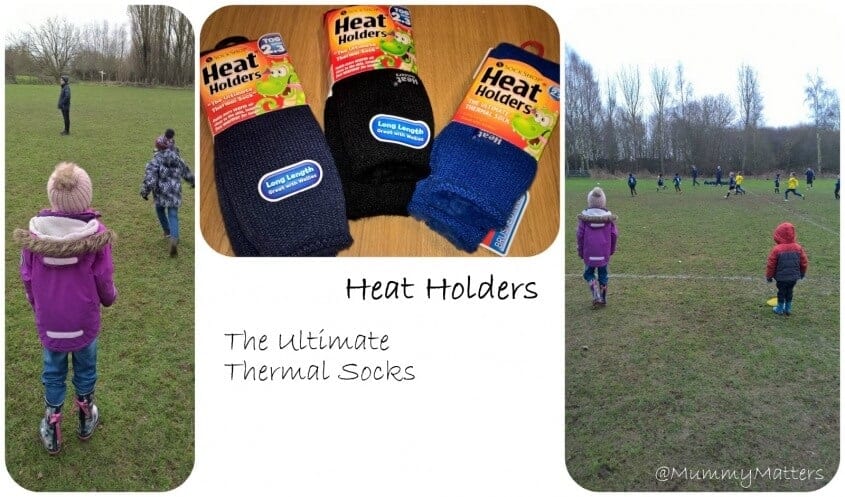 That was until last week when a parcel arrived that had the Beans jumping for joy. Yes really!! The Beans were actually excited when we opened a parcel which contained socks!!!! These are no ordinary socks though, they are Heat Holders socks and they are seriously thick and fluffy.
Heat Holders have a Tog rating of 2.34 which is over 7 x warmer than a basic cotton sock. The secret to their superior warmth lies in their 3 stage warmth technology;
Heat Holders Yarn – The specially developed thermal yarn provides high performance insulation against cold with superior moisture breathing abilities.
Heat  Holders Loops – Innovative knitting technology produces unique, extra long looped cushion pile to hold in more warm air and increasing the Tog rating.
Heat Holders Brushing – Their expert brushing process maximises the amount of warm air held inside each sock for total warmth and all-day comfort.
We put them to the test on Sunday when we went to watch a friend in a football match. As you would expect of a Sunday morning in January, it was freezing, the puddles in the car parks were frozen over and we'd had to de-ice the car windows before setting off. It was a good morning for putting Heat Holders to the test.
The Beans all commented that their Heat Holders socks felt really soft and warm against their skin and made the Wellington boots even more comfortable because they felt 'squishy' under their feet. Obviously watching football didn't last all day but the Beans certainly didn't complain of having cold feet so we shall be looking forward to testing them out again the next time we head out for a family adventure.
DISCLAIMER: We were sent the Heat Holders socks for the purpose of this post. All words and images are my own and may not be copied without my permission. I have not been instructed what to write.