Why getting the slumber you always wanted is only a sleep mask away
Today I have invited a guest post from an old friend who used the first lockdown to create a business after years in the travel industry. My daughter uses sleep masks every day and can't sleep without them but finding the right mask wasn't as easy as I expected so I'm going to hand you over to Mark.
Waking up feeling refreshed after a restful night's sleep is what we all strive for. However, it can be difficult to accomplish at times. Could it simply be a case of finding a good sleep mask to achieve this?
Why sleep is important
Sleep affects how we look, feel and perform in our daily lives. Teenagers especially, they need at least 8 hours a night of uninterrupted sleep to get their bodies and minds rejuvenated for the next day.
Fatigue from poor sleep negatively impacts a host of factors including your mood, stress levels, effectiveness at work, weight maintenance and memory. It's hard to feel happy when you're exhausted and ground down.
When lack of sleep becomes a problem
This washed-out feeling you get from a lack of restful sleep was consistently problematic for me in the past, particularly on work trips. I struggled to sleep in hotel rooms, could never doze off on train journeys, getting any meaningful shut-eye on flights was impossible, and even back at home, I'd spend long hours tossing and turning in bed, trying desperately to drift off.
I never really understood why my body wrestled with such a basic activity. That was until a colleague gifted me a proper sleep mask after hearing my tales of sleep troubles, this changed my night times forever. This wasn't the thin, flimsy eye covering that airlines give away, but a lovely, soft, snug-fitting, memory foam type mask that blocked out quite literally all the light. I found I was off to sleep in no time.
Why sleep masks help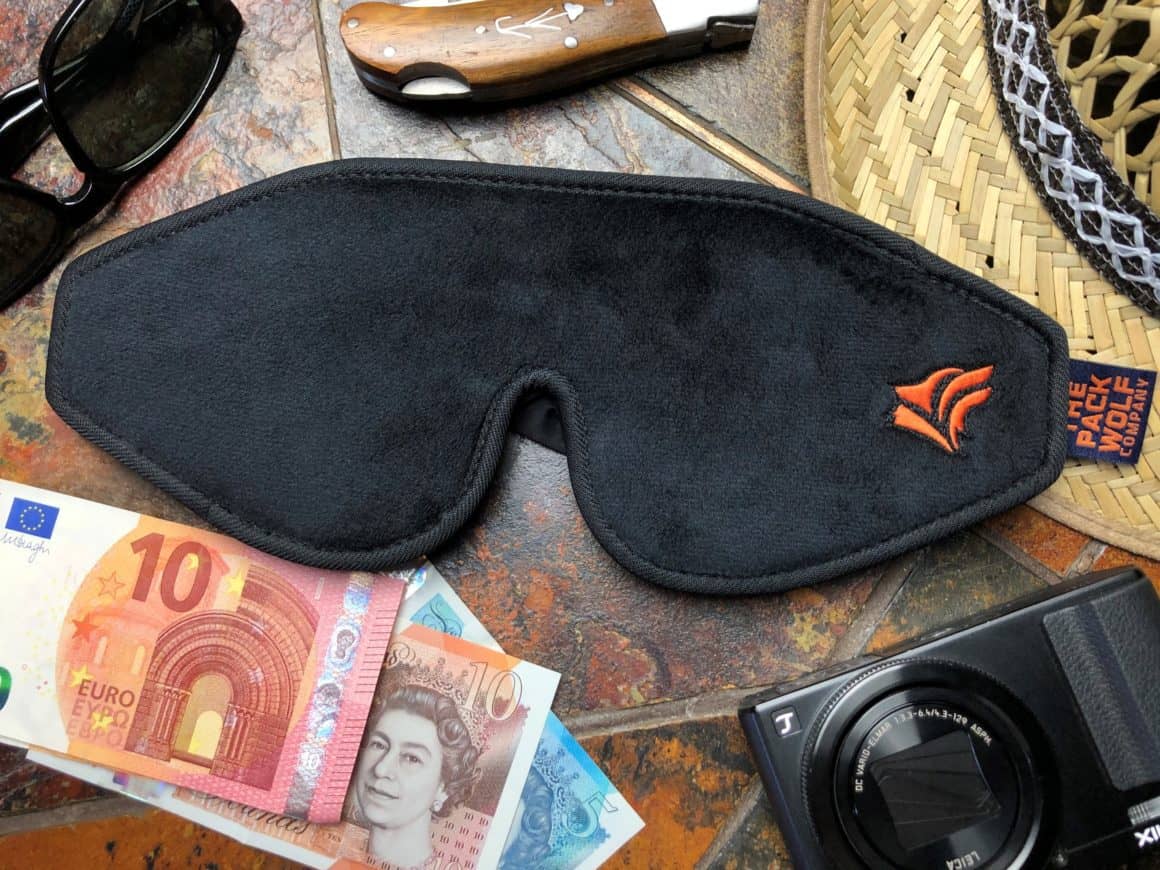 This is because complete darkness boosts your body's melatonin level (the sleep-inducing hormone) which will send you to sleep much quicker than if you weren't wearing a sleep mask.
For example, if you're normally early to bed but become exposed to light, you're not going to fall asleep at your normal time and could miss out on the benefits of sleeping early.
Blue light – that's the light from bedside alarm clocks, the glare from smartphones and glow from our televisions – is known to be a major disruptor to your body secreting the right levels of melatonin to feel sleepy, so it's important to ensure your sleep mask gives you 100% blackout.
A bit about me – Mark
I spent 25 years in the travel industry before I started The Pack Wolf Company in 2020. I travelled widely while working for some great companies around the world and during this time I've bought and used a ton of different gear on all my trips.
I've taken my lifetime of experience using all those bags, gadgets, cases, tech, apparel, pillows, packs and tools I've accumulated over the years to re-look at all my favourites but this time through a day-to-day-use lens. The focus then is to produce a quality Pack Wolf version of each one that will look after you in your everyday life too.
The base point for any good travel product is that it solves a problem, so we started off looking at sleep – a super important part of everyone's wellbeing yet all too often undervalued. It's also a subject close to my heart, so countless hours of research went into developing The Pack Wolf Company sleep mask which was launched in November.
The Pack Wolf Company Contoured Sleep Mask
We created a 3D ergonomic design sleep mask that uses slow-rebound memory foam to offer a snug fit on the face. Clever shaping of lines and curves assures a superbly comfortable fit for all face types and 100% light blackout, whilst the silky soft fabric feels lightweight and breathable.
The deep 1.0cm zero-pressure eye pockets are kind to eyelashes and won't smudge eye makeup. Additionally, the padded contoured wings cocoon the nose providing a comfortable fit and an adjustable headband strap will fit hat sizes from S through to XXL.
To keep your sleep mask clean & fresh both at home or when travelling, we've provided a lightweight, smart and sturdy drawstring pouch for storage. A pair of soft foam earplugs are included to complete the kit.