Camping with a 15-month-old in September? Mad???
We have always been keen campers (in a tent, not a caravan) and have enjoyed lots of holidays relaxing in the sunshine, wind and rain. Since Baby Bean has joined our family I've kind of lost the enthusiasm for it. We "camp" in luxury in a 9 berth tent so there's plenty of space but I'm just not sure about what Baby Bean should sleep in?
What bedding do you use for a baby?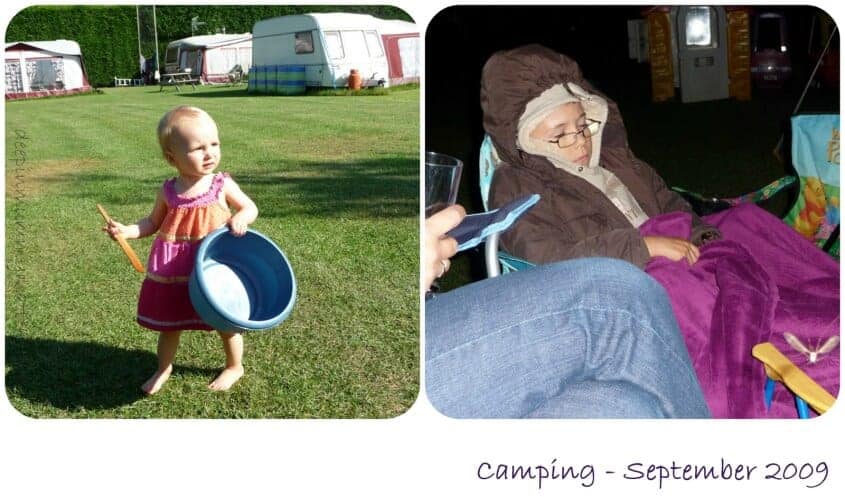 She's not really big enough to sleep in a ready bed so we're having to take her travel cot – no problem there but what should she sleep in? It's not exactly "tropical" at night and you can't monitor the temperature in a tent or turn the heating up a bit if it's too cold!
Too hot?
I'm going for PJ's, fleecy sleepsuit and grow bag then perhaps a baby blanket over the top? Then my next panic begins – "what if she's too hot!". Why on earth did we think camping at this time of year was a good idea? So that's the sleeping arrangements!
Do I take a playpen?
Now, the next thing to panic about is how do we contain her? Baby Bean loves big open spaces as there's so much to explore and boy does she explore. There are going to be other children there but I can guarantee that she will be wanting to run away as fast as her little legs will carry her! Something tells me this won't come into the bracket of "relaxing holiday".
Fussy eater goes camping
And finally, food and milk?? As this is only my second entry on my blog I haven't gone so far as to tell you how awkward Baby Bean is when it comes to eating and drinking! That will be for another day but just so you know, she's not a fan of food or drink! Hence she is still quite tiny.
Heating milk with no EHU?
The food and milk that she does have to be at just the right temperature and to my knowledge there aren't microwaves yet designed to work off batteries (we don't have electric hook up!!). Going to be boiling the kettle often me thinks!
Oh well, wish me luck!!