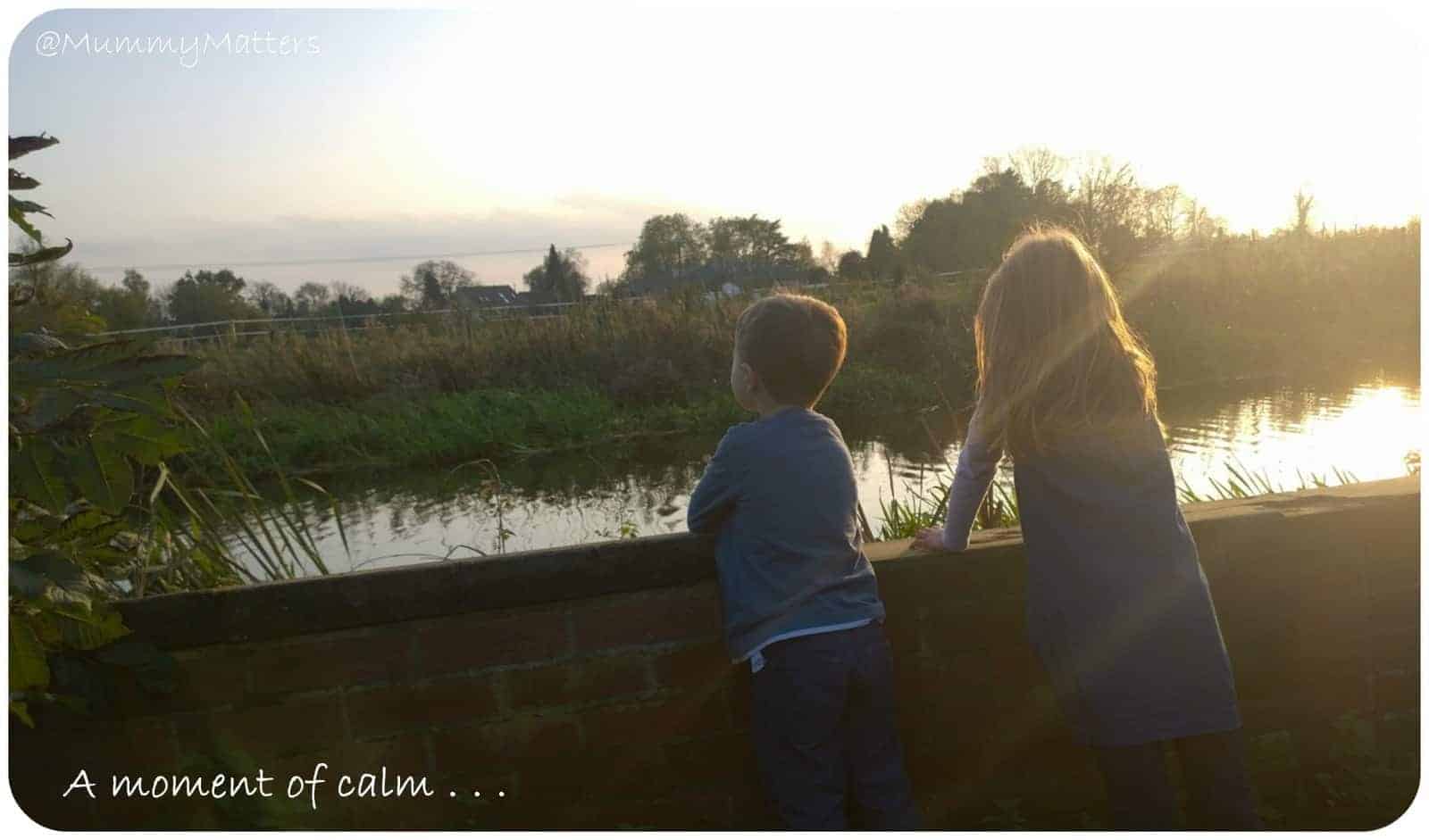 Thank goodness half term is over!
I am never normally one to be thankful for the Bean's returning to school *dashes off to check previous posts* because I look forward to the school holidays and getting my Beans back, planning fun things to do and spending lots of quality time together so this half term holiday was no different. My Mum had booked Friday and Monday off to spend with the Beans and me, Tuesday they were booked into Out of School Club, Wednesday we had friends coming to play and Friday we had our friends visiting for the day from Skegness with a plan to head into Peterborough to go to Wizarding School at Peterborough Museum. Nothing too daunting about any of that was there?
Well Friday and Monday didn't get off to a good start as you might have already read. Tuesday, on the whole, was a pretty quiet day as I caught up with work whilst Jelly Bean slept and the Beans were at OOSC. It did start rather earlier than we had anticipated with them all waking up for the day at 4am!!!! As I dropped them at OOSC I said to LB "please look out for BB today as he won't know anyone here". She responded with a shrug of the shoulders and a scowl on her face and said "so". I reminded her that she was his big sister and it would be nice if she was there to look out for him, not necessarily meaning she had to play with him all day. Her response? "It's hard being a big sister".
When I collected them, the leader said that they had been fairly good but they had completely different personalities. I asked if they had fought at all and she said that yes, LB had managed to get a few digs into BB a couple of times and had been pulled up on it but that they had played nicely together outside.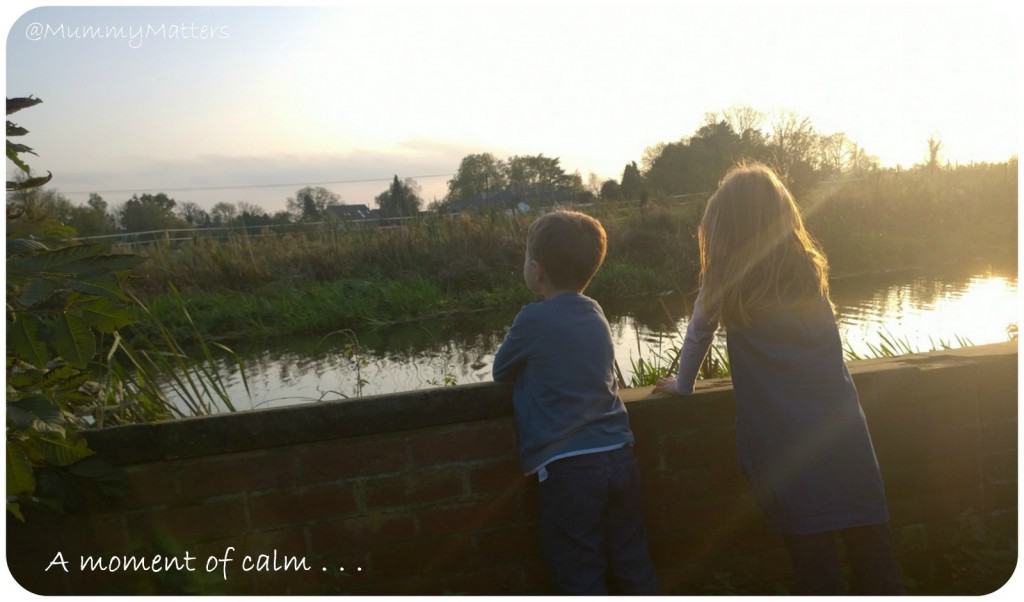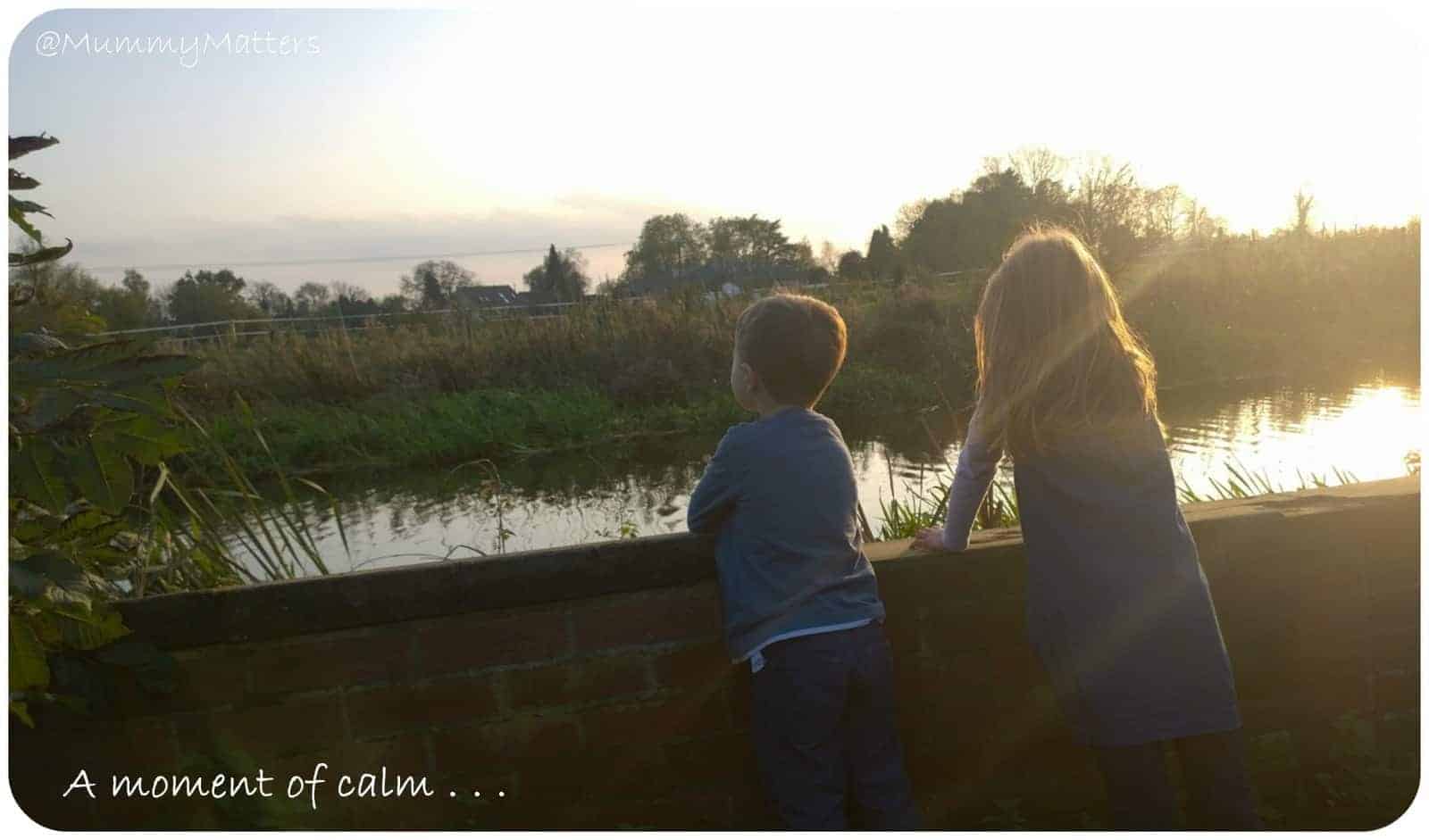 When we got home they both asked to go to their rooms to play as they clearly wanted to get away from each other so who was I to argue.
Wednesday morning started at a slightly more respectable 5.30am and much excitement from BB as today was the day his best friends J&B from his old preschool were coming to play. We had planned on going to a special Halloween activity at a local garden centre but I didn't get it booked in time so we lost out. As it turns out, we all had a lovely tie at home anyway. The Beans played really well together with J&B leaving me and their Mummy to have a good catch up over tea and cakes. G was so lovely she even brought me a lovely bottle of wine as she had read how pants our week had started!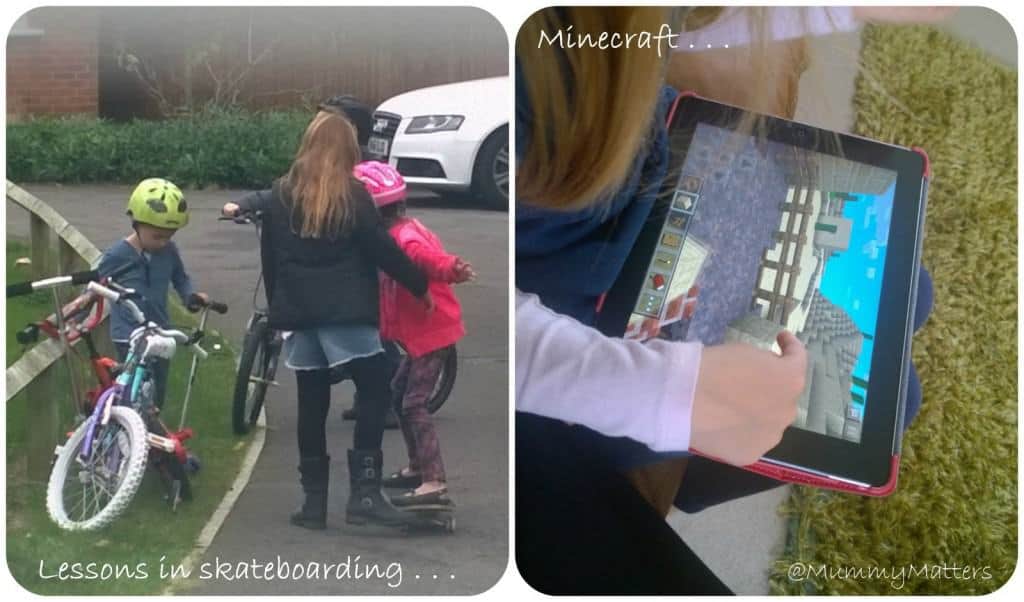 Afterward the Beans went out to play with their friends from the area whilst Jelly Bean was sleeping. I watched with interest as they received lessons in skateboarding from Big Bird and later they turned their attention to Minecraft. Unfortunately the excitement of the morning took it's toll on the Beans and resulted in shocking behaviour during the afternoon, with lots of fighting, sniping and general winding up of each other and me!! We needed to pop out to the Supermarket and that was perhaps my worst moment of the week as they ran around like crazed chimps, knocking into people. Climbing, yes that's right, CLIMBING on the shelves and just completely ignoring anything and everything that I said to them. I reminded them that they wouldn't get their men moved up on their reward charts to which I was told "don't care" and by the time I got back to the car I was almost in tears wondering how my children could be so badly behaved.
When we got home, Little Bean apologised and then offered to help me put the shopping away whilst Beanie Boy gave me his death stare and JB walked around oblivious with his pot of raisins in hand. Once Little Bean had helped me to put the shopping away she asked if she could help me to make the pancakes and from then on the day improved.
Thursday I had originally planned to take the Beans to Burghley for a walk in the gardens but after such a rubbish afternoon the day before I decided they didn't really deserve to go out and so we had a very quiet day at home. I didn't allow them to watch too much TV or play on their games consoles and instead told them it was a day to use their imagination and play with their toys. Sometimes I played with them, sometimes I just got on with the housework. When JB woke up from his nap BB reminded me that he had drawn a lolly stick from his reward chart at the weekend to go to soft play so I said that we could just go to a small one for an hour until it was time to pick Nanna up from work. This was such a bad move as LB and BB were again like crazed chimps. No sooner had I sat down with my rewarding cup of coffee than they were kicking and hitting each other. Since there was nobody else in there with them who could get hurt I let them fight it out but it was still embarrassing nonetheless. The biggest blow of the day came when I received a text from Hubby to say that he wouldn't be able to take the day off with us on Friday as he had too much work to do. The holiday had been booked for approx two months so I was not happy to say the least. I understood it wasn't his fault but this week just seemed to be getting worse and worse by the day.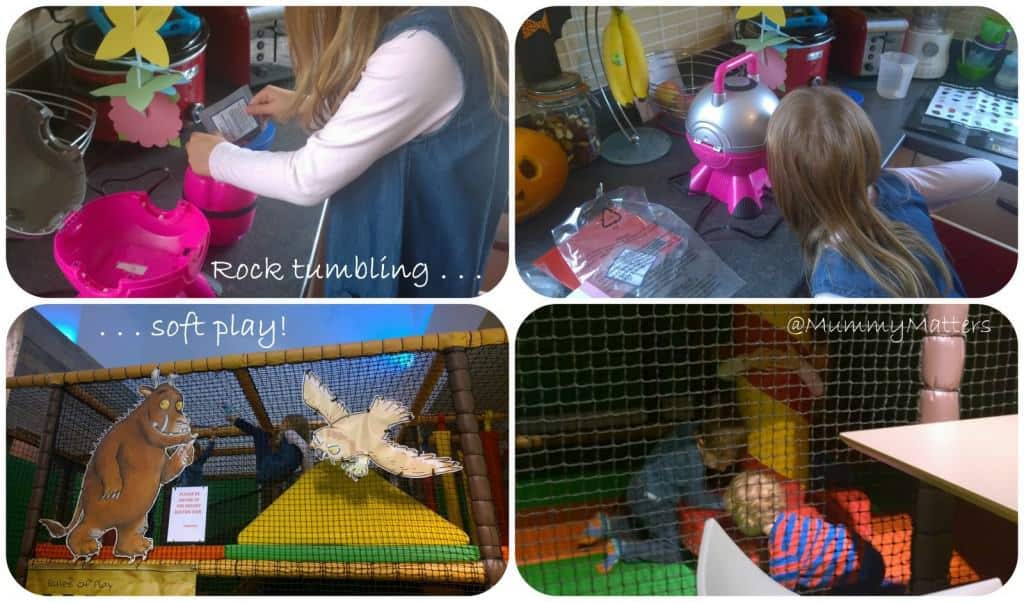 On Friday morning Hubby got up and headed off to work early whilst I made plans to spend the day with our friends from Skegness. I was so busy dashing around getting things ready I completely missed the text from Hubby telling me that he was going to be able to join us for the afternoon afterall so that put a spring back in my step.
When our friends first arrived all seemed well, the house was quite calm and relaxed (for our house) and even MumtoC commented on how calm it was. Within 10 minutes all that changed when true to form LB had his MasterC in the back for no reason at all. I have NO IDEA why she does it but she just can't keep her hands to herself. In her defence I don't think it is always meant to be malicious but more of an over-excited slap on the back but she does it too often and people don't like it. This for me however was the straw that broke the camels back and after a battle of wits trying to get LB to stay in time out, I broke down in tears to MumtoC because I simply was at the end of my tether. I am tired of the constant bickering between the children, I am tired of always having someone telling me that LB hasn't been kind to them and now BB seems to be following suit as I had to reprimand him on no less than 4 occasions last week for kicking either LB or JB.
Once Hubby had arrived home and lunch was finished we went into Peterborough as planned but again the walk from the car park to the museum was fraught because LB kept running way off ahead of us, she crossed a road without looking and just wouldn't listen. I handed over the reigns to Hubby but he doesn't seem to have control over her either. Don't get me wrong, I'm all for them having a bit of freedom and I don't insist that they walk to heal like a dog but she would run hundreds of yards ahead where we couldn't see her in a busy City shopping area.
Thankfully the rest of our time at the museum was enjoyable, the Beans were able to watch some fun experiments which they loved. They started off having to find their Wizard Name and House before heading to Potions Class to see if they could turn water from colourless to pink and then back again in order to earn a word for their spell. Next it was onto the Alchemy Class to see if they could make the Philosopher's Stone. Our children had completely skipped the wand making sessions as they wanted to get on with the other classes so the Alchemist wasn't hopeful of their chances of making the Philosopher's Stone. They took it in turns to add the special ingredients and mix it in a specific way and then chant their magic words aloud. Sadly they were a little jaded towards the end of the day and they didn't 'believe' in their magic enough to say it loud and proud so their spell failed but they had done some good listening when the Alchemist explained different forms of medicine so he gave them an 'A' grade anyway.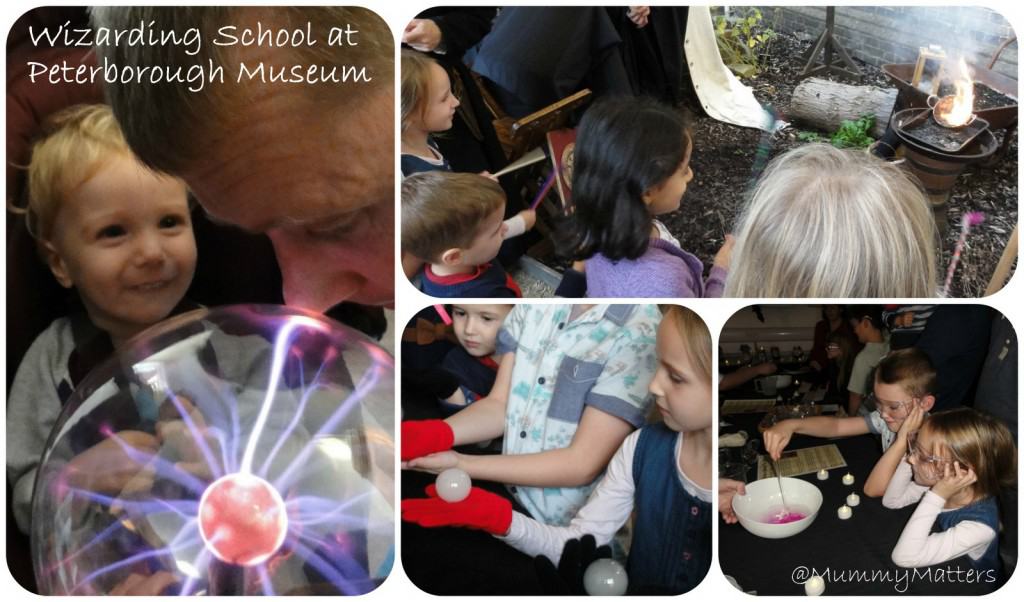 Next it was onto Charms Class where they each got to hold a special bubble in their hands and then it was time for Arithmancy and Herbology which was perhaps their least favourite classes as they felt there was too much reading involved for that time of the day.
Back at home the children all changed into their Halloween Costumes and dragged Daddy out for a spot of trick or treating followed by a special Halloween DVD and bed.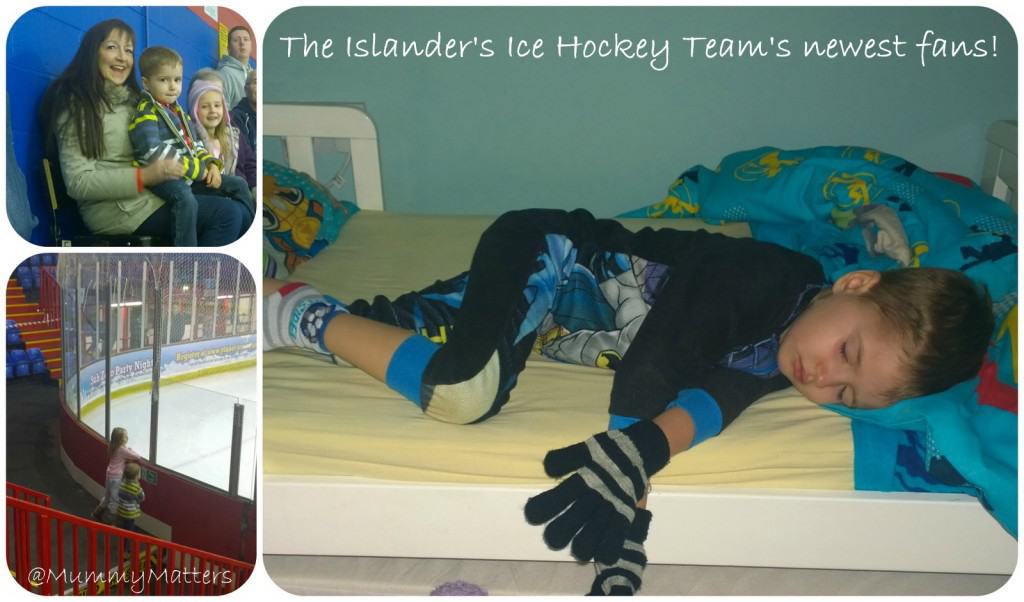 On Saturday evening JB enjoyed some time with Nanna whilst Hubby and I took LB and BB to watch the Ice Hockey in Peterborough. It is something which Hubby and I have enjoyed often in the past but this was the first time we had taken the Beans to watch. One of our neighbours plays in the Islander's Team so we joined his Mum and Dad to support the Islanders. I wasn't sure what the Beans reaction would be but they both LOVED it and eagerly asked when we could go again. It was a lively match with a few rucks here and there to add to the entertainment, and of course we won 5-1 so the Beans were very happy about that. At only £12 for a family ticket it made for a reasonable evening's family entertainment. Beanie Boy was so taken with it he refused to take his gloves off at bedtime because he said that he was an Ice Hockey Player!!
Sunday was thankfully a quiet day at home with nothing much to report and now thankfully school has returned to save my sanity.
How was your half term? How do you deal with your 'crazed chimps' when they won't listen to you if you're out and about?