Studio Creator Video Maker Kit Review #ad
The Studio Creator Video Maker kit from Canal Toys is the must-have gift for children aged 8+ years old, tweens and teens who want to make professional-looking customizable videos at home using their mobile devices. We have been sent a Studio Creator Video Maker kit to review, which barely touched the ground once Lillie locked her eyes on it!
Technology for tweens and teens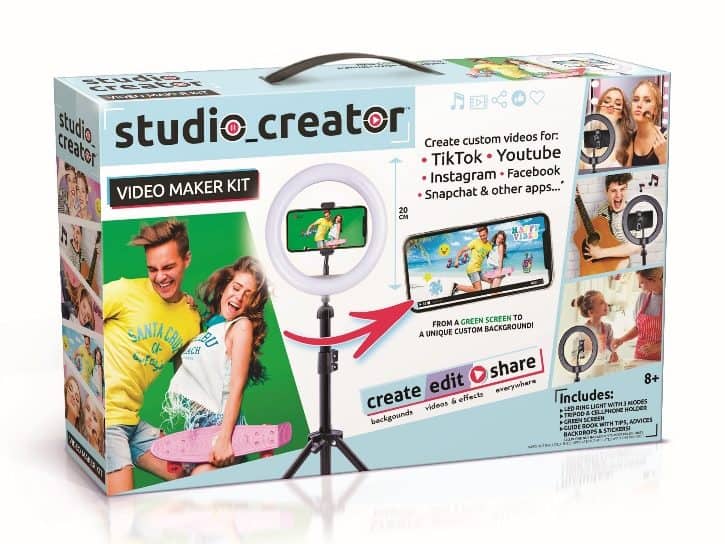 My children have had technology in some form for the last few years. For Lillie, this progressed to a mobile phone on her 11th birthday ahead of her moving up to Senior School. For the longest time, I held off on social media apps as I didn't think she was ready for them. Still, over the Summer, I relented and allowed her to have her first TikTok account on a shared Family Pairing, so I could see everything she does and approve who does and doesn't follow her. It has very quickly become one of her favorite apps.
As a girl who loves music and dancing, it didn't take her long to start creating her own TikToks, alone and with her friends. Over the Summer months, this wasn't a problem as the lighting was good, but now that the nights are starting to draw in, the videos she creates have lost some of their quality, and Lillie has been increasingly frustrated. With the Studio Creator Video Maker kit the problem is solved thanks to the professional lighting to provide optimal light no matter what the weather.
Everything you need to create professional videos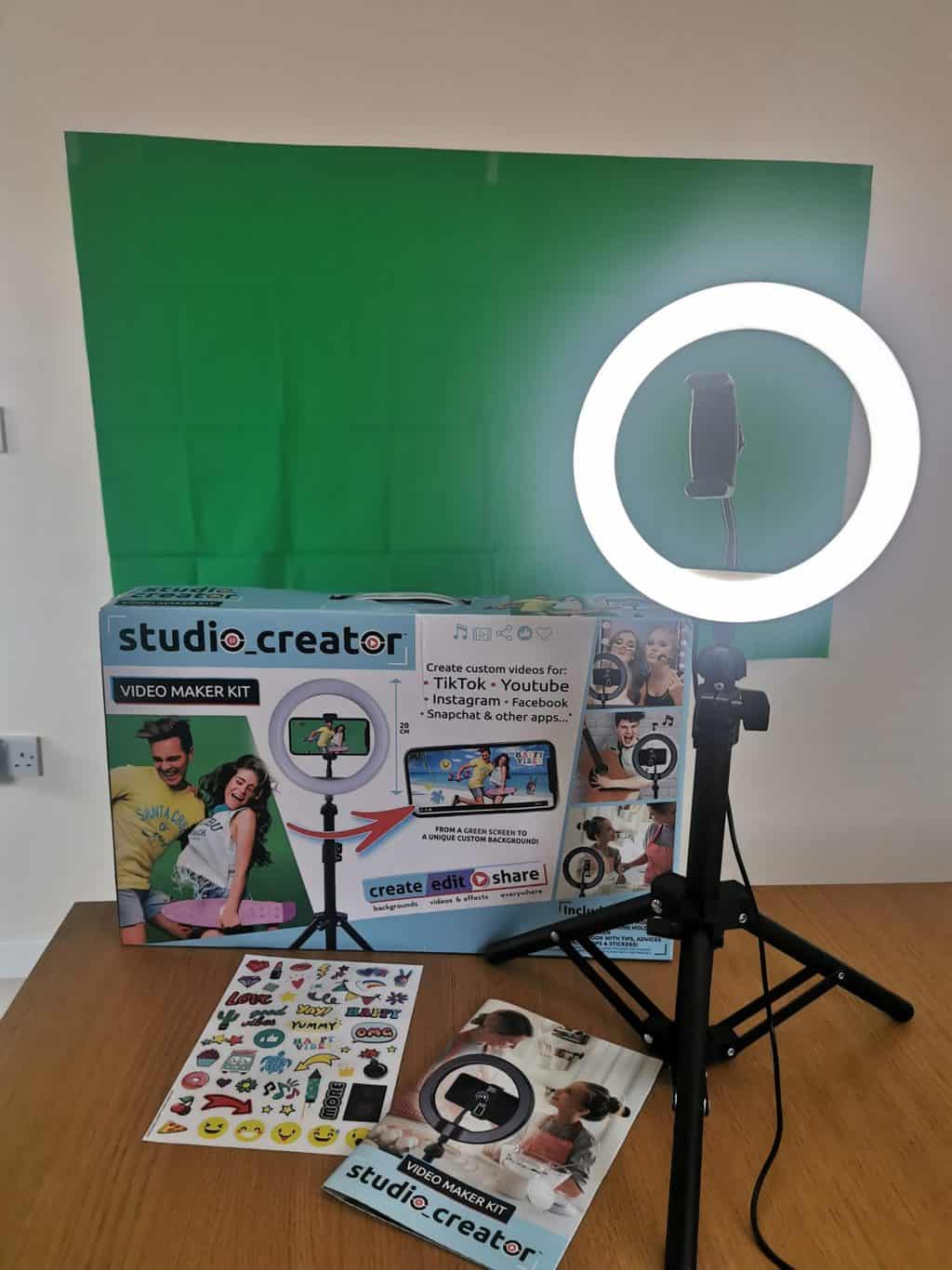 The Studio Creator Video Maker Kit is the perfect gift for wannabe content creators. The kit retails at £24.99 and comes complete with the following:
1 x Adjustable Height Tripod (up to 50cm)
1 x LED ring light with 3 light modes
1 x Green Screen (1m x 1.5m)
1 x Smartphone holder compatible for IOS and Android
1 x 24-page guidebook
1 x sheet of stickers which can be used to customise the backgrounds
Using the Studio Creator Video Maker kit, you can create professional-looking custom videos for Youtube channel, Instagram posts and TikTok, all hands-free. This makes it easier to create, edit and share online content such as music/dance videos, product unboxing, tutorials, reviews or whatever your heart desires.
The kit is perfect for a get together with friends, grab your smart phones, stand in front of the green screen and have fun with props like the props in photo booths at parties. If you dream of taking your social media to the next level you could try live streaming and make use of the host of tools available on facebook pages and in your Instagram accounts to create original content.
Combine with your favourite video editing app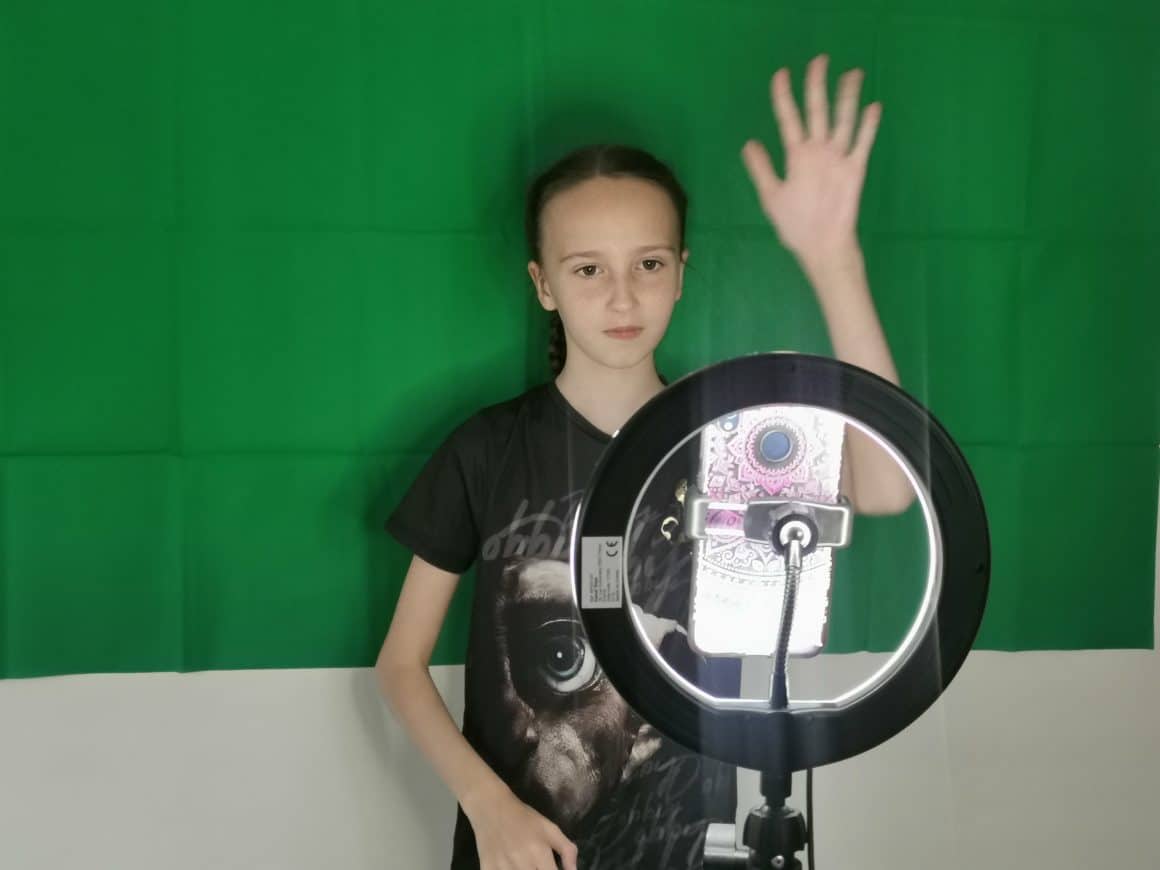 The guidebook recommends downloading a free video editing app, such as the Chromavid app (this is the one we used and is free to download), where you can select the green screen setting (or blue, yellow or red), which allows you to edit your video to get the perfect backdrop. The green screen in the kit comes with self-adhesive sticky tabs, which you can use to secure the screen to a wall, window or unit such as a wardrobe.
Should you need to convert the video for use in a third-party app there are lots of different platforms available online. Some are free to use, and others offer a premium service.
Create your own backgrounds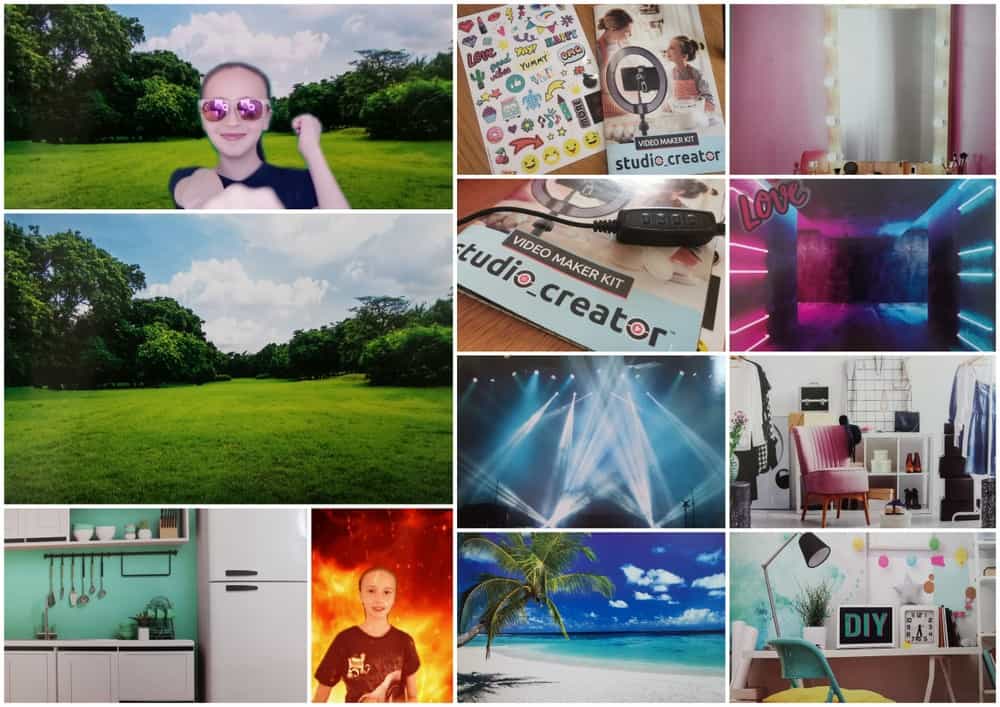 Within the Chromavid app and the included green screen you can use one of the preset backgrounds, take photographs of the backgrounds in the guidebook and upload them into the creator app to use or use the backgrounds on TikTok if that is the app you are using for recording your amazing videos and publishing content.
Adjustable LED Ring Light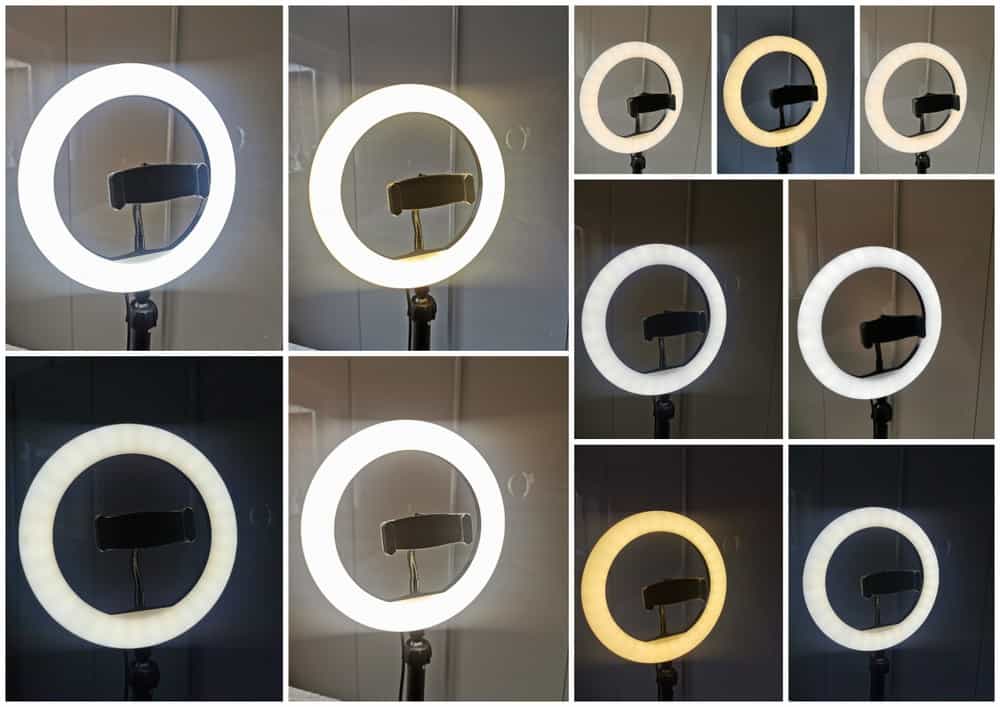 The led multicolored ring light has 3 different white light modes; a bright white light, a blue light and a warm white light and a completely adjustable tripod. Each color set also has ten levels of brightness settings which can all be adjusted on the inline remote on the USB power cable to provide great lighting. The LED ring light sits on a pivotal mount at the top of the tripod and has a flexible smartphone mount to securely hold most modern smartphones.
Despite coming with a really handy 24-page guidebook, Lillie was able to quickly and easily set up the Studio Creator tripod and light without following any instructions. It really is that easy to create great video content. I have used the light myself to take photos to get the best angles for fashion reviews and have loved the effect of the light, which makes the images look brighter and more professional.
Creating tailor-made content for social media is a great way to engage with your audience. By creating content that encourages interaction and sharing, you can build an engaged community of followers on social media platforms. However, creating an effective video requires careful planning and consideration of the platform you are using.
In order to create an engaging video, it is important to consider who your target audience is and what type of content they expect from you. For example, if your target audience consists mainly of millennials, then creating a light-hearted video with bright visuals and fun music videos or your own video tutorials. Additionally, it is important to keep the length of the video in mind when selecting topics that will be interesting for viewers. Videos should be concise and entertaining in order to keep viewers' attention throughout the entire clip.