Quality Time with Beanie Boy
I'm sorry to say that I have got my 'quality time' posts in completely the wrong order. The week before I went to London with Little Bean, I had a day out with Beanie Boy just the two of us. Beanie Boy has always been very much a Mummy's boy to the point that he will rarely allow anyone to put him to bed at night. When Jelly Bean came along I was very worried about how he would react to a little baby who would take up lots of Mummy's time and that he might become jealous but on the whole I think he has been amazing. Beanie Boy and Jelly Bean have a beautiful relationship and I hope that they will grow to be very good friends.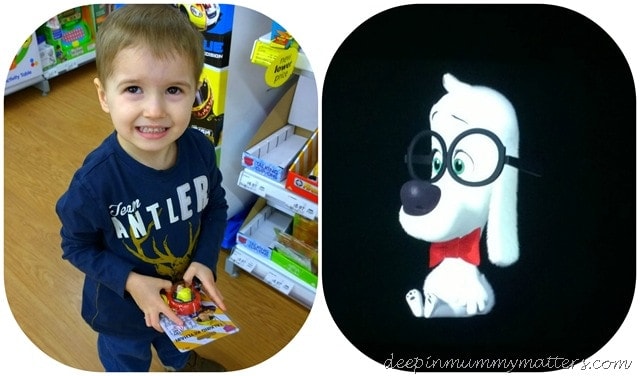 When I knew that I would be having a day out in London with Little Bean I wanted to soften the blow for Beanie Boy by taking him out first. I asked him what he would like to do and he said "the cinema please" so we looked online to see what was showing and a couple of Saturdays ago we left the house in the direction of the Showcase Cinema in Peterborough to see Mr Peabody and Sherman. Beanie Boy loved that he was getting me all to himself although he did question why we weren't bringing Jelly Bean with us. I told him that I wanted to have Beanie Boy all to myself for a couple of hours and he seemed happy with that response.
The film itself was good, I really enjoyed it but I think that much of it went over Beanie Boy's head, he is only 3 after all. We merely enjoyed snuggling up together and giggly at the bits that he did get. As the film finished Beanie Boy asked me if we had to go home yet, so I said "not if you don't want to. What would you like to do?" and his reply was "can we have lunch at Asda Living please?". Bless him, I really should take him out more often!! We occasionally pop to the Asda Living for a look around and then go to the Cafe for a snack so that I can feed Jelly Bean and Beanie Boy loves it there. The staff are really friendly and always make lots of fuss of him, they didn't disappoint on that trip either.
Sadly when we arrived home, I commented to Hubby that although we'd had fun, I did think that Beanie Boy was rather quiet and then it was to become apparent why. He went straight to the playroom when we got home and snuggled himself up under the blanket saying that he didn't feel very well before asking if he could go to bed. Jelly Bean, it would appear, had missed his big brother very much because he climbed up to give him a cuddle. The next day Beanie Boy was sick. It never developed into anything further but he was definitely off it for a couple of days.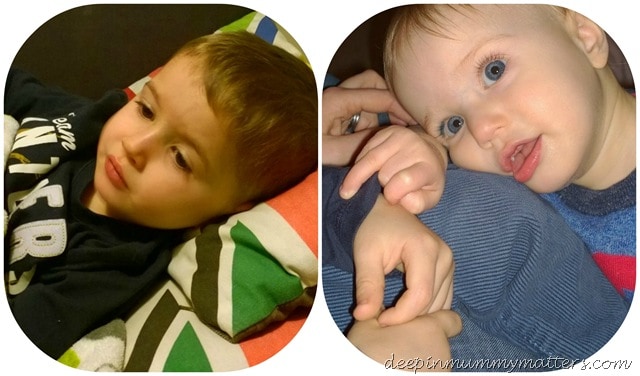 I have also noticed something else about my brown-eyed boy in recent weeks. He has become a lot quieter and I think it's because he is feeling a little invisible. Beanie Boy has always been my cheeky boy, very loving, very funny and full of smiles. In short he and Jelly Bean have been exactly the same as far as babies go. When Beanie Boy was a baby/toddler he would always receive lots of attention which he would reward with a great big smile. On the school playground, in the shops and at blog events he would always receive lots of attention because he is such a sociable and happy little boy but now that Jelly Bean is becoming such a character, he gets all the attention and I have noticed that Beanie Boy quietly slides into the background. As I say, he isn't showing any signs of jealousy at all which is great but he has withdrawn into himself a little and I am keen to make sure he doesn't lose his sparkle because I think there is plenty of room for them all to shine.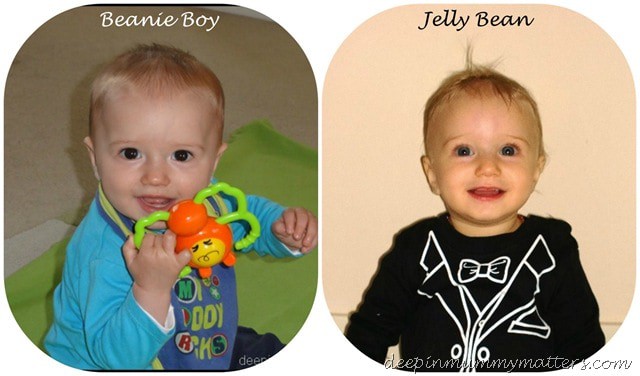 DISCLAIMER: All words and images are my own and may not be copied without my permission.