Little Bean's #AquaBeadsParty fun with friends
I mentioned over the Summer holidays that I was a little worried about Little Bean as she had said on more than one occasion how she was feeling lonely and desperately wanted a Sister. I explained to her that whilst I couldn't provide her with a Sister, I could invite some of her friends around for a play date and then the email landed . . .
would you like to host an #AquaBeadsParty ?"
AquaBeads Party Fun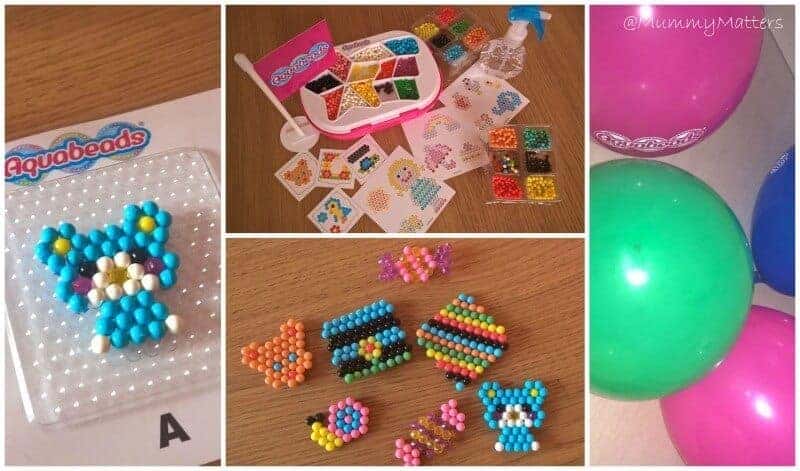 The opportunity could not have been more perfectly suited to Little Bean, she is already a big fan of Aqua Beads and this would be an ideal setting for her to have a couple of friends come around rather than just the odd one that I would normally invite for her. I put the plans into place and arranged for the boys to go to the childminder so that I could dedicate my focus to the girls. I bought in a party tea, complete with paper plates, cupcakes and Maoam Pinball sweets because they reminded me of Aqua Beads. Little Bean invited the friends who she considered to be the most 'artistic and crafty and I collected the excited girls from school.
What was in the #AquaBeadsParty pack?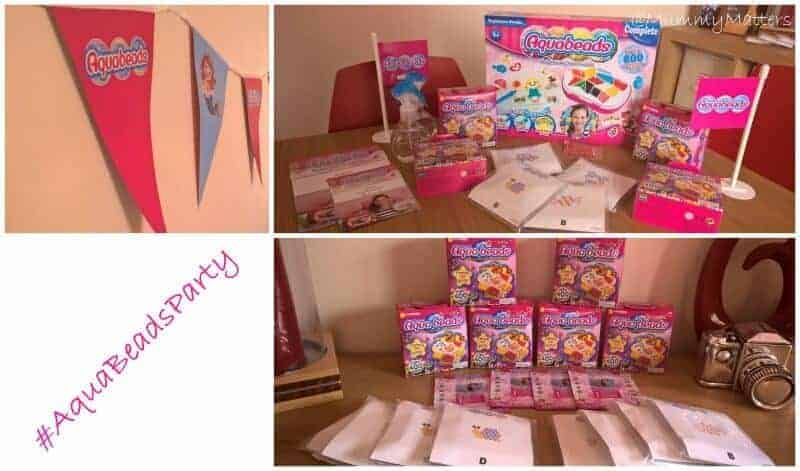 We had received a mammoth supply of Aqua Beads products for the #AquaBeadsParty so I was even able to put a few pieces away and invite our good friends Karin, Ella and Sam to join us for a second #AquaBeadsParty the following afternoon after school.
In the box:
Aquabeads Beginners Studio
Aquabeads Mini Playsets
Aquabeads mini-kits A, B, C & D
Aquabeads magnetic photo frames
Aquabeads party decorations and badges
What are Aqua Beads?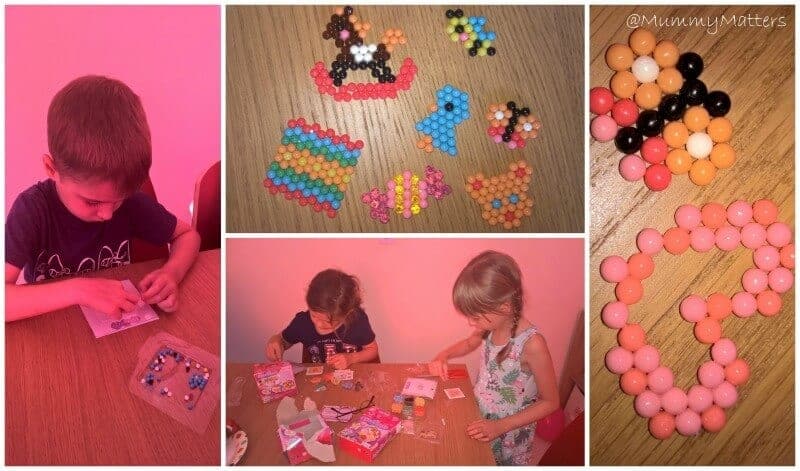 Aqua Beads are colourful water-soluble beads that can be placed on a layout table to make pretty patterns and pictures, once your design is complete you spray the Beads with enough water to cover the whole design and then leave to dry for 2-3 hours. Once the design is dry you carefully remove it from the layout table and spray the reverse to further strengthen it. The pretty pictures can be mounted onto cards, pictures, frames or whatever your imagination suggests making pretty gifts, toys or trinkets for little ones.
Little Bean's #AquaBeadsParty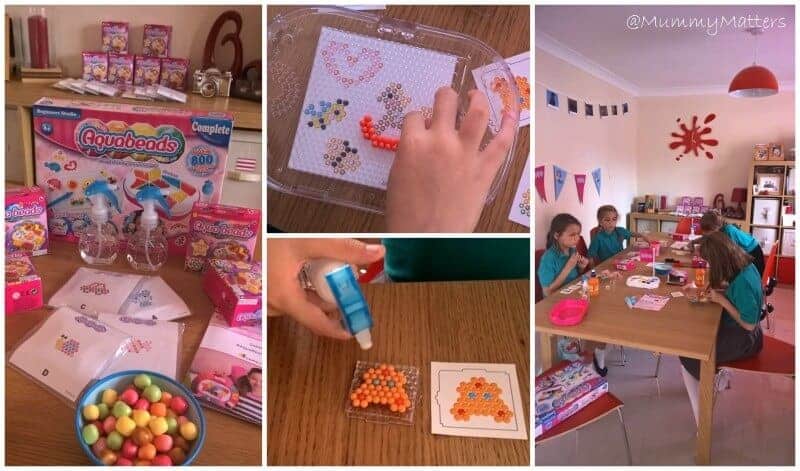 When the girls arrived they were all very excited, one of them had been badgering her Mum to buy her some Aquabeads so she couldn't wait to get stuck in and the other girls had never tried it so Little Bean loved playing teacher and showing the girls what they needed to do. Some got stuck in and followed the designs on the template whilst some of them chose to create their own designs using geometrical patterns which turned out really well.
They really liked the Beginner's Studio which has a storage section to keep your templates, spare beads and completed designs in but also doubles up as a storage tray for the Aquabeads and a layout table for your creations. One girl took a particular shine to the Jewel Beads, especially after I showed her a pretty rainbow star ring that Little Bean had made for me previously. I think I know what she will be adding to her wishlist this Christmas.
For those who find the tiny beads too small for their fingers, help is at hand in the form of a Bead Pen which helps you to lift the beads and drop them into place but most of the girls (and myself) found it easy enough to do without the Bead Pen.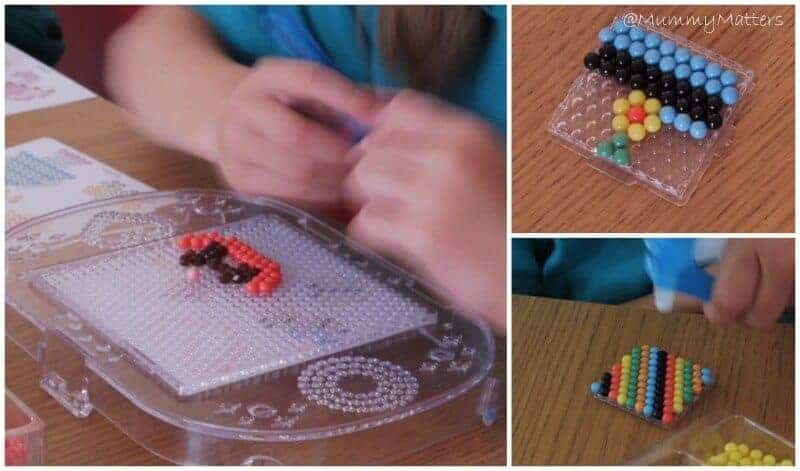 We did have one rather the nail-biting moment when one girl proudly declared "I've finished it" and then accidentally knocked it all over the floor, she hadn't even got around to spraying it with water but thankfully she saw the funny side of it and had a giggle whilst she and her friends picked up her beads from the kitchen floor.
The girls had a blast and created as many different pictures as they could until it was time for tea. They had to leave their designs at home with me overnight to dry as they were all a bit tacky but when I took them to school the following day they couldn't wait to show their classmates.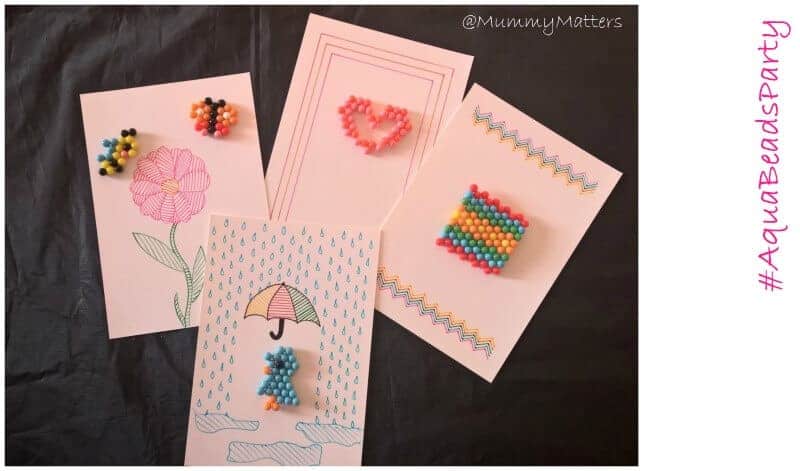 Conclusion
Little Bean and her friends had a really enjoyable afternoon, it was a great idea for a playdate and it's a lovely inexpensive craft that can take as little or as long as you like. The girls all took home their leftover beads and their mini layout tables so they could carry on the fun at home.