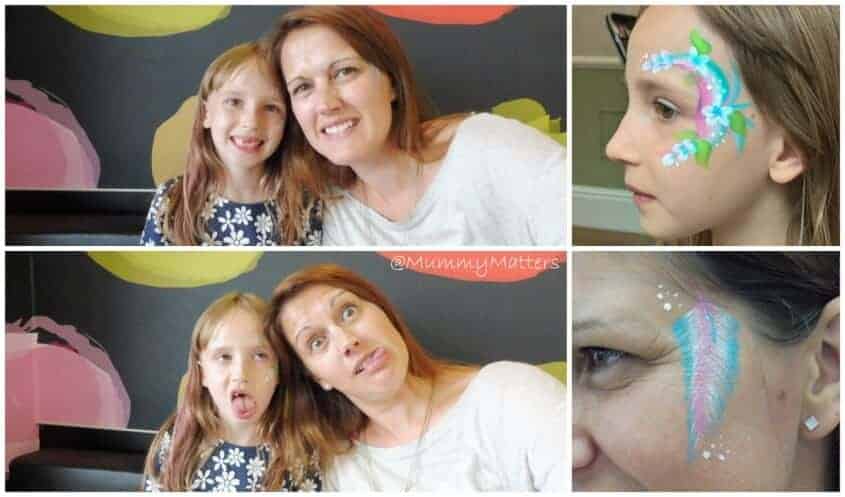 #Funfest16 exceeded our expectations . . .
Yesterday was a first for Little Bean and me, we went to FunFest blogger summit at Whittlebury Hall near Northampton for the first time. I wanted to attend last year but unfortunately it coincided with a family occasion. FunFest is the only bloggers conference where you are actively encouraged to take your children with you so I saw it as the perfect opportunity to grab a girly day out just Little Bean and myself.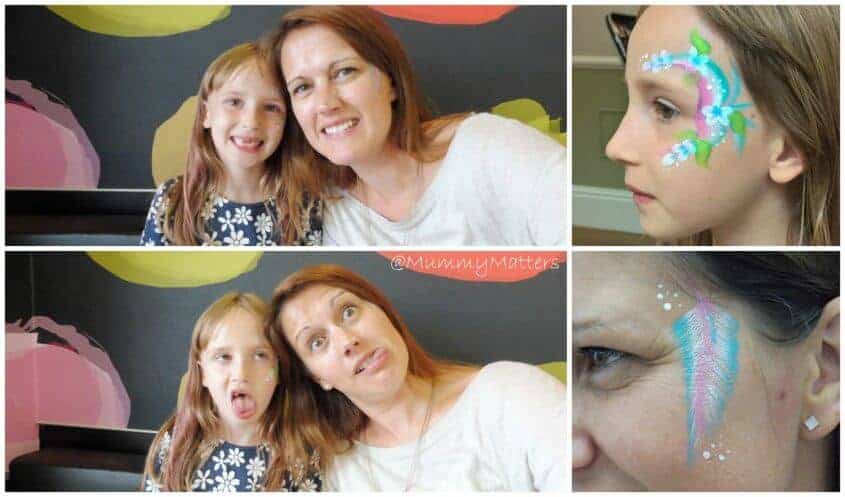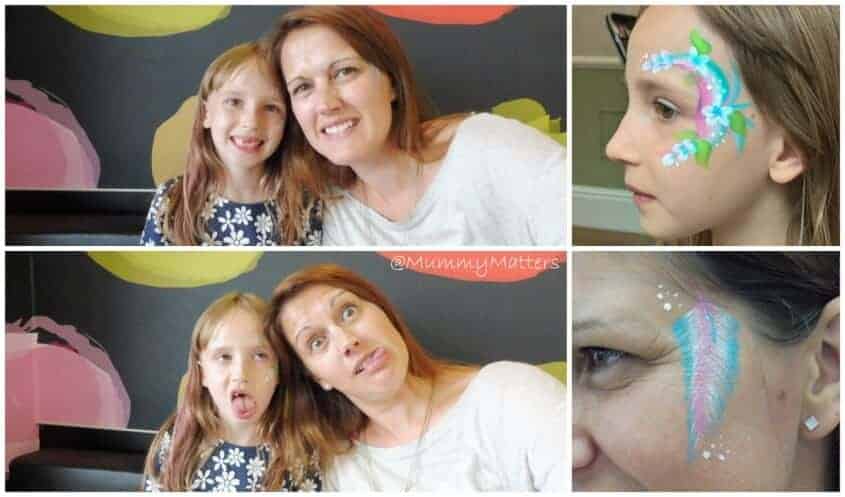 The Sessions
Keynote Speech – Vicki Psarias-Broadbent
Once we were checked-in, we walked down to the children's crèche provided by All Events Childcare so that Little Bean could decide if she wanted to sit in the sessions with me or play with the other children . . . she chose to play. I then crashed a table occupied by Micaela and Caroline from My Burlesque in Milton Keynes just in time for the Keynote speech by Honest Mum, Vicki Psarias-Broadbent. Vicki talked about 'Overcoming the Imposter Syndrome to find success in business and life. The Imposter Syndrome is a psychological phenomenon where people don't recognise their achievements, putting their success down to 'luck' or good timing. I must admit I recognise this in myself despite knowing that I work very hard to make a success of my blog and anything that I do, I never truly believe it when things go well. Vicki encouraged us to recognise our achievements, to own them and in her words to #crackon. Wise words!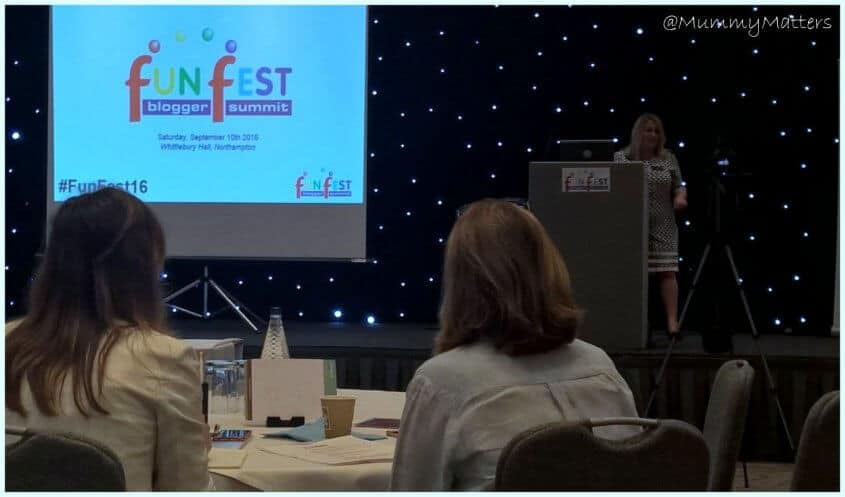 Brand Focus – Sam Johnson, JCB Toys
Next up we heard from Sam Johnson of toy brand JCB. Sam told us that JCB are now 70 years old and have over 12,000 employees, the addition of the licenced toy, clothing and  range has been very well received. JCB recognise how social media has helped them and love the imagery and hype that it generates, particularly in showing that it is not a brand which is 'just for boys'. They have found Twitter parties to be very useful indeed. When we visited their room later in the afternoon, Little Bean took one look and said "Oh it's a boy's room" but I pushed her through the door and said that I wanted to look. Fifteen to twenty to minutes later I couldn't get her to leave!!!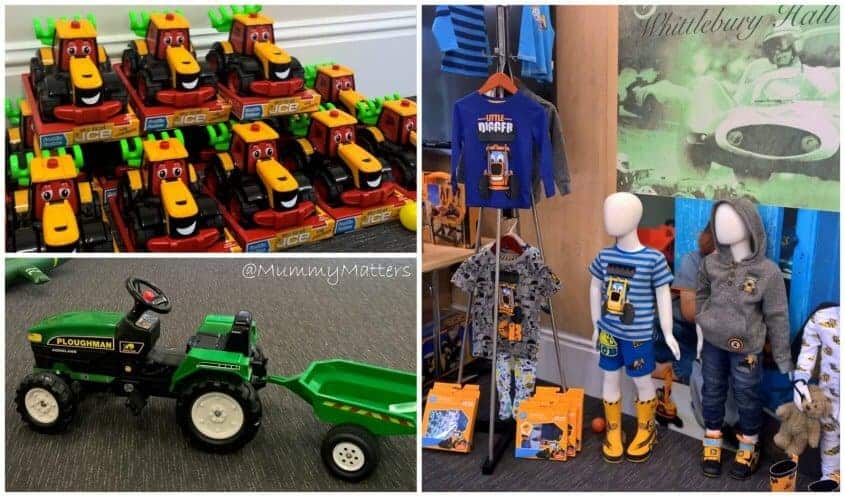 The session which I was most looking forward to attending was a panel debate session – Should we be using our children on social media? Initially when I began writing Mummy Matters it was because I wanted my children to have a visual record of our lives together but over time it has evolved into a business as well as a personal record. Many things have happened in our lives, in the world around us and of course in the online world which have led me to question whether this is still the right thing for us. I am a mother first and foremost, all that I do is for my family and I would never want to put them at risk. The panel had mixed views, understandably so but even those who do share their children online have their own guidelines;
Block out badges on school uniforms (or rather don't show the school uniform at all)
Honour physical privacy
Don't be paranoid
If you are unsure about something you have posted, don't be afraid to take it down
Treat the online world like you would the real world – because it IS the real world.
I came away from that session feeling a little more sure of my feelings. I will only continue to post images of my children whilst they are happy for me to do so. I will continue to keep their names off the site and will continue to vet my images thoroughly before posting. The reason that I write about our lives online hasn't changed and I want to show the world how proud I am of these little people I co-created.
11 Tips for making your blog more successful – Jo Middleton
My favourite session of the morning came from long-standing blogger, Jo Middleton, also known as Slummy Single Mummy. Jo is a blogger whom I subscribe to so obviously she is someone that I like and recognise. Jo shared 11 tips on making your blog more successful and I definitely learnt a thing or two;
Charge more, work less.  It's a simple equation but it works.

Play to your strengths

– so many people when they approach you for work will ask for your pageviews but this doesn't always give a true picture of your audience. Look at your bounce rate, your readers' time on site, returning traffic. If you have a loyal readership, shout about it.
Be consistent – whatever your tone, stick with it. Don't try to be anyone other than yourself because it will show in your work and then people will lose faith.
Nail your 'About Me' page – so many bloggers (hello hands up here) create their About Me page and then forget to keep it updated. It is often the first place that people who are reading your blog will look to find out who is behind the voice, make sure they get the current picture.
Blow your own trumpet – make a great Media Kit and keep it updated. Use it to shout about your achievements and tell interested parties exactly why they should work with you.
Collect testimonials – ask people who you have worked with if they are willing to write a testimonial for you. It allows people who are considering working with you to see what those in the know have to say about you
Think creatively – dare to be different with your posts and think outside of the box.
Do your best work – always, always, always try to do your best. Really make your clients/readers leave your blog thinking 'WOW'.
Over deliver – if you tell them you're going to produce a blog post and three social shares, will it really hurt to do a blog post and six social shares? Not at all BUT it will make your client remember that you were the one who went the extra mile.
Give feedback – if a campaign you have worked on has done well then share the figures with them using apps like Tweetreach, they will be impressed that you care enough to share once the project has completed.
BE NICE!  Make sure they know who you are, send a card/hand-written note saying how much you have enjoyed working with them and they will remember you.
Lunch, Expo and Awards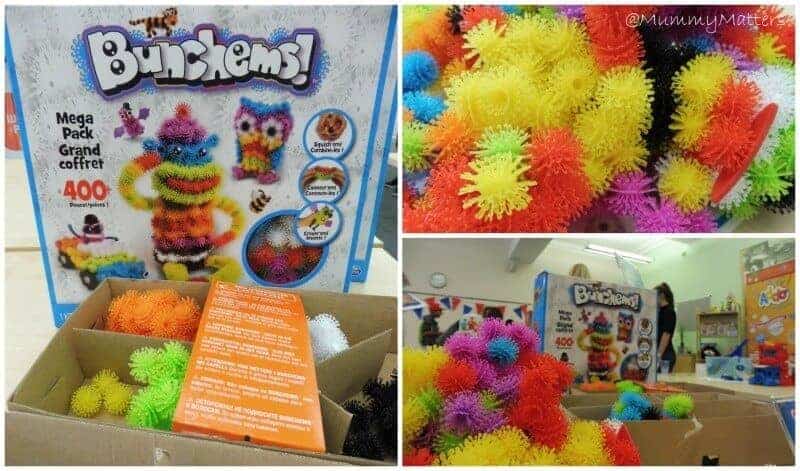 All of the sessions during the morning were informative and it was nice to have the chance to attend all sessions instead of having to pick those that mattered most to you. Once the learning was complete it was time to grab our children and head to lunch.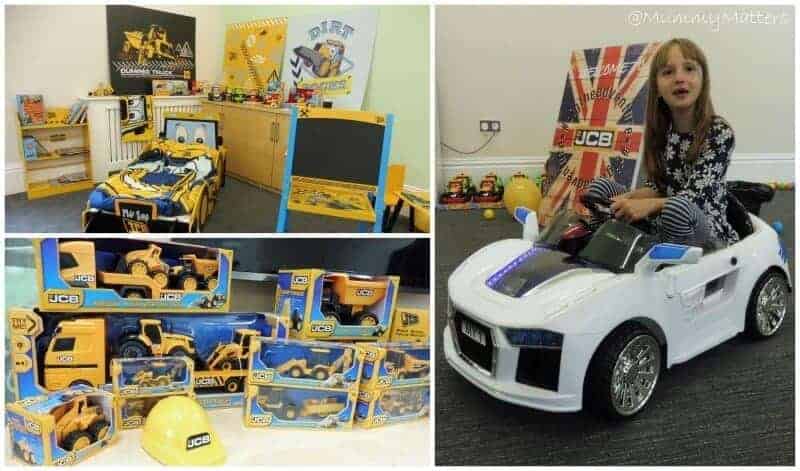 Collecting Little Bean I was delighted to be told by two of the ladies how lovely she had been and that she had been extremely helpful and kind to some of the younger children. One lady was quite tearful when telling me how much she had enjoyed spending time with Little Bean and naturally this made me a very proud Mum.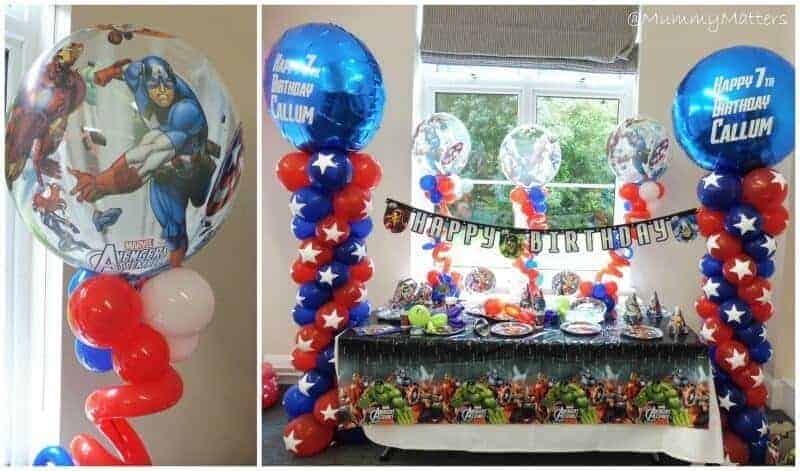 Throughout the afternoon Little Bean and I made our way from room to room visiting the Brand Partners to see all their great new products. Little Bean LOVED this, she had the chance to play with some amazing new toys and was rather like a child in a sweet shop (minus the sweets). As well as sharing contacts so that we could discuss the possibility of working together we also collated a list of our favourite products so that they could be gathered together for the awards ceremony at the end of the day.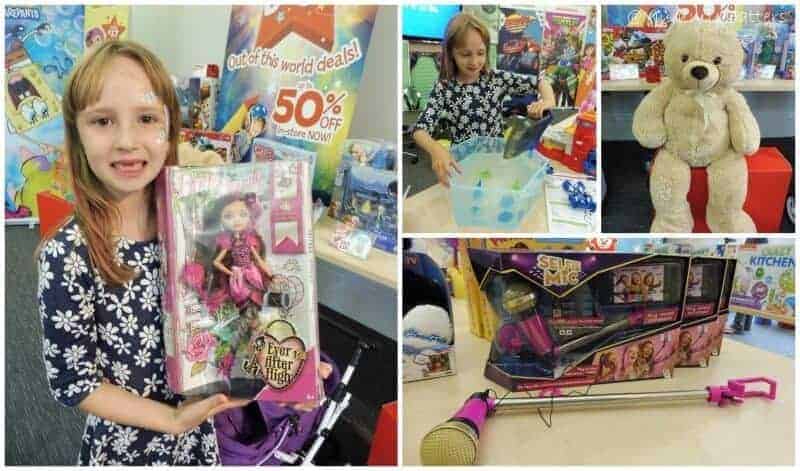 And the Winners are . . .
Best Nursery Product – Strap Stop by Ardega Nursery
Best Game/Puzzle – Dino 3D Puzzle from Jumbo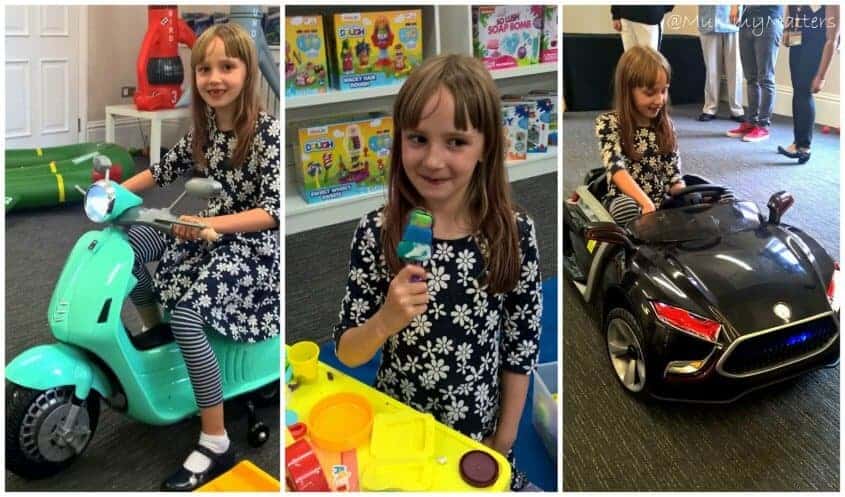 Best Arts/Creative Play Toy

 – Ready Steady Dough by Addo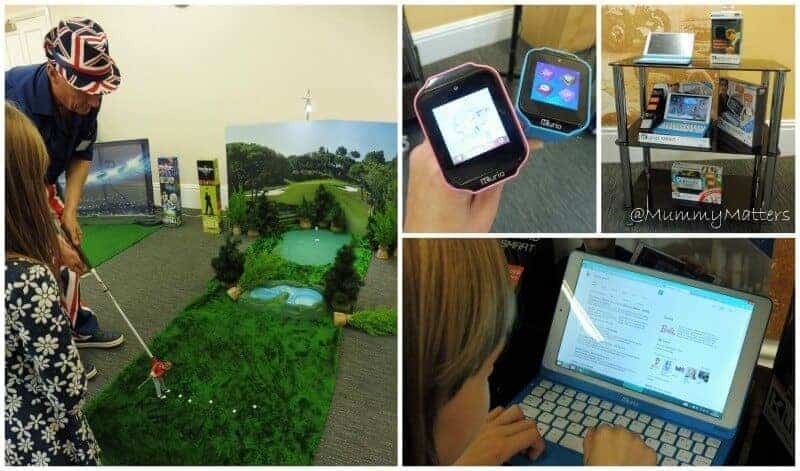 Best Electronic/Digital Toy – Kurio Watch by Kurio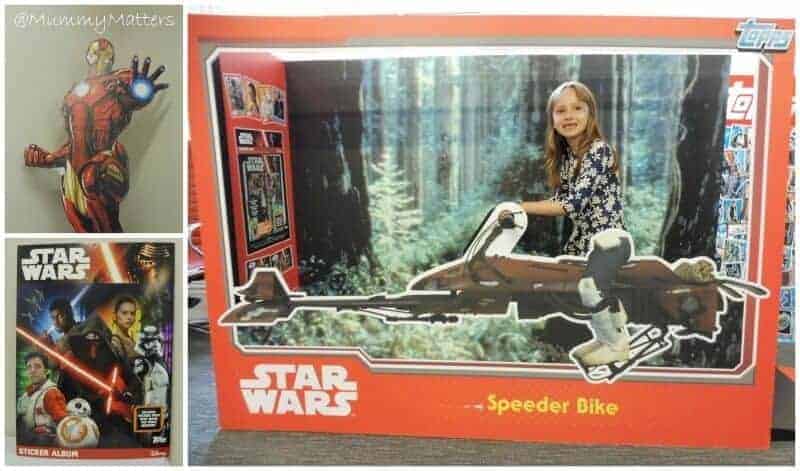 Best Collectible Toy – Star Wars Collector Cards by Topps
Best Outdoor Toy – Ride On Cars by JCB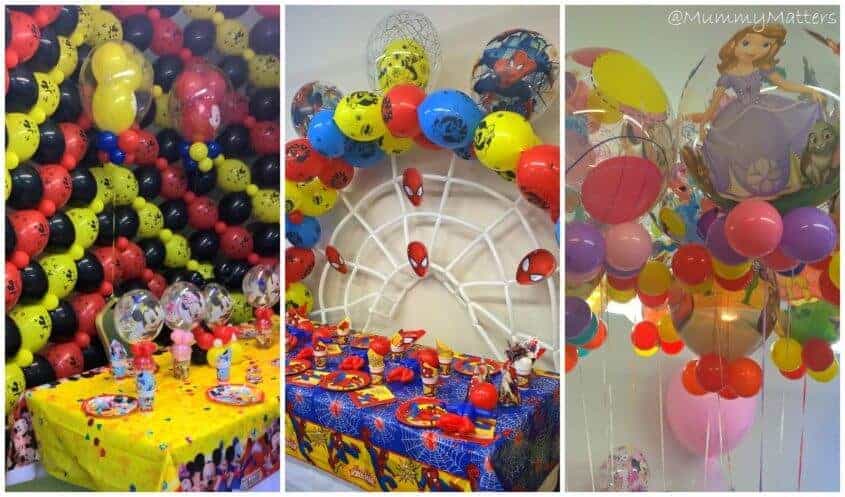 Best Party Product – Qualatex Balloons by Qualatex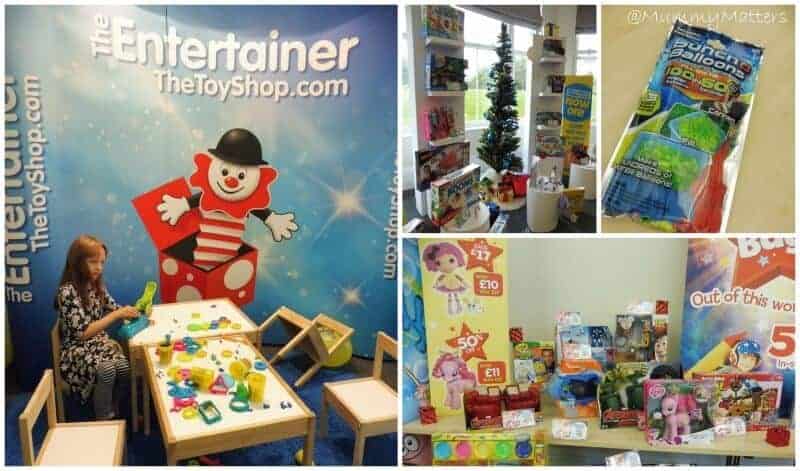 Best Soft/Plus Toy – Furby Boom by The Entertainer
Best Pocket Money Toy – Star Monsters by Magic Box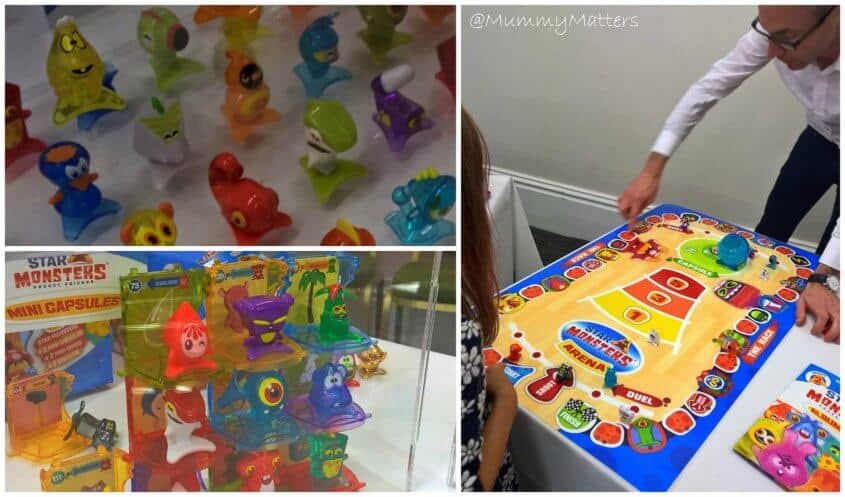 Funfest Product of the Year – Star Monsters by Magic Box
Little Bean and I had the best day at Funfest Summit and will definitely be returning again next year. It was lovely to be able to meet the Brand Representatives in person and to find our more about why they do what they do and how they develop their toys. I hope to be working with some of these fabulous brands more closely over the following months so shall be telling you more about them very soon.