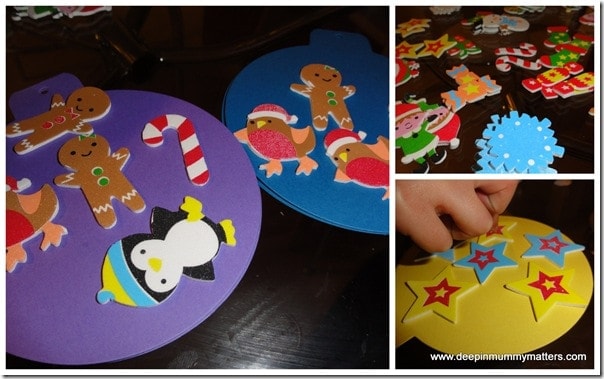 We got crafty for the teachers . . .
With Christmas just days away we have had the perfect excuse to get crafting at home (not that you need an excuse). I have always been quite a crafty person myself and it seems that Little Bean and Beanie Boy are taking after me as they both love to get creative whenever possible.
When talking about Christmas Little Bean had mentioned a few times that she wanted to give her teachers a Christmas card and a little gift and not one to be left out, Beanie Boy then decided that he wanted to do the same for his 'ladies' at nursery too. I looked in the card shops at the "teacher" cards but they just didn't do it for me and I thought the teachers would all appreciate something the children had made themselves instead (or maybe not?).
Little Bean and Beanie Boy have been having lots of fun in the afternoons when we get home from school getting creative with blank cards and Christmas foam stickers. Little Bean even utilised the pieces which you are supposed to pop out and throw away, she thought they looked like snow – I think they look great!
We particularly liked the bauble shaped cards because they can be hung on the Christmas tree as a decoration too, which is exactly what Beanie Boy's keyworker said she would do this morning when he gave her his homemade card and he was beaming when she said how much she loved it. That's got to be worth so much more than a shop bought card don't you think? And how about the gift bags too, what can be more personal than a personally designed gift bag?
I'm becoming quite the hoarder for craft materials, I keep all pieces of paper and card, stickers from children's comics and pictures that we come across because the children will often come home from school and ask if they can 'make something'. Very often it's just junk modelling but every now and then they produce a work of art.
The only thing I find really hard is not sticking my oar in and trying to tell the children how to do things, it's my worst trait ever but somehow I manage it and then and I wonder what I was worried about because I feel so proud to see 'their' creations and they are pleased as punch with everything they make which makes me even happier.