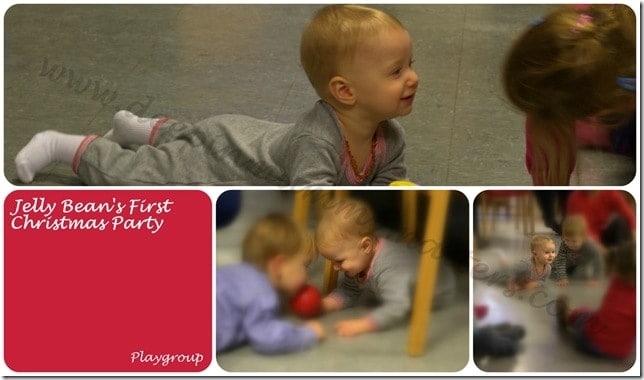 Yesterday saw another 'first' for Jelly Bean. Along with Beanie Boy he attended his First Christmas Party at our local playgroup. As you can see from the pictures, he revelled in the attention from the older children and they clearly love him too. He loved sliding his way around the floor and chasing the various toys which children rolled his way. You won't be surprised to learn that he slept very well in the afternoon.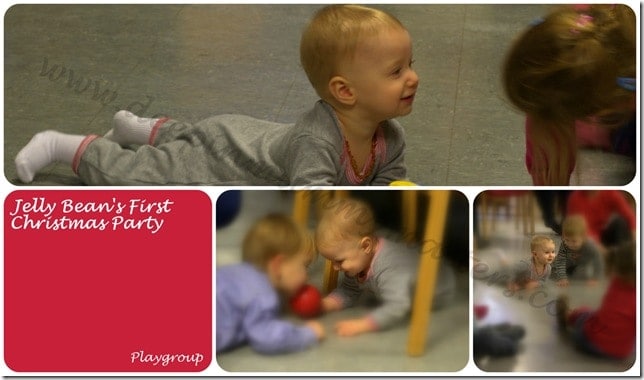 I have been going to the playgroup since Little Bean was 2 years old, it was one of those places that I feared going to initially. I thought it would be a 'cliquey' sort of place and that people would look at me as though I had two heads when I walked in the door but I couldn't have been more wrong. All the ladies who run our local playgroup at lovely and clearly love children, I am never short of offers to 'hold the baby' for me whilst I check on Beanie Boy and his antics and they all love Beanie Boy to bits, they have watched him (along with many others) grow from being a tiny baby into a gorgeous, happy, smiley boy.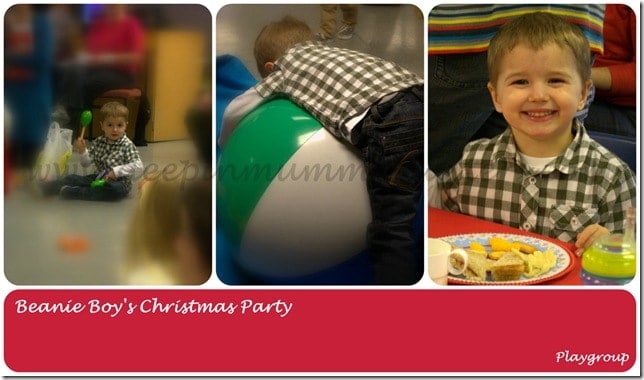 Like most playgroups, ours is run by volunteers and they put on some great parties for the children, it clearly takes them some time to plan. We played party games, interacted with a story, sang songs and ate lots of party food. Beanie Boy was very happy to have won 'Pass the Parcel' and ate as though food were going out of fashion. Although he was a little perturbed that when the teas and coffees came out for the parents that the usual plate of biscuits were nowhere to be seen!! And just as we were leaving all of the children were presented with a party bag with a lovely Christmas present.
Do you take your children to playgroup, did you worry about going for the first time like I did?