Get Crafty for Christmas with Yellow Moon
Crafting for Christmas always feels so much more special, especially when you get to use extra sparkly things and try out different projects.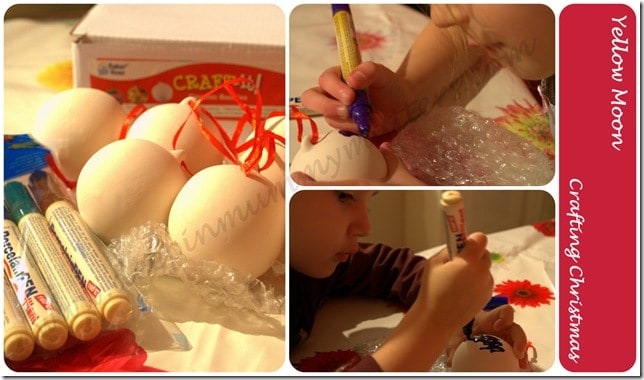 Our latest crafting project from Yellow Moon has been great fun for all of the family and it has created some very special keepsakes for years to come. I'm a big softy at heart and I love creating mementos so that I can look at something and remember a time and place.
We received these Festive Porcelain Baubles and Tree Decorations together with Porcelain and Glass decorating pens so that we could create our own. As it turned out there there six in a pack and we have six members of our family so we were able to make one each, although I had to decorate Jelly Bean's for him. I wanted his bauble to still resemble him so I have drawn on lots of brightly coloured Jelly Beans.
The pens were really easy to use although initially we thought they didn't work. You need to pump the nib down slightly a few times to get the ink flowing and then you're good to go. The ink dries quite quickly so you don't get too messy. My favourites were the sparkly pens because they add that Christmas shimmer. They are pre-strung with festive red ribbon so once you have finished you can pop them straight onto the Christmas tree, stand back and admire your hard work.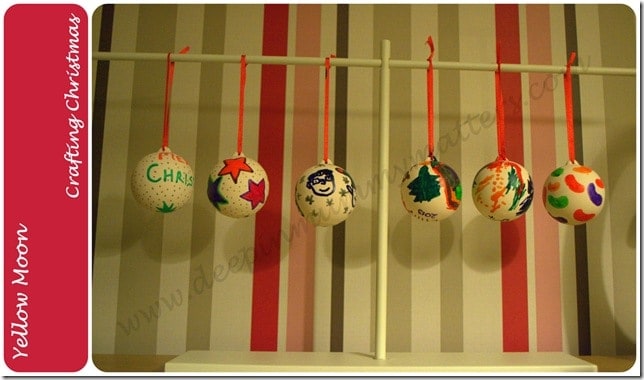 If you haven't visited Yellow Moon yet you are missing out on a gem of a site, we LOVE it here because there are crafts to suit every ability and they are really affordable. I have a special "yellow moon" craft box at home and the children love it when I get it out as I keep it as a kind of 'pick'n'mix' of crafts to do a on a rainy day. When buying through Yellow Moon you are not only saving yourself lots of money and earning brownie point with the children but a percentage of what you buy is then donated back to your chosen charity. You just need to select them before you complete checkout. It's a win/win situation for everyone.
Merry Christmas xx
DISCLAIMER: We were sent the above craft packs free of charge for the purpose of this post however I am a regular shopper at Yellow Moon because I love it anyway. All words, images and opinions are my own and may not be copied without my permission. I have not been instructed what to write.