Maybe it's because I'm female, I don't know but I always find it so much easier buying for gifts for girls at Christmas. Perhaps it's because there are always pretty little knick knacks around for girls?? To prove a point, this year as we are approaching Christmas I have already managed to finished Little Bean's gifts but the boys . . . I'm still lacking for ideas!?!
So here are just a few ideas of gifts for girls as Christmas draws nearer . . .
Barbie Rock 'n' Royals Doll
The latest film in the Barbie world is Barbie Rock 'n' Royals which means there will be plenty of merchandise to accompany the film, Little Bean has her heart set on a Barbie Rock 'n' Royals doll. At 7 years old Little Bean STILL loves Barbie, she can often be found in the den under her bed watching Barbie on Netflix or playing with her arsenal of Barbies in her dolls house. I remember when Little Bean was a baby I heard other mothers saying how they wouldn't allow their girls to play with Barbie because she painted a picture of being stick thin with tight clothes and loads of make-up. I don't see Barbie like that at all, I played with Barbie as a child and also had Ken, Skipper and a baby. To me, she was a loving and caring Mother from a happy family, something that I aspired to for myself. These days little girls also have the chance to watch Barbie films to help inspire their play and Barbie always comes across as a spirited young girl with a big heart who wants to help those in need, work together with her friends and to put things right. Surely that's a good role model? It certainly is in my eyes and that's definitely how Little Bean sees her.
RRP £22.99
Buntella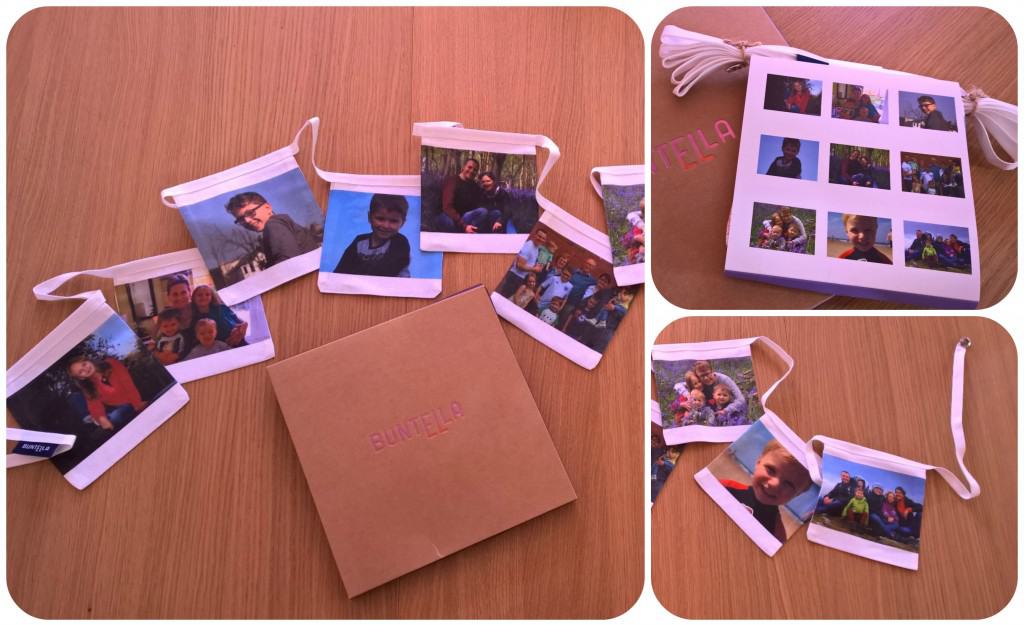 If your little girl is anything like Little Bean, then she will love to spend time in her bedroom surrounded by pretty things. Little Bean's bedroom is her haven. I recently was given the opportunity to review Buntella from the creators of Boomf Marshmallows. Buntella is fabulous bunting that you create yourself online and then receive gift boxed in the post. With Buntella you can design pretty much anything you like, you really are only going to be limited by your imagination. It's super-simple to create and what really impressed me was that I ordered mine at 3pm on the Thursday and received it on my doormat at 12.20pm on the Friday!!
Making Buntella is easy, you just upload the photographs or images that you want on your bunting (9 images) and that's it! I knew that I wanted to use photographs of the family for my Buntella and the images needed to be square but some of the images I wanted wouldn't work as a square image so I used PicMonkey to create the images I wanted by adding a white border above and below the image before saving it and uploading to Buntella. Using something like PicMonkey to create your images means you could add stickers, text, blocks of patterns or colours, quotes or whatever takes your fancy.
When the Buntella arrived I was impressed by the quality with strong tape and reinforced rings to hang the Buntella on the wall. The flags are good quality fabric with a pretty patterned fabric on the reverse. You could create one with inspiring quotes or photos of her favourite Disney character or band, it can be as personal as you would want it to be and it will be extra special because nobody else will have the exact same one.
RRP £25
Merci Mamman Personalised Gifts
I first discovered Merci Mamman a few years ago and the items of jewellery I have from them are still amongst my most treasured because not only are they beautiful pieces of jewellery but they have meaning too. Little Bean has one of the bracelets that I was given by them from attending an event and she loves it. Whenever she wears it she tells me "I look like you Mummy". I remember as a young girl that I wanted to be just like my Mummy and I still remember the first time I received a piece of jewellery as a Christmas present, I loved it soooooo much and still have it to this day. Even the Duchess Kate has a few items of Merci Mamman jewellery!!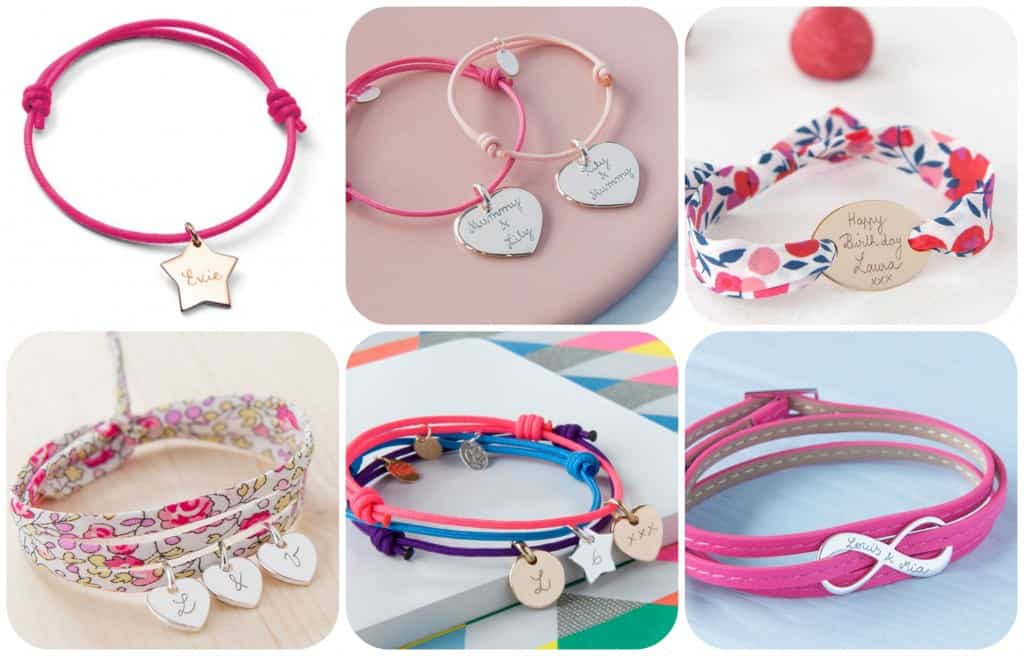 Merci Mamman gifts are all engraved by hand and the charms are beautifully made. I really like the Mother and Daughter bracelets, I know that Little Bean would love something like this, a special bond between Mother and Daughter. There are lots of different options available from ribbon bracelets to necklaces and keyrings, have a look around I guarantee you will find more than one thing you like!
Prices vary.
Microscooter Accessories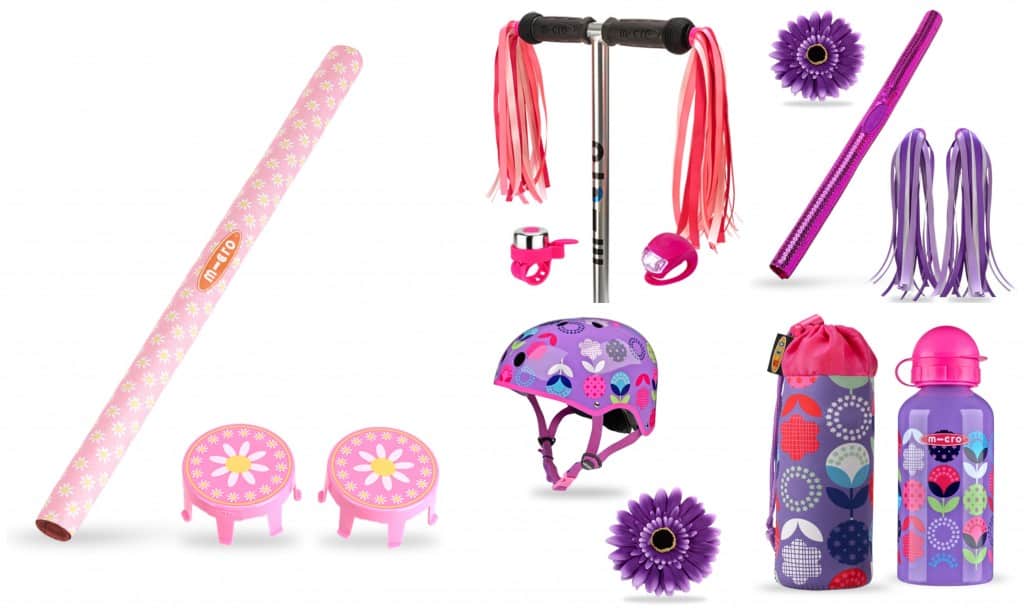 One of Little Bean's favourite things to play on all year round is her Microscooter. The great thing about them is they are built to last but like most things, children can get fed up of the way they look so why not treat her to some new accessories. You could even go the whole hog and buy her a new footplace if you really want to, then she'll feel like she has a brand new Microscooter. There are LOADS of great accessories to choose from with prices starting at just £1.95, why not take a look at their website.