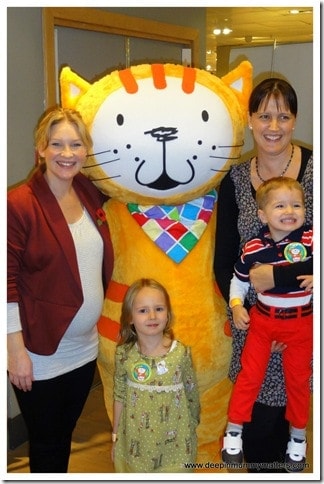 Go Poppy Cat crazy this Christmas!!
Do you remember I told you about Poppy Cat a few weeks ago? Well, come here, there's more! Your little bookworms will definitely want to get their hands on the two brand new Poppy Cat TV tie in book titles; All Aboard! and Blast Off! Last week we hopped on the train to London early one morning to attend a very special event with Poppy Cat and voice of Poppy Cat, Joanna Page (Gavin & Stacey) at John Lewis on Oxford Street.
Little Bean and Beanie Boy spotted Poppy Cat the moment we arrived at the Bistro and wasted no time in diving in for hugs with the big orange fluffy character. They definitely don't take after me, I would have run a mile at the site of an oversized cat but they couldn't get enough of Poppy, they were mesmerized and it was really heart-warming to watch.
Whilst Little Bean and Beanie Boy cooed over Poppy Cat and enjoyed doing a spot of drawing with her, Hubby enjoyed the fresh juice and pastries whilst I talked pregnancy and babies with the lovely Joanna Page, a truly down-to-earth lady who is overjoyed at the prospect of becoming a mother for the first time herself next year.
Once breakfast was over, we all made our way upstairs to the toy department where the children were treated to a very special story-telling session of the new books which they really enjoyed. Honestly, I think Mummy could learn a thing or two about how to read a story, it's not just a case of reading the words on the page it's about making that story come alive with actions and noises and imagination, exactly as I am sure author Lara Jones would have imagined it. They enjoyed it so much they begged us to go back for the second reading of the stories an hour later.
If your child hasn't had the privilege of Poppy Cat yet then All Aboard! and Blast Off! provide the perfect introduction to Poppy Cat and her friends as they set off on their colourful adventures. There are lots of lovely gifts to compliment the Poppy Cat range which will be purrfect for Christmas stockings from Dominoes to Plush Toys, or talking Poppy Cat to mini figures, there's a Poppy Cat toy for everyone!
Poppy Cat is aimed at pre-schoolers and has already sold over 2.5million copies of Poppy Cat books worldwide. Poppy Cat is the creation of Lara Jones who studied Fine Art at Cheltenham College of Art, creating enormous paintings from her stepladder. Poppy Cat is a warm and loveable character that children can identify with. Lara won the Sheffield Baby Book Award in 2004 and the Booktrust Early Years Book Award in 2005 with other Poppy Cat books. Sadly Lara died in March 2010.