Review: Poppy Cat Plush Toy and Figures
For those of you who haven't heard about Poppy Cat, let me explain, Poppy Cat is a children's show on Nick Jr and CITV. Now we don't actually get Nick Jr and I keep the children's viewing times to a minimum so even though they may have caught the odd show they are not avid viewers. Poppy Cat is aimed at preschoolers and features an adventurous Poppy the Cat and her band of friends. The animated show is based on the award winning books by Lara Jones which have sold over 2.5million books worldwide.
We were sent Poppy Cat the Talking Plush Toy and a Poppy Cat and Friends figure set to review. To me it doesn't matter that the children haven't seen the show very often because they then have the opportunity to make up their own adventures and game play, something which my tiddlers are very good at, although I have noticed that Beanie Boy's game play usually involves some poor toy being pushed off the side of the sofa shouting "help" whilst the other toys look on and giggle. I might have to keep an eye on him!!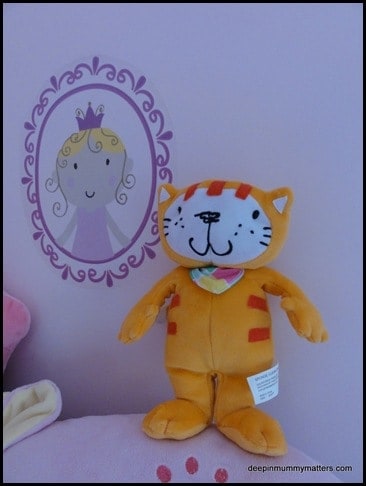 The Talking Plush toy is actually aimed at children of 10mths plus but this hasn't deterred Little Bean one little bit, she loves Poppy and the fact that she talks to her. By pushing her tummy Poppy Cat will talk to you with five different phrases and yes it can become annoying but didn't we all want talking toys when we were young, where has our adventure gone!?!? Poppy Cat the plush toy is a really handy size just big enough to fit in Little Bean's rucksack for days out or to fit in her travel case in the car, meaning she is always on hand for when Little Bean feels the need for an adventure partner.
Poppy Cat is soft and squishy and definitely suitable for small children as there are no pieces which can be pulled off, chew or swallowed and the battery/voice compartment is very well sewn away with no access for little fingers. The figures are smaller and semi-posable, they are only suitable from age 3 years plus which I think is pitched right since they are small enough to be chewed.
Both toys are available from Golden Bear and other major retailers for £9.99 each.