As Half Term approached there was one day, in particular, we were all really looking forward to as we had been invited to WhiteGrounds Skate Park in London to have fun with bikes, scooters and skateboards to put the new Vtech Kidizoom Action Cam through its paces.
What is the Vtech Action Cam?
Just in case you haven't heard about them already, they are basically a GoPro camera for children. The Vtech Kidizoom Action Cam comes with a waterproof housing to enable in-water filming and photography, a bicycle/scooter mount and a skateboard mount. The camera has video recording capabilities as well as taking stills AND it also has a couple of games thrown in for when they are taking a breather from all that action.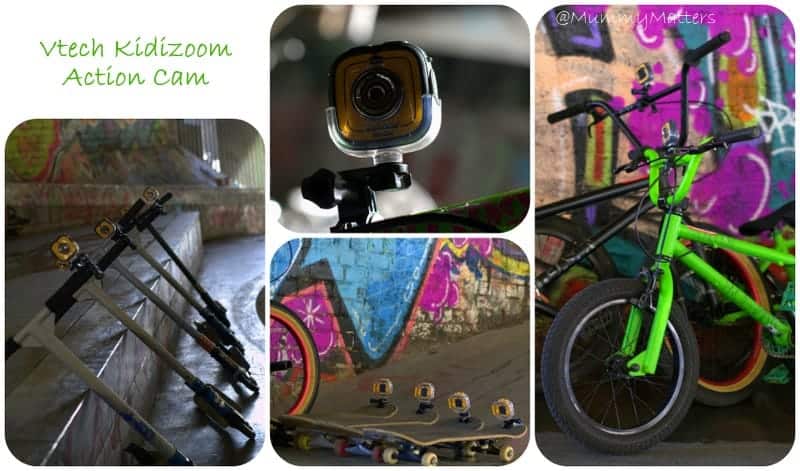 Being a bit of a camera hoarder I bought myself a GoPro last Autumn, I haven't done lots with it yet but I have plans! Whenever my GoPro as come out the Beans have been very keen to get their hands on it too so I knew the Vtech Kidizoom Action Cam would hold their interest. There has been many a family walk with them on their scooters where I have thought they needed an Action Cam to record their antics and now Vtech have answered my prayers with a very cool piece of kit at an affordable price of just £49.99.
The Event
We arrived at the Skate Park with two very eager itching to get on two wheels but first off we had to get them kitted out in safety gear and then get them inspired by watching two professional stunt artists on skateboards/rollerskates performing all manner of jumps and other things that I wouldn't dare to name for fear of being totally uncool when I get it wrong! Curly would NOT approve!!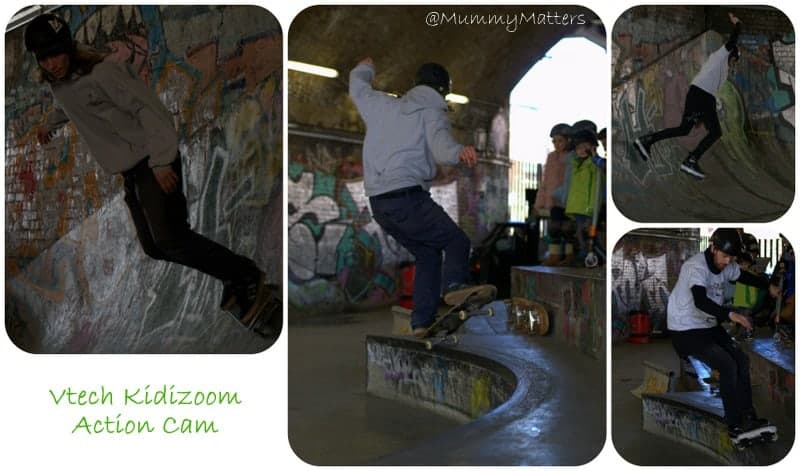 As soon as the professionals had done their bit, it was over to the children to select their wheeled instrument of choice. Little Bean chose a rather cool bright green BMX bike (whilst a worried Mummy looked on) and Beanie Boy chose a scooter. They each received a quick lesson from the team on how to operate their Action Cams and they were off, scooting and cycling back and forth, up the walls, into each other, skidding, sliding and having a blast. Little Bean SERIOUSLY impressed me with her cycling, she was a little bit rusty to start off but with a little coaching from Team Extreme and a sound piece of advice to learn to ride the bike standing up instead of sitting down as it helps to centre your weight distribution better, she was soon cycling like a pro! It was suggested she try a few jumps but I think that was perhaps pushing her capabilities a little too far just yet.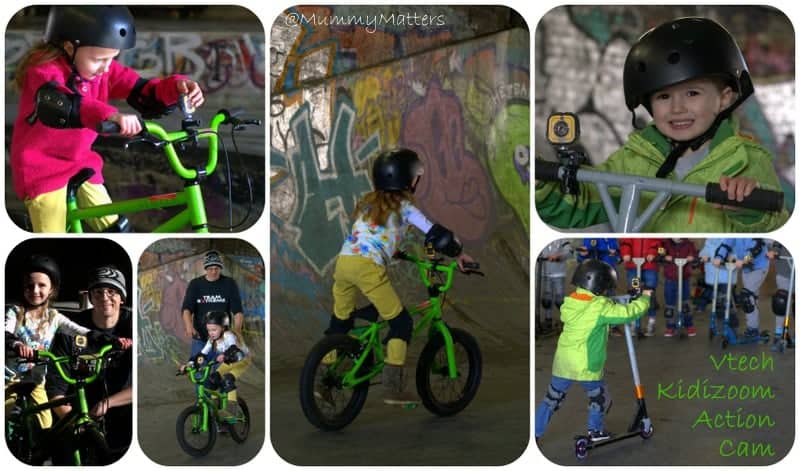 All too soon, the event was over and it was time to put down the wheels. The Beans said this was one of their favourite events ever and the fun didn't end there because they were able to bring their cameras home with them. They have been using them ever since and both quite fancy themselves as presenters each recording their own little ads. They have picked up using the cameras with so much ease that they haven't needed any input from me at all.
Picture Quality
Having had children's cameras before I wasn't expecting anything too outstanding from the camera. For me, it was more about the children being able to do something for themselves and I knew they would love this. BUT I have been pleasantly surprised. The Skate Park itself didn't have the best of lighting and I struggled to take some of my pictures with my DSLR but the Action Cam did a pretty good job. We sent out video footage to Vtech who put together this montage of videos from everyone who attended the event and I think you'll agree, it's pretty darn good!
I am very excited to be able to tell you that we shall soon be testing new scooters for Micro Scooter so we shall definitely be using the Vtech Kidizoom Action Cam to share our experiences with you.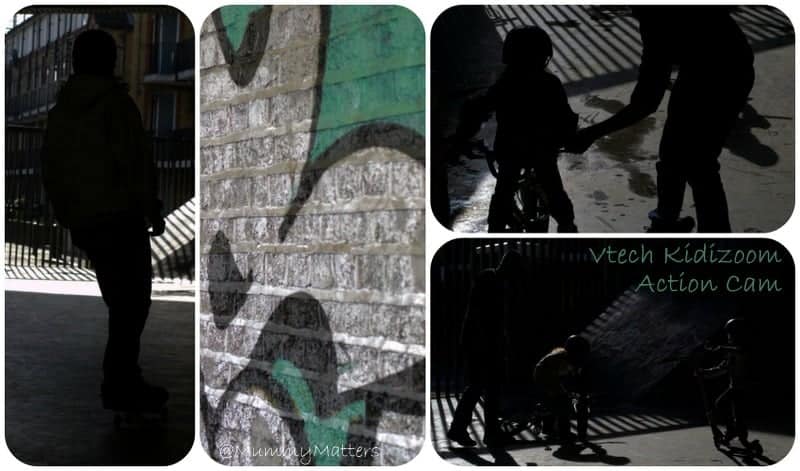 DISCLAIMER: We were invited to the Vtech Event with our travel expenses paid. The Beans were both given their cameras to bring home with them at the end of the event. All words, opinions and images are my own and may not be copied without my permission.
Latest posts by Sabina Green
(see all)