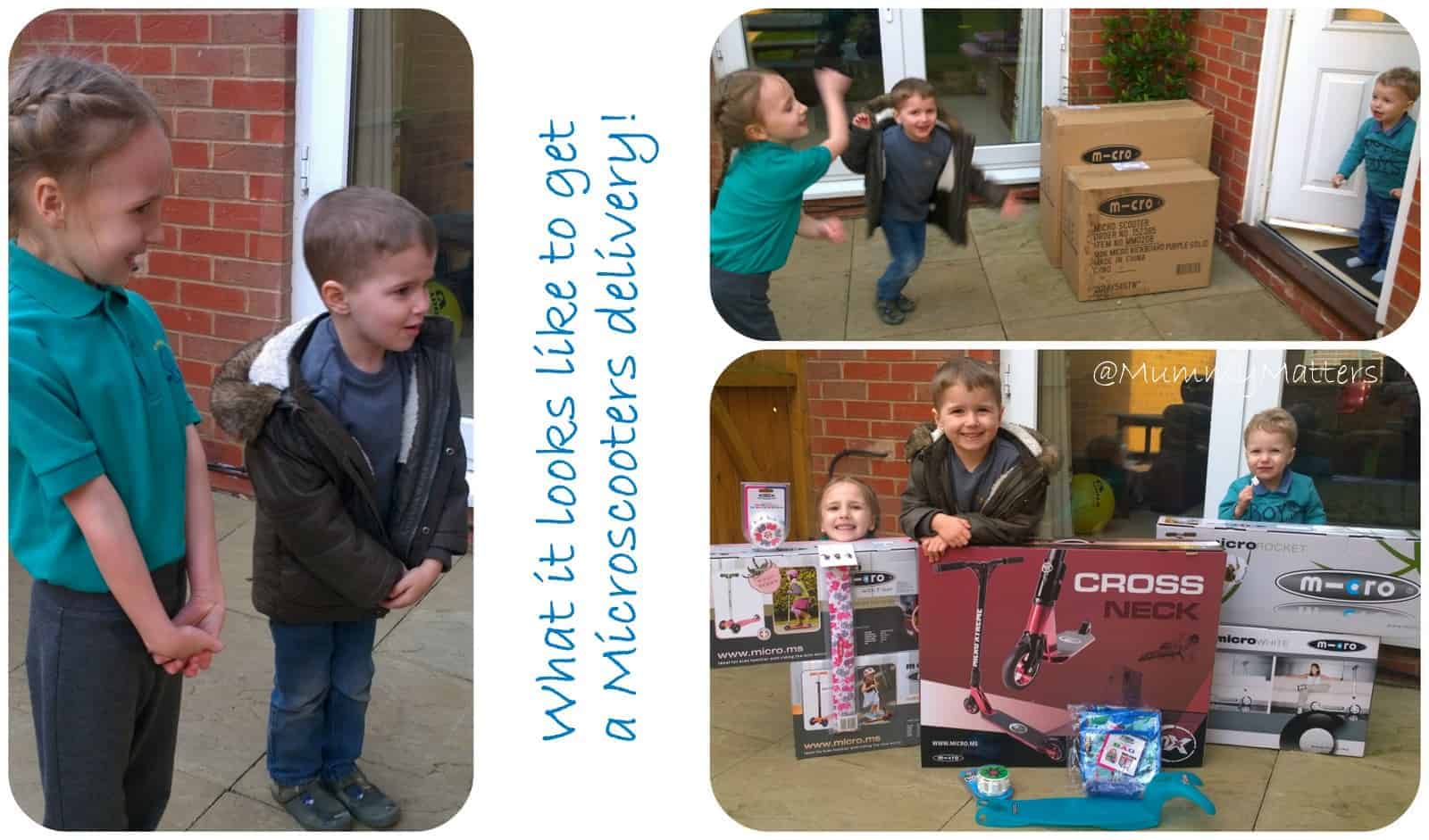 Microscooter families just wanna have fun!
Back in January this year I attended the Toy Fair at Olympia and tweeted a picture of all the gorgeous new Microscooters they had on display. We have long been fans of Microscooter so we were over the moon when Microscooter picked up my tweet and asked if we would be interested in trying out their products as a family because it doesn't have to be ALLLLL about the children now does it!
Decisions Decisions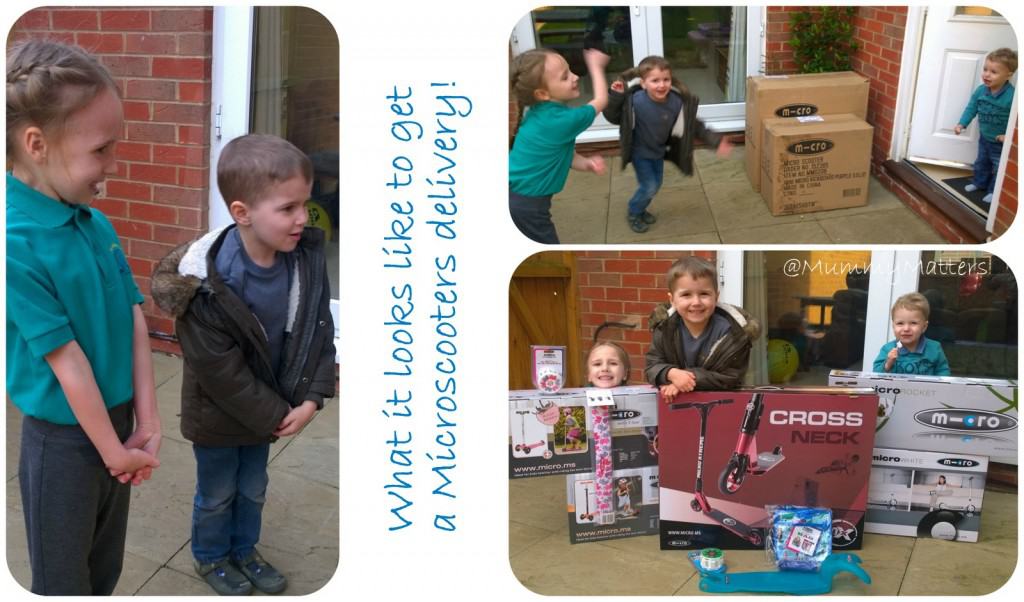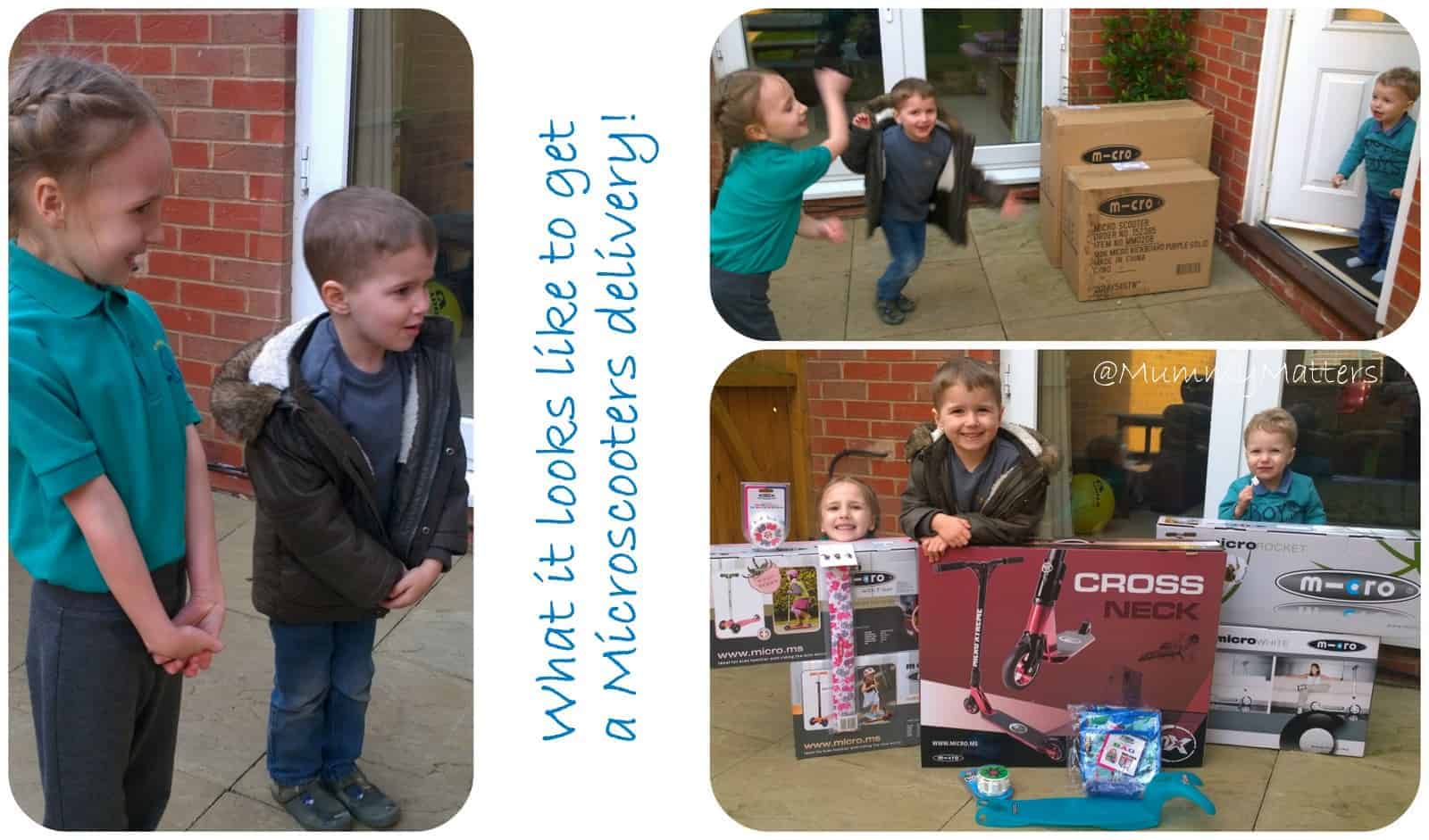 I asked the Beans to choose their own Microscooters so that I would be sure they were getting what they would love, not what I thought they would love. They were soooooo excited when we came home from school one day to find this little lot waiting for us.
Mini Micro 3in1 Revamp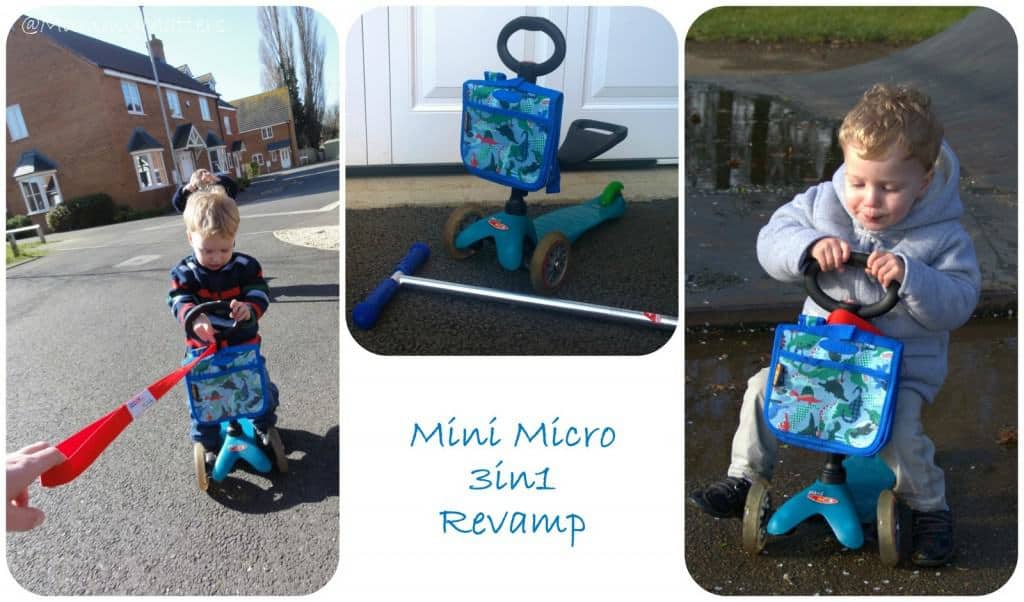 Little Bean and Beanie Boy have been riding Mini Micro 3in1 scooters up until now so rather than let them go to waste I decided to revamp one of them by purchasing new coloured handlebar grips, a footplate, brake and bag for Jelly Bean so he didn't feel like he was getting a hand-me-down from his big brother.
If you have never seen a Mini Micro 3in1 before I can highly recommend it, as you can see, Jelly Bean is in the seated position for now whilst he gets his balance. There are two seat heights and he is currently in the lower seated position but I think I may higher is slightly for him. He can easily get around on the scooter himself or I attach the Scoot 'n' Pull strap I used to use for Beanie Boy and pull him along instead.
When he is old enough we will remove the seat and depending on his height he can either stick with the 'O' ring handlebar which is shorter or he can progress to the full height handlebar. This will easily last him up to 5-6 years.
CYO Maxi Micro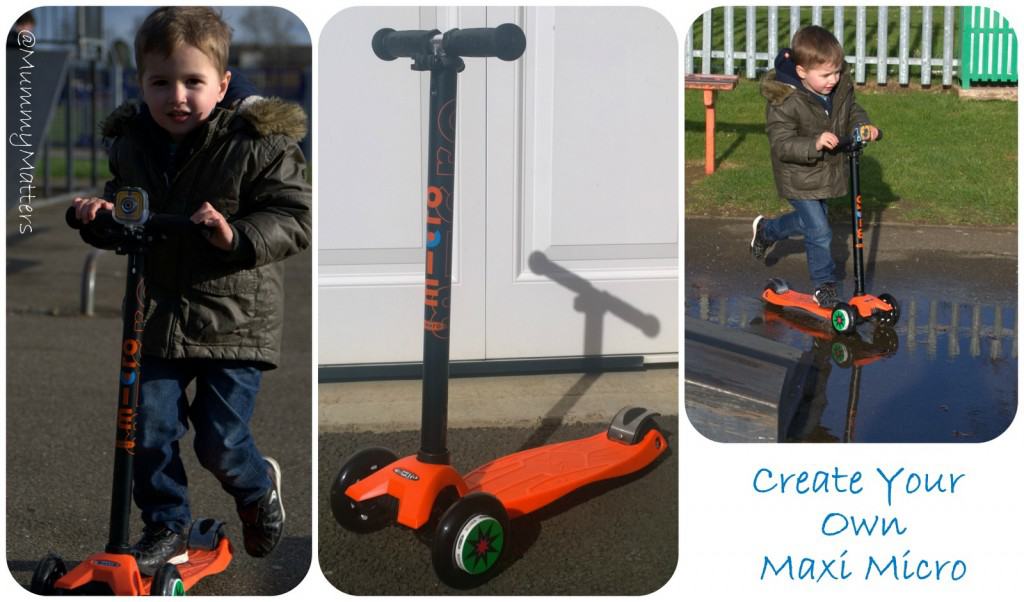 Beanie Boy opted to create his own Maxi Micro. The Maxi Micro is recommended for age 6 upwards but as you can see here, it fits Beanie Boy well at 4.5 years. It is the perfect next step up for children who are already used to the 'tilt 'n' turn' ride of the Mini Micro. They are really easy to steer and with the two wheels at the front, they are good for balance too.
The main difference on the Maxi Micro is that the footplate is slightly larger and feels firmer to support growing children up to the age of 11-12 years. The handlebar is telescopic and easy for them to adjust themselves without the risk of hurting themselves so as they get taller they can adjust the handlebar accordingly. Jelly Bean LOVES his orange and black design.
Elephants on Parade Maxi Micro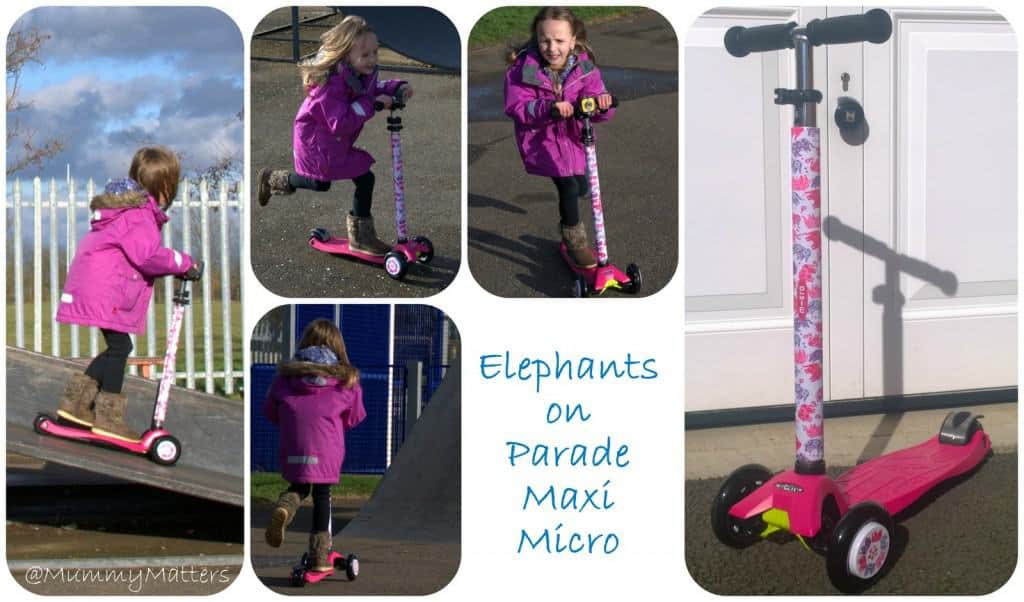 Little Bean chose the Special Edition Elephants on Parade Maxi Micro Scooter which has a special neoprene printed cover for the stem which can be changed at a later date when her tastes change. You can buy replacement scooter sleeves for around £7.95 from the Microscooter website. Little Bean's scooter also came with the Elephants on Parade Wheel Whizzers which add to the look.
Micro MX Crossneck Stunt Scooter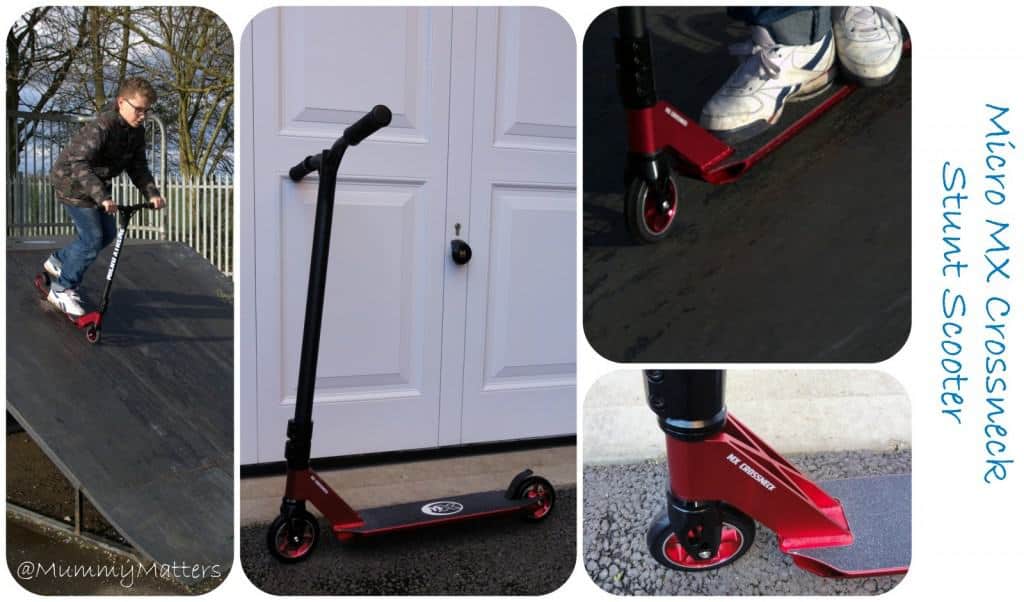 Curly chose the MX Crossneck Stunt Scooter and whilst he isn't exactly a 'stunt rider' yet he is starting to try to do a bit of fancy footwork on his scooter and he loved it when we went to our local skate park to try them out. He certainly wasn't scared of trying his hand at the higher ramps. The MX Crossneck is designed for the older beginner or intermediate riders offering the high-end specification of a more expensive stunt scooter. It has wide aluminium handlebars, a flexible brake and a rough textured footplate for good grip.
Micro White and Micro Rocket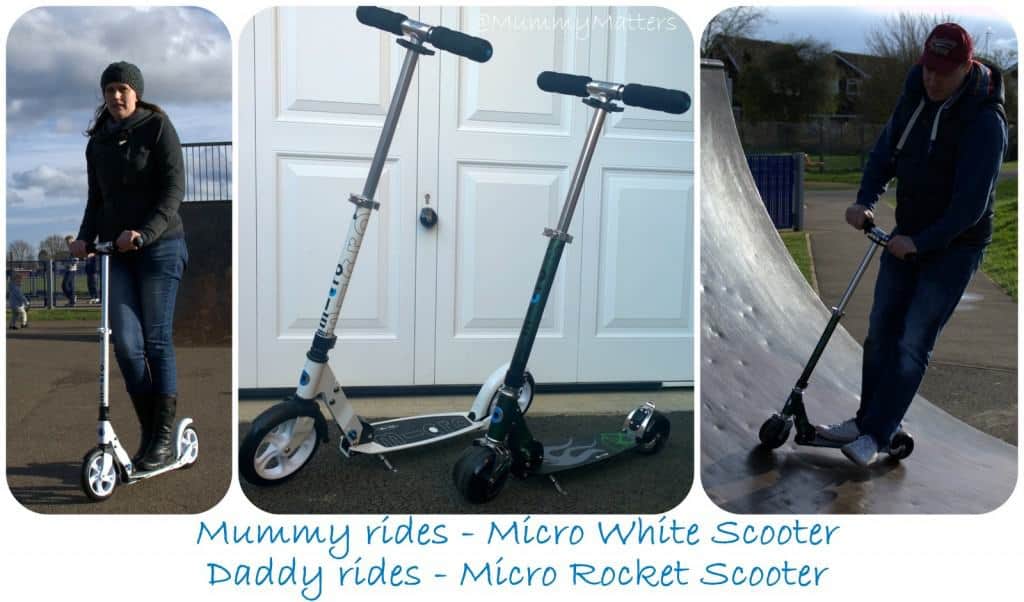 At the age of nearly 39 and nearly 40 Hubby and I were able to choose our first scooters. I chose the Micro White Scooter, I was really torn between the White or a Floral but decided in the end I liked the simplicity of the white and if I feel like adding a bit of design later I could do that with accessories. The deck sits low to avoid stress on the back which is something I need to be careful of, it has mudguards to keep me (and my scooter) looking clean and a particular selling point for me was the larger wheels which means it takes less effort to scoot. Initially, I was a bit of a Jessie and didn't dare tackle the ramps but then the Beans egged me on and I did it without falling off.
Hubby chose the Micro Rocket because he liked the little fat wheels and the flame effects on the deck. The Rocket is sturdy and the 'fattie' wheels which are unique to Microscooter offer extra grip and stability. Hubby being the big child that he is had lots of fun trying out the ramps with Curly and the younger Beans, although he did fall off a couple of times!!!
Both of our scooters have telescopic handlebars which make them suitable for teens and adults. They have a quick-fold mechanism which makes them easy to carry or stow away.
Fun at the Skate Park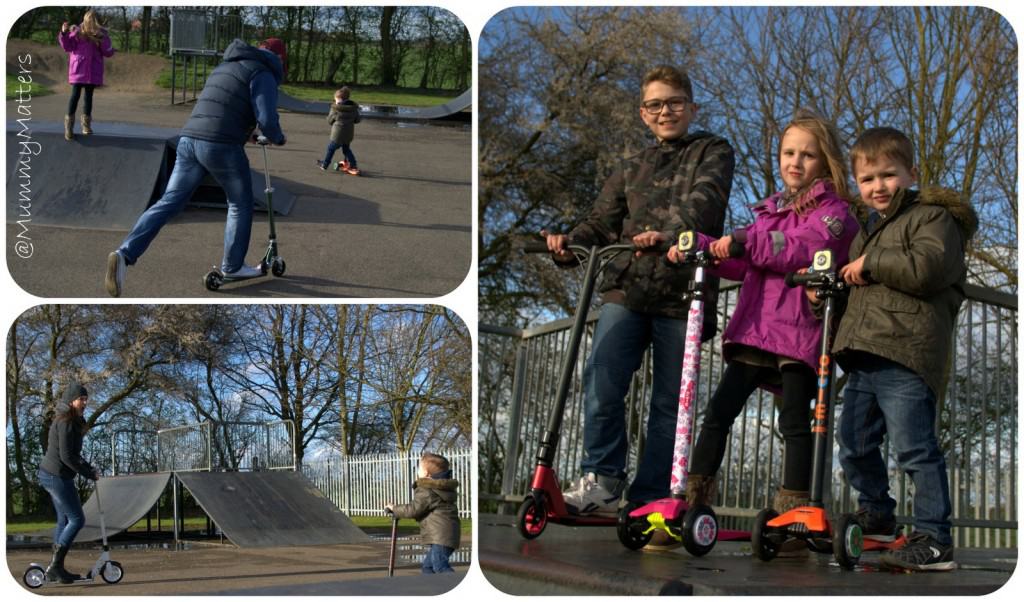 We are really lucky to have a cool skate park just down the road from us so for our debut family skate we were delighted to find not only was it empty but the sun was shining and we were good to go. We fitted the Beans up with their Vtech Action Cams to record our adventures and had a blast.
Check out our Microscooters Video
It was such a fun thing for us to do as a family because although we always do things as a family, it can often involve Hubby and I standing back and watching, videoing or photographing them rather than getting stuck in. The Beans loved chasing me and Daddy around on their scooters and Jelly Bean loved that he could join in too without having to just watch his older siblings from the viewpoint of his stroller.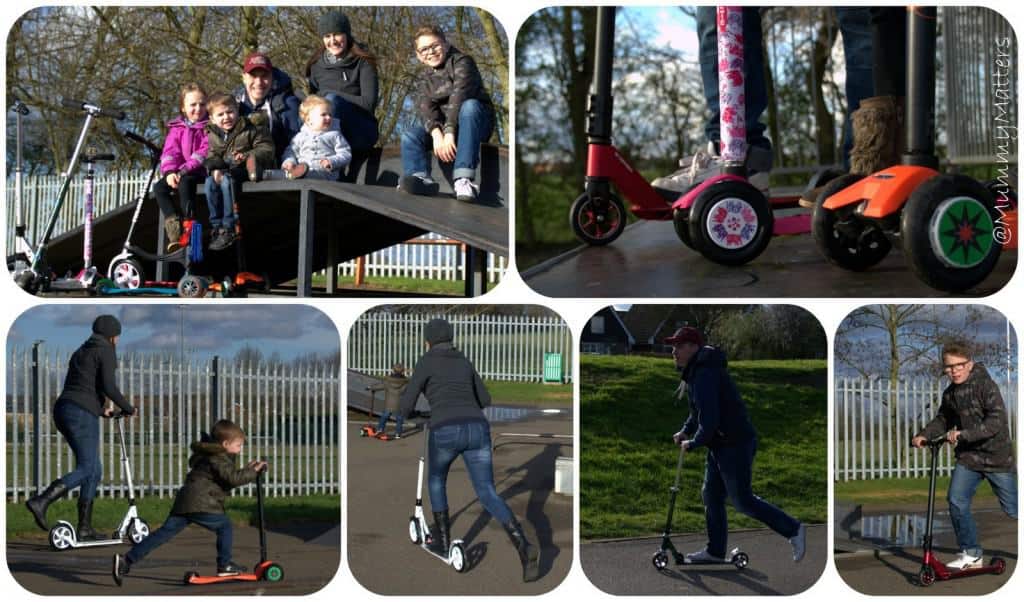 DISCLAIMER: We were given the Microscooters above for the purpose of this post. All words, images and opinions are my own and may not be copied without my permission. I have not been instructed what to write.