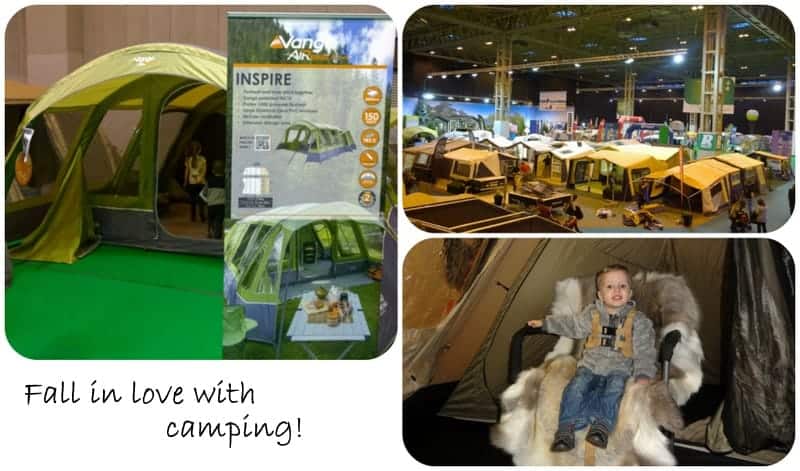 Our first visit to the Caravan, Camping and Motorhome Show at the NEC
Now that we have managed to convert the Beans to our love of camping we plan on going even more this Summer, even if you can just get away for a night or two it can feel like you have been away for a week. Time goes slowly when you're camping and if you're lucky your children tend to sleep better too thanks to all that fresh air. No TV's mean they start to use their imagination more, no home distractions and jobs for parents mean you get to connect more as a family and everyone feels better as a result. It's a win-win situation really!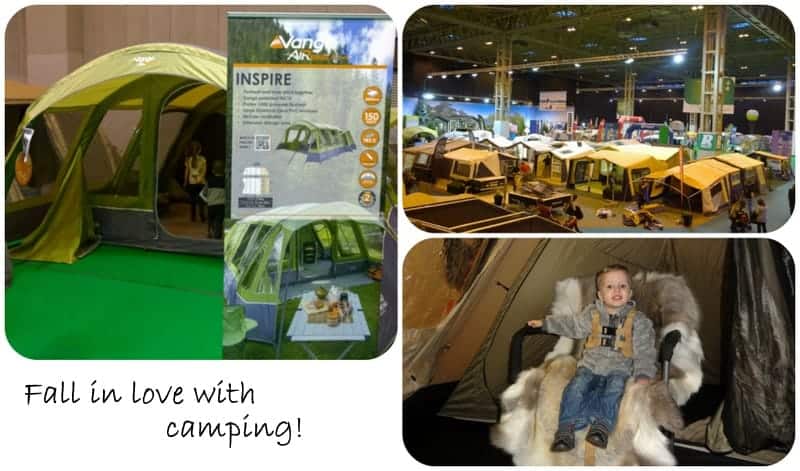 As we packed our tent away for the last time at the end of Summer 2014 we decided it was time to start looking for something a little bit bigger. Our current tent is a Vango 600 – it's a large central dome with two bedroom pods off the sides, a back door and a large front porch which acts as a kitchen area. We have loved our tent all the time that we have had it and it served us well when it was just Hubby, Curly and myself but now that Curly is a teenager and we have the three smaller Beans it felt more cramped with so many bodies and all that each body needs for their camping holiday. So where do you look when you want a new tent? The Caravan, Camping and Motorhome Show of course. Where else could you see so many tents already erected ready for inspection?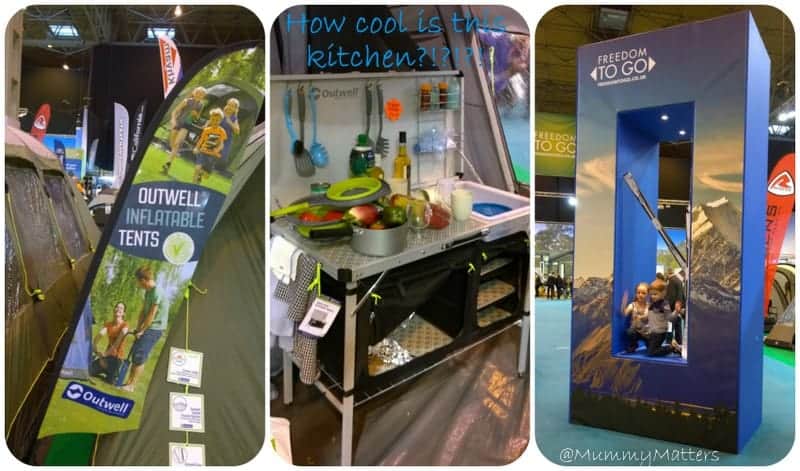 We were pleasantly surprised to find that parking at the NEC was free for this show which meant we had more pennies to spend on lunch. As ever the parking at the NEC was very well signposted and Marshalled, we managed to park right next to the Bus Stop for the shuttle buses which take you to the exhibition halls. They run every 15 minutes so you don't have to wait around long and the majority of the buses are low-loaders so you can wheel pushchairs and wheelchairs straight on. We did have to wait a couple of times though as a Coach was also on our route and it was too much hassle to dismantle the pushchair to place underneath.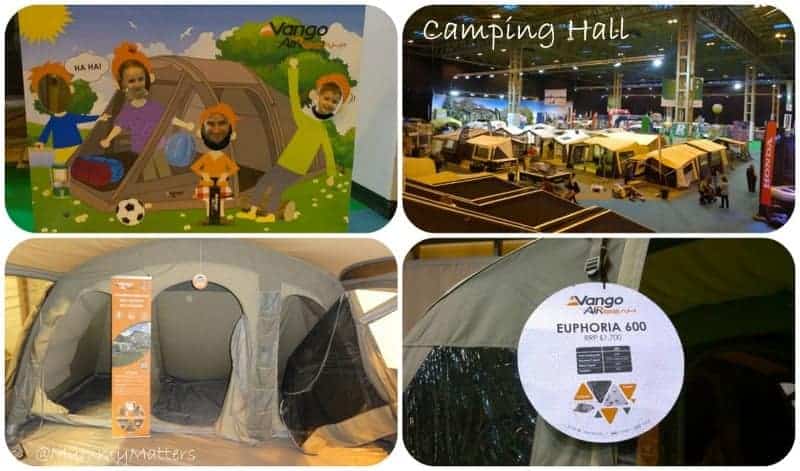 Once inside the exhibition hall we were given a Show Guide magazine packed with information about who was exhibiting and a Floor Plan to help you find exactly what you were looking for. Most of what we wanted to look at was in Hall 5 so we started there looking at the tents. We wanted to find out more information about the Air Beam tents which seem to be all the rage these days, we were dubious about how good they would be but I have to say we were impressed. Vango were doing demonstrations on how quickly the main frame of the Air Beam tents can be erected, it took literally a few minutes which is perfect for the not-so-reliable British weather. Hubby and I have been caught out a few times trying to erect a tent in the rain. Our greatest concern for the AirBeam tents was how well they would stand up to strong winds but after talking to the experts who said that they are tested to Force 9 winds I felt pretty confident. The Vango assistant also explained that Vango had turned more to the tunnel tents as they were easier for pitching (taking up less space than the previous dome tents – something we have struggled with in the past) and they provided a better internal space too. More of our boxes were being ticked.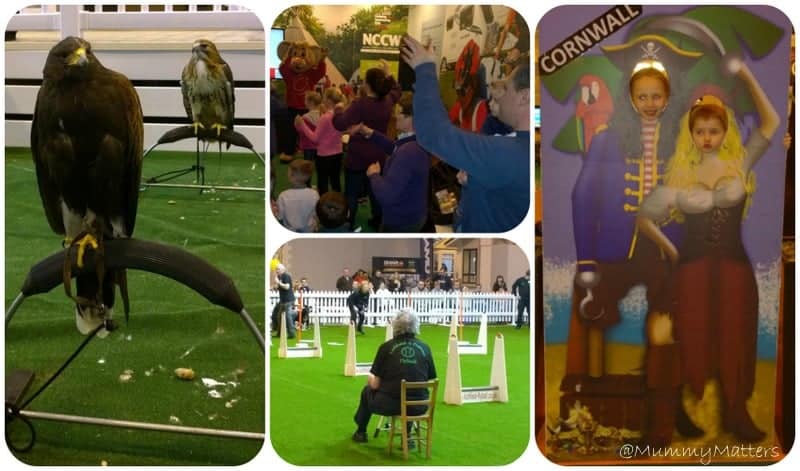 Having taken the Beans with us we were a little worried that they would get bored quickly but thankfully there were activities they could join in like dancing with the crew from Gullivers Theme Parks, a treasure hunt, a mini-steam train and even a helicopter which had been converted into a place to stay. They enjoyed seeing the Birds of Prey and watching the Dog Agility displays and looking in all the converted vans, caravans and motorhomes.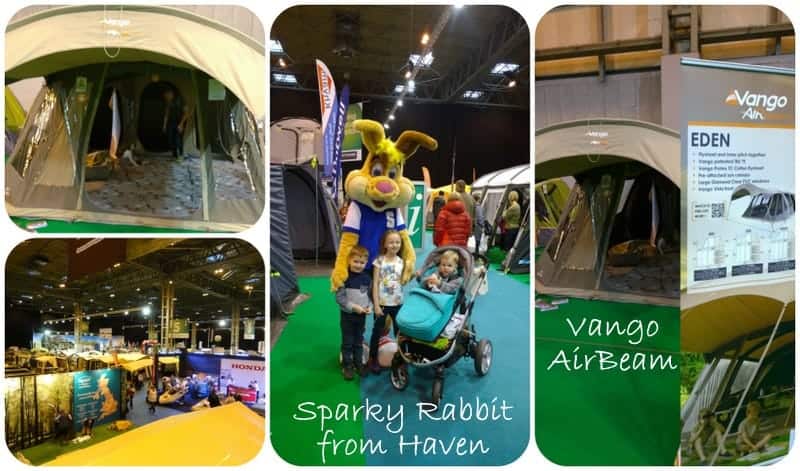 If you are looking to attend the show with a view to making a purchase and want to get a good deal but don't mind taking a bit of a gamble then my best advice would be to head to the show around 3pm on the last day as the majority of the crowds had disappeared and there were some really great deals to be had.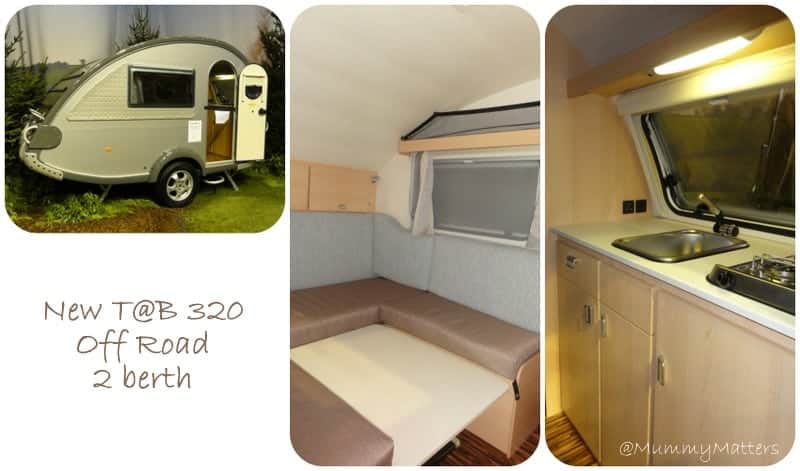 We loved this little 2 berth caravan, although obviously as a family of 6 we are definitely too large a family for this one.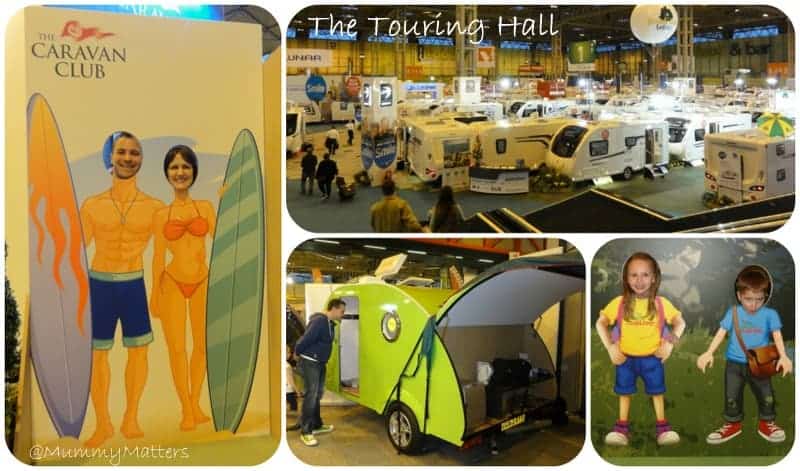 Hubby and I wanted to take this picture board home with us, we can't remember the last time we looked this good in our swimwear!!! We only had a very quick look at the caravans as I can't imagine us with the four Beans staying in a caravan but maybe when we have got fed up with sleeping on airbeds in a few years time.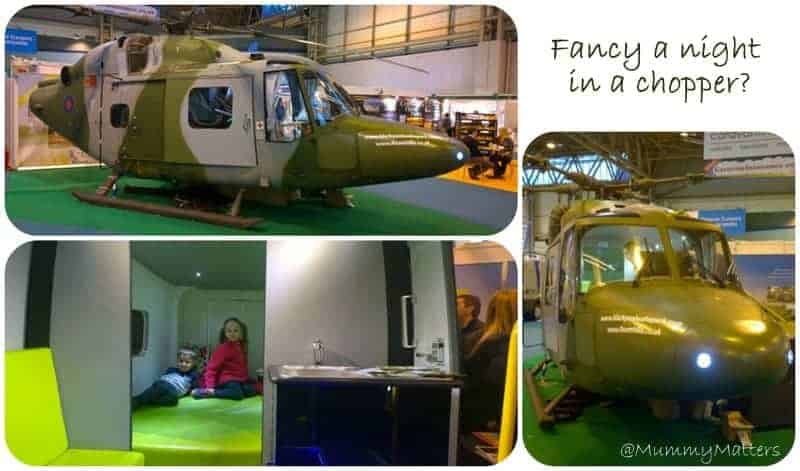 How cool is this converted Lynx Helicopter?! It has been designed to sleep 2 adults and 2 children, features a kitchen sink and microwave, plinth heater, LED Tv and fancy LED lighting. On site at Ream Hills Holiday Park are toilets and use of the shower block. Bed linen and towels are provided within the price.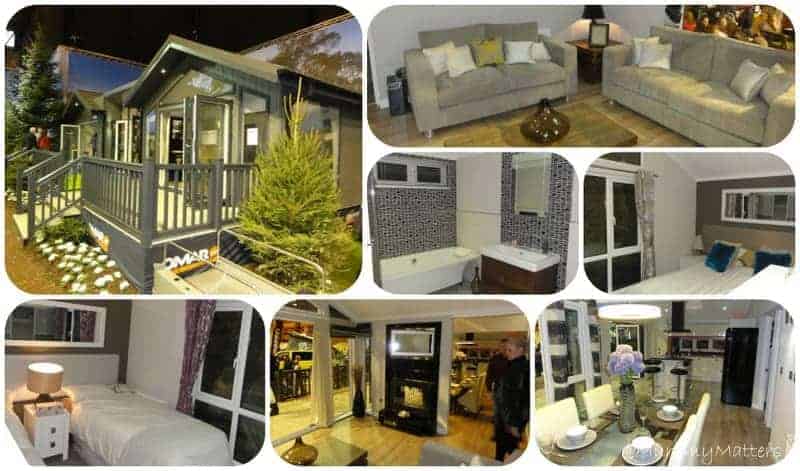 Now THIS Lodge I fell in love with completely. How nice would it be to have one of these as a weekend retreat? I could really see us kicking back and reconnecting somewhere like this.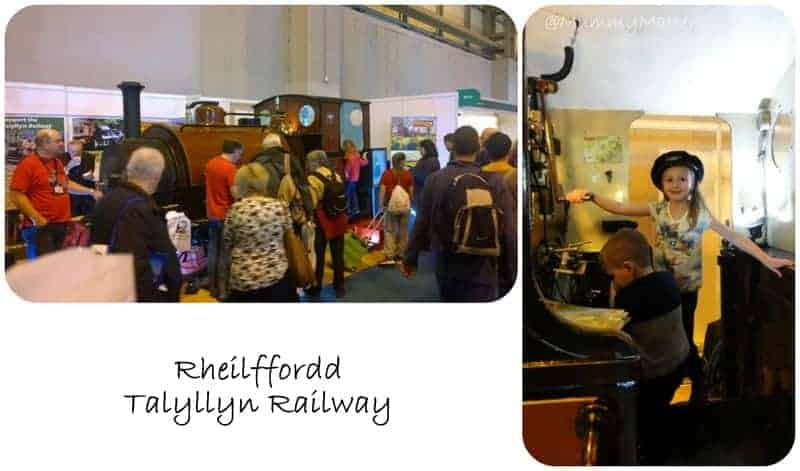 Little Bean spotted this train from Talyllyn Railway the moment we entered the Hall. After her trip to York Railway Museum she is completely fired up over trains. She impressed the guys who were there with her knowledge of the train features and how it worked. Nice to know she had been paying attention on her school trip.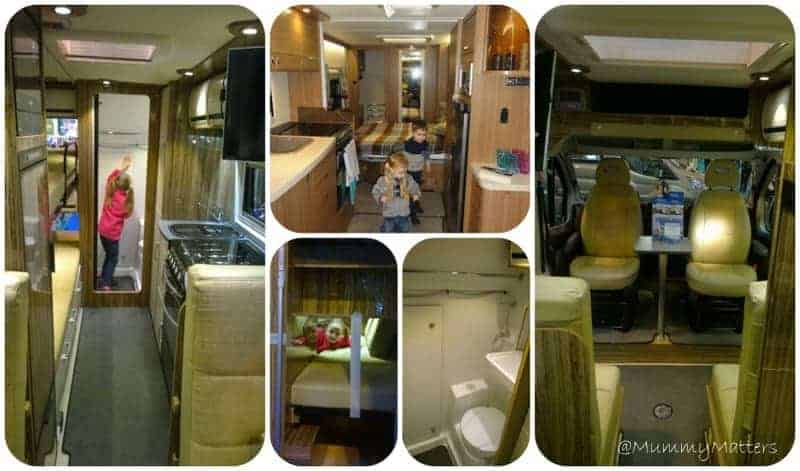 The Beans wanted this motorhome even though we pointed out there wasn't enough room to fit all of us in. They had great fun looking in all the cupboards and pretending to have a little nap.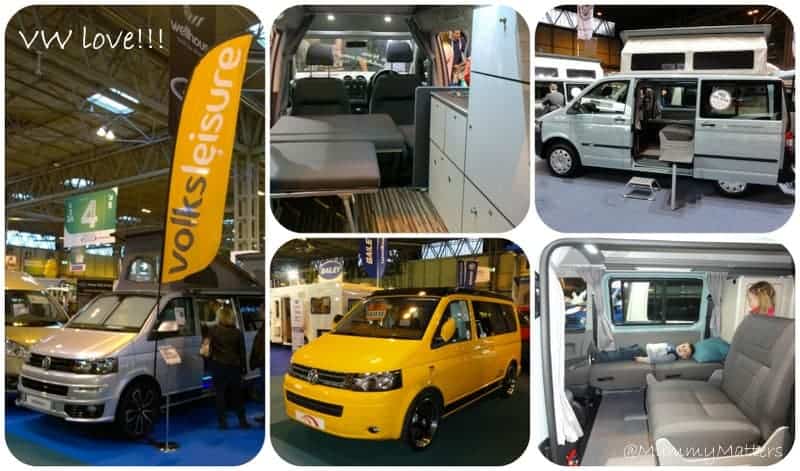 Being VW fans, Hubby and I could have spent a good few hours looking around all the VW vans, even the Beans put a smile on our faces when they knew the badge stood for Volkswagen.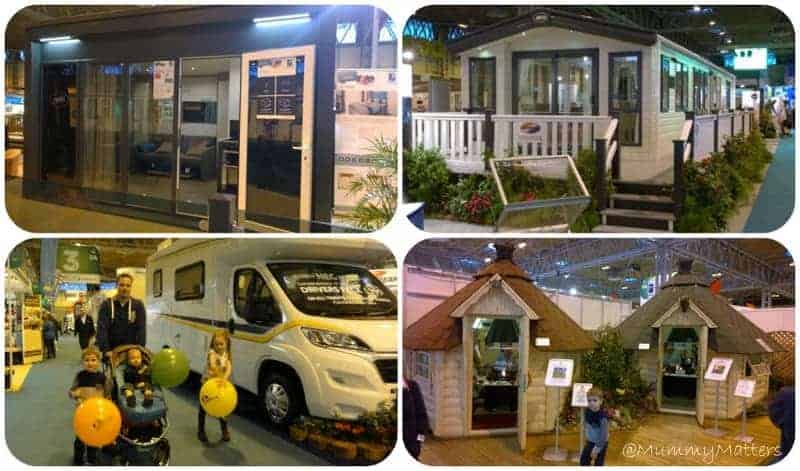 As the day drew to a close we had a quick walk around the Motorhome Hall and at some of the static caravans. We were delighted to stumble across these little wooden yurts which would love gorgeous in our back garden. I quite fancy one without the stove as my little outdoor office. A Mummy can dream can't she!
We came away from the show with so much to think about. We love the idea of camping abroad which is something we hadn't considered before, we stumbled across Ready Camp which has a site not too far from where we live so will hopefully visit there at some point. We have stacks of books which we are now working our way through to get inspiration from for our summer holidays and I will be sure to come back here about those that really grab my attention. We want to give our Beans holidays they will remember for years to come, to be able to look back and say "do you remember when we did . . . " with big smiles on their faces.
Where will you holiday this year? Where are your favourite places to camp?