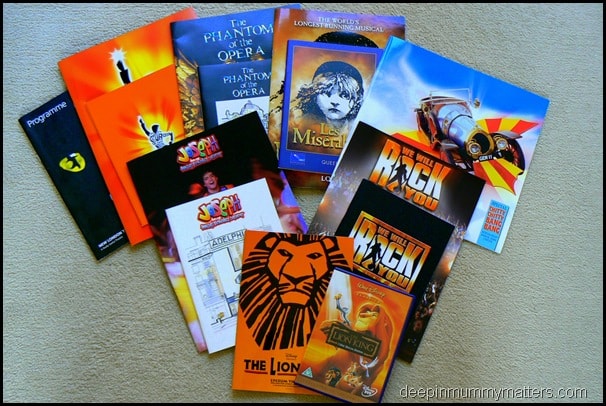 West End Shows – Gift tradition
I don't know about you but I love to give presents, sometimes I get a bit carried away with it if I'm honest because I just love to see the joy on someone's face when they receive something they love and so I always think very carefully about what I'm buying before I make the purchase.
Lion King for Valentine's Day
I'm sure I must have told you this story before but Hubby's first Valentines present to me sparked off a tradition in our future gift-buying. He told me that he was taking me out for the day and that I would need to be dressed smart but warm. We set off in the car quite early and made our way to London. Little did I know I was on my way to see one of the best West End Shows ever made!
Once we arrived he handed me an envelope containing Lion King tickets. I had never been to see a show before and so I didn't know what to expect but from the first note my heart beat faster and as the animals paraded down the aisles my face beamed and I felt so alive. The music gets right inside you and there is so much to see.
For something which I thought was 'just for children' I couldn't have been more wrong, I loved the whole experience and walked out of the theatre still with a big smile across my face.
Just a few of our favourites
From that day forward Hubby and I were hooked and for the next few years before the Little Bean and Beanie Boy came along we went to see as many west end shows as we could. Birthdays, anniversaries and just-because-we-could days we would head down to London to take in a show, my favourites being Lion King, Phantom of the Opera and We Will Rock You. We even chose In The Air Tonight from the Lion King for our first dance at our wedding.
Wedding Anniversary – Paper (Tickets)
For our first wedding anniversary, the 'tradition' is to give a gift of paper so I bought Hubby tickets to see Joseph and the Amazing Technicolor Dreamcoat starring Lee Mead. On the day that we married Lee won the TV casting show Any Dream Will Do and we had been voting for him all the way through so it felt like a fitting gift that we should go to see him in the show for our first wedding anniversary and he didn't disappoint.
A special gift for Mum
A few years later when I wanted to do something special for my Mum's 50th Birthday my thoughts went back to that special Valentines Day and I decided that I would do something similar.
I searched on Ticket.com and since this would be her first trip to see a show in London I wanted it to be special and bought tickets for the Lion King. It was even better the second time around and Mum loved it as much as I did. I didn't tell her where we were going or what we were doing, I just drove down to London and made out that we were going for a walk around to see the sights and do a bit of shopping but as we arrived outside Lyceum Theatre I presented Mum with her tickets and said: "shall we go in".
She was totally dumbstruck that I had arranged it all and still talks about what a wonderful birthday it was. In recent years I have followed it up with tickets to We Will Rock You which she also loved and I think its maybe time to head back again since I haven't actually made it to the theatre in nearly 3 years, I just can't decide which show should come next. I quite fancy Wicked or The Jersey Boys but I'm open to suggestions?
Are you a theatre-goer and if so, what is your favourite show and why?
DISCLAIMER: This is a featured post but the story is very true and very special to me. All words are my own and may not be copied without my permission.