Wicked the Musical – Our Review
On Saturday, whilst Albie enjoyed some quality time with Nanna, the rest of us hopped on a train into London to see one of my favourite musicals, Wicked. I first saw Wicked last year with Simon to celebrate my 40th birthday and absolutely loved it, so when we were asked if we would like to take Lillie and Ollie along for their first taste of the West End, we couldn't refuse.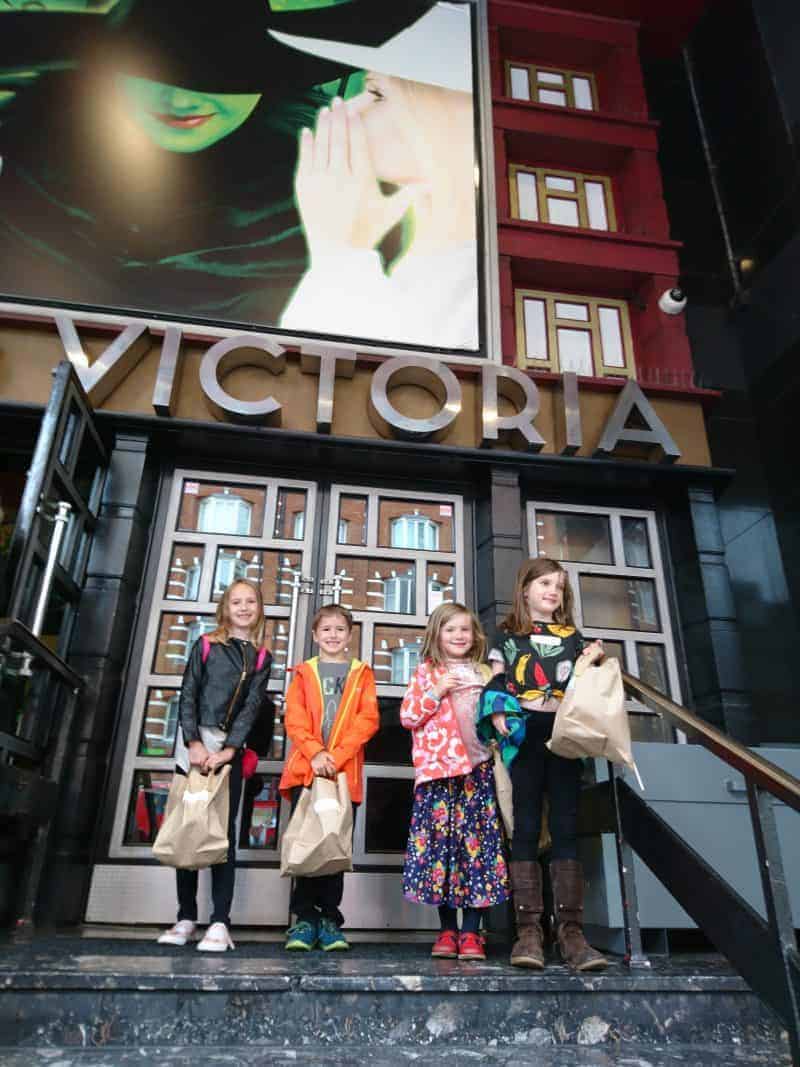 A love of musicals
Simon introduced me to the West End musicals with The Lion King on our first Valentines Day. We have been watching musicals together ever since; Les Miserables, We Will Rock You and Saturday Night Fever, to name just a few. I have been counting down the time until I could finally take the children to see a show and share our love with them.
The Story
WICKED, now in its twelfth year, tells the incredible untold story of an unlikely but profound friendship between two young women who first meet as sorcery students at Shiz University: the blonde and very popular Glinda and a misunderstood green girl named Elphaba. Following an encounter with The Wizard, their friendship reaches a crossroads, and their lives take very different paths. Glinda's unflinching desire for popularity sees her seduced by power. At the same time, Elphaba's determination to remain true to herself and those around her will have unexpected and shocking consequences for her future. Their extraordinary adventures in Oz will ultimately see them fulfil their destinies as Glinda The Good and the Wicked Witch of the West. Experience this unforgettable musical and discover that you've not been told the whole story about the Land of Oz.
Lillie and Ollie's Thoughts
Wicked is recommended for children aged 7 years and over, but I think it very much depends on the individual child. Lillie and Ollie are 9 and 7 years respectively, and both thoroughly enjoyed the show. They were apprehensive when we first encountered the flying monkeys, and Lillie asked whether they might come down from the stage. I assured her they would stay on the stage, so she was safe. They were both slightly alarmed by the mask on the door of the Wizard of Oz and the booming voice, but they relaxed once they realised what it was.
Lillie
Unsurprisingly, Lillie fell in love with all of the costumes, particularly Glinda's beautiful blue dress, when we first met her floating down from the sky. She also remarked on how amazing the sets and props were, things I hadn't considered that she would notice. I was fully expecting her to talk about the singing, but it was the visual effects that caught her heart the most, though she did say that she thought Defy Gravity was awesome. She also picked up on the Lion, the tin-man, and the scarecrow from Wizard of Oz, which surprised me and commented that "actually it's really quite a sad story, isn't it Mummy".
Ollie
Ollie admitted that he didn't fully understand the story, but once I explained it to him a little more, he connected with what he already knew from the Wizard of Oz. He thought it was funny when Glinda was teaching Elphaba the 'toss toss laugh' and asked me to keep doing it since we returned home.
Second Time Around
Having already seen the show once, Simon and I wondered whether we would love it as much the second time around, especially with the cast change on the 24th of July this year. As we walked back to the train, we agreed that we both loved it even more; I particularly liked Glinda and Oz, I really loved his performance of Wonderful, and Elphaba's Defy Gravity didn't fail to bring on my goosebumps!!
Showtimes
Wicked runs evening performances Monday to Saturday and matinees on Wednesday and Saturday. There will be an extra matinee performance on Thursday 26th October during the October Half Term starting at 2.30 pm. The show's running time is 2hrs 45mins.
Crafting with ClaireabelleMakes
Our day in London began with a Wicked crafting session at The Rubens at the Palace with Claireabellemakes. Wicked is a well-loved show that engages its audience with fans regularly posting images of their Wicked crafts. The children got stuck right in making their own hats, wands and broomstick sweet bags, so they had sweets to enjoy during the show. The bonus was that we got to do it all with our lovely friends from Modern Mummy and Mummy Endeavours, we were sad that the Rock'n'Roller Baby and Family Four Fun families couldn't join us, but Ruth was giving birth to her new Rock'n'Roller. Emily was picking up a new puppy, so we'll forgive them!