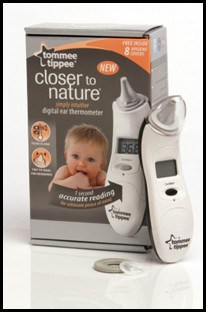 Tommee Tippee Digital Ear Thermometer
Sometimes you get asked to review a product which you really hope you will never have to use and this is one such product. No parent ever likes to think of their child being poorly but inevitably it will happen and for the last couple of weeks, Beanie Boy has been our poorly child.
Tommee Tippee Digital Ear Thermometer
We have been giving the Tommee Tippee Closer to Nature ® Digital Ear Thermometer a run for its money and it has really been worth its weight in gold. A major tell-tale sign of a poorly child is a rise in temperature so when we were woken in the middle of the night by our extremely hot and sweaty crying toddler, I reached for the thermometer which gave us our answer.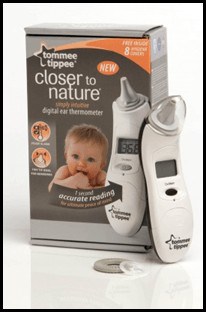 Like most children when sick, Beanie Boy doesn't like too much fuss and so when we needed to check his temperature we needed to be as quick as possible and the new Tommee Tippee was perfect with a 1-second accurate reading.
Peace of Mind
My poor little man's temperature kept swinging from 37C to 41C and had Mummy and Daddy very frightened but the digital ear thermometer gave us peace of mind as we could be certain that we were doing the right things to bring his temperature down.
Features:
1-second accurate reading – quick and easy to use
Clear digital LCD display
Fever alarm  – when you have a poorly child to deal with it's easy to get flustered and be unsure of what the correct temperature should be. Fever alarm leaves you in no doubt.
Tiny tip ideal for newborns and suitable for the whole family
Temperature is given in Fahrenheit and Celcius
Comes with 8 Hygiene Covers (also sold separately)
Stores up to 9 memory readings so you can track your baby's progress
Automatically powers off after 1 minute to save battery life
£37.99 RRP