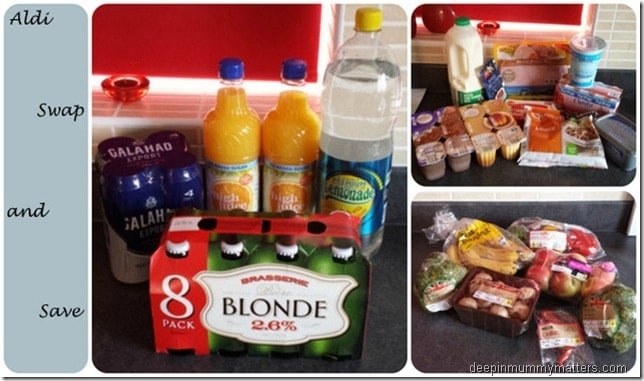 We swapped and saved with Aldi
Many moons ago before Little Bean was born and I was working full time, we used to do all of our food shopping at Aldi. It was convenient for us because Hubby and I worked together and the Aldi store was just a five minute drive from our place of work. We were always happy with the food that we bought, although we never really liked the fruit and vegetables as they seemed to turn quickly. The only reason we stopped shopping at Aldi was because I went on maternity leave to have Little Bean and it just wasn't so convenient for us to shop there anymore and we switched to Tesco where we have been shopping ever since.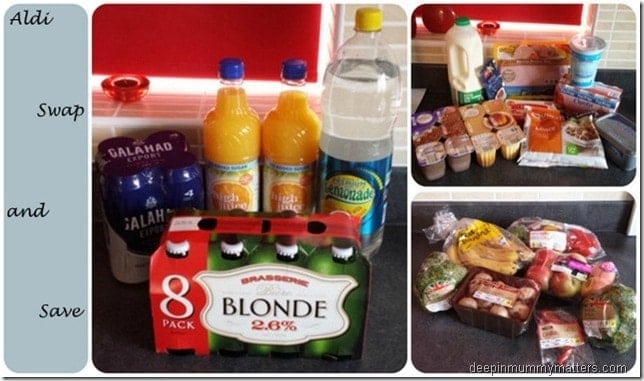 About a month ago I was contacted by Aldi to see if I would be interested in giving them a whirl again to see if I could (a) save money and (b) tell the difference with the products we were purchasing. Now you'd have to be living in the North Pole to not have noticed the Aldi ads that have been all over our TV's in the last few months. They have been challenging consumers to Swap and Save with Aldi who have won Which? Best Supermarket Awards for the past two years.
We sent our most recent weekly shopping receipt to them and they sent their equivalents. Our weekly shopping receipt came to £148.65 and the equivalent Aldi shop was £88.93 so that's a saving of £59.72 – pretty impressive don't you think?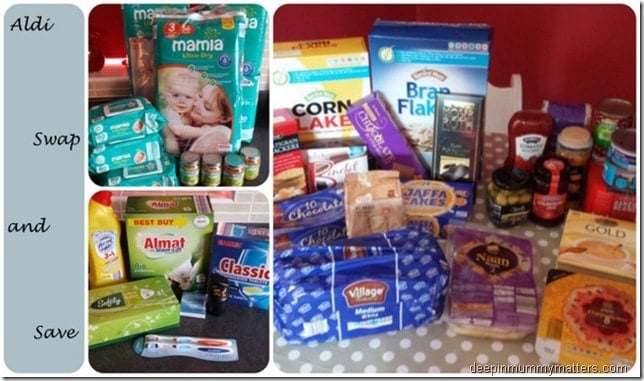 The thing that stood out for us was actually how similar many of the products were to the Tesco's own brand products we have used before. I would even go so far as to say that some products I'm sure were exactly the same product in different packaging e.g. Multigrain Crackers and Jaffa Cakes, they tasted EXACTLY the same. We have been impressed with pretty much everything which we received, in fact the only product we have been disappointed by has been the dishwasher tablets, but then I am very much a branded person when it comes to those anyway.
The products which we never had the opportunity to try in our 'previous Aldi shopping life' was the baby products as Curly was too old at that point so I was intrigued to try out their nappies and wipes. They have been really put through their paces by Beanie Boy and Jelly Bean and I'm pleased to say they have withstood all tests and have even beaten some main brand nappies when it comes to holding in the poops that Jelly Bean can produce!! The wipes have been good but I do have one little complaint, it can be quite difficult to pull out just one wipe at a time, I have often found myself with a string of wipes a magician would be impressed with!!
Now if Aldi were to launch an online shopping service like Tesco and Sainsbury's then we would be highly likely to swap back to them but unfortunately for us at the moment, Aldi is just too far away to make it worth our while. If you haven't given them a whirl yet, I would definitely recommend you to try them – they don't keep winning the Which? Best Supermarket for nothing you know!
DISCLAIMER: We were given a week's grocery shopping free of charge for the purpose of this post. All words, opinions and images are my own and may not be copied without my permission.