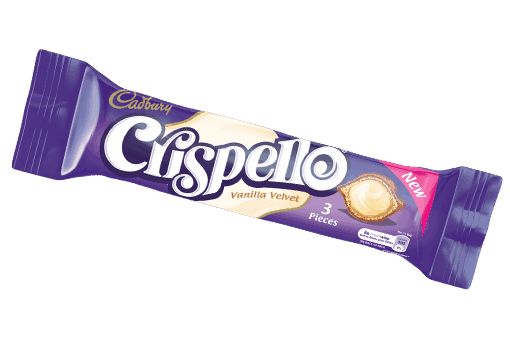 Look out for the new Cadbury's chocolate on the block!
It's hard work being a blogger don't you know! This month I was forced against my will asked nicely if I would like to review the latest chocolate from Cadbury – the Crispello Vanilla Velvet – three delicate crispy Cadbury Crispello wafer shells filled with a smooth, creamy, velvety Vanilla mousse, and covered in deliciously rich Cadbury milk chocolate.
The delicious new flavour is guaranteed to hit the sweet spot, and is the latest product to join the Cadbury Crispello range, which already includes the Double Choc bar and Double Choc sharing bag with individually wrapped pieces.
With summer in full swing and Vanilla spanning everything from catwalks to cupcakes, the launch of new Cadbury Crispello Vanilla Velvet gives a delicious reason to indulge in one of the biggest trends of the year*!
A sharing bag format of the delicious new Cadbury Crispello Vanilla Velvet will also be available next year.
So this summer, choose a deliciously light Vanilla chocolate bar, not Vanilla ice cream! Give Cadbury Crispello Vanilla Velvet a whirl – available from the beginning of August in all major retailers.
Visit www.cadbury.co.uk/ for more details.
DISCLAIMER: I was sent three bars of Crispello Vanilla Velvet for the purpose of this post. I received no payment.