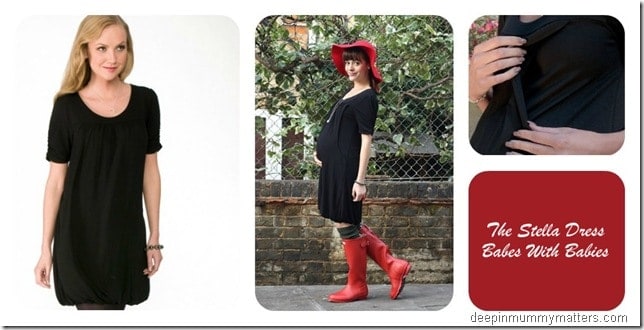 Top breastfeeding dresses!
As a breastfeeding Mum it can be difficult to find clothes to match your usual style, you need to think about easy access to the milk machines and you need to be comfortable too. I never thought I would say this but one of the hardest things I find about adjusting my style for breastfeeding is the size of my boobs, I always thought I would love to have ample bosoms but it's not as much fun as I thought it would be. I know it's my fat that makes me look fat but bigger boobs definitely goes some way to adding to the feeling of looking larger than life. With my previous two babies I have (sadly) gone for comfort over style but this time around I really want to make the most of it all, Jelly Bean is my last baby and I want to feel better about the way I look this time so that I don't feel the pressure to give up breastfeeding early. With this pregnancy I tried to dress more feminine and I felt better wearing dresses, as the summer is approaching I still want to wear dresses but I have found breastfeeding dresses quite hard to come across so I'm going to share with you my favourites . . .
The Stella Breastfeeding Dress
From Babes with Babies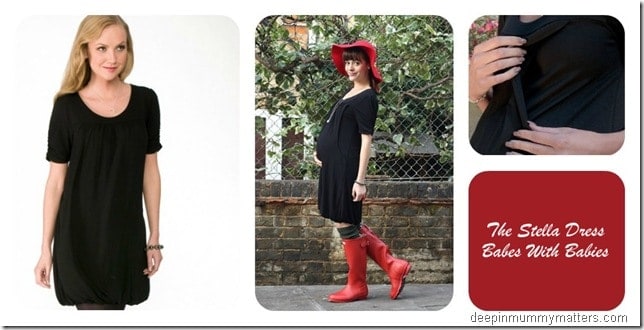 Mummy tummy number three has proved a little harder to shift, it turns out that the elasticity definitely dwindles with age and number of pregnancies so the Stella Dress has been perfect for disguising my mummy tummy. It hangs from the breast and falls into a bubble hem at the bottom. It is so versatile it can be worn alone as a dress or as a tunic over skinny jeans or leggings and it looks fabulous, really funky and flattering. Breastfeeding is really easy and discreet as access is hidden in the pleats at the front of the dress. This is a dress which I will be wearing long after breastfeeding has finished.
It is also worth pointing out how beautifully packaged this dress came, even with rose buds and a chocolate!! Perfect if you're considering buying as a gift.
From JoJo Maman Bebe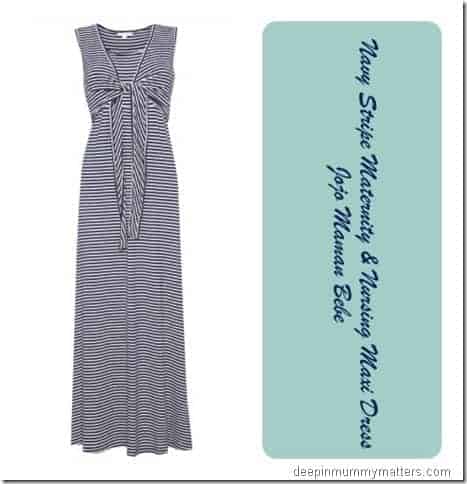 I love a Maxi Dress, they are great for covering up pasty white legs after the long winter, they are great for keeping cool on a hot summer's day and they are really easy to dress up or down to suit your occasion. I am also a big fan of 'nautical stripes' it looks great when accessorised with red and this maxi dress from JoJo Maman Bebe is just perfect for breastfeeding. The mock wrap top discreetly covers openings at the side of the breast to make breastfeeding easy and you looking fab all at the same time.
Sleeveless Nursing Dress
From The Essential One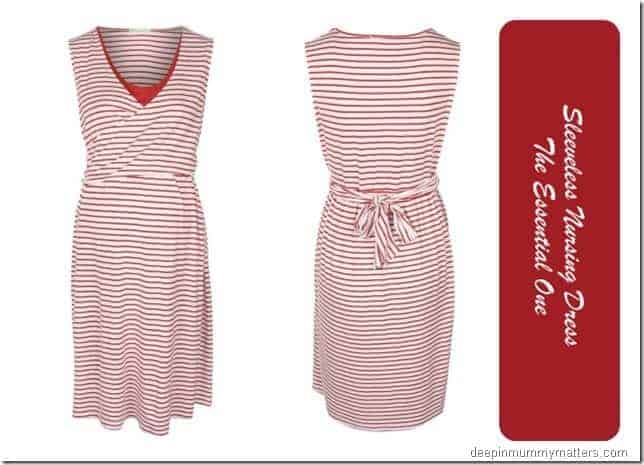 Summer IS approaching, every now and then we get a little glimpse of sunshine so we want to keep cool but look good too and that's where this sleeveless nursing dress from Essential One is perfect. It's great to wear alone or teamed with leggings for a completely different look. Again this dress has a mock wrap top which is great for discreetly covering side access to the breasts for feeding.
Red Knee Length Dress with Honeycomb Bibee
From Bibee Dresses
I have reviewed the Bibee Dresses previously when I was still pregnant with Jelly Bean, I loved it then as a maternity dress and I love it even more now as a nursing dress. The Bibee is a genius design and makes breastfeeding easy and discreet. I love the pockets in the dress and I have just seen on their website that they have loads of new designs including maxi dresses. I LOVE this new red dress, there's nothing like red to make you feel fabulous!
DISCLAIMER: I have been sent these four breastfeeding dresses to review free of charge for the purpose of this post. All words and opinions are my own, I have not been instructed what to write. You may not copy any part of my work without my permission.