The one with the peas . . .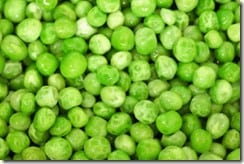 A few weeks ago Hubby underwent 'the snip' as our family is now complete. Obviously his nether regions were a little *ahem* delicate after this procedure and the Doctor who treated him suggested that he keep icing his 'nuts and bolts' with frozen peas to reduce swelling and bruising. Being the dutiful wife I popped to the shops and bought him a small, large, extra large bag of peas and he used them appropriately for a day and a half and they did their job. Now you never know when you are next going to need an ice pack for bruises and injuries so we left the peas in the freezer in a food bag so that we knew which peas NOT to use when cooking.
Fast forward a few weeks to this evening and my Mother and Father-in-Law came over for the afternoon/evening to collect the children from school as I was away for the day and cooked a scrummy shepherds pie for tea for all of us. Can you see where this story is going yet?
As everyone sat down to tea, conversation flowed and they all (I still wasn't home) tucked into their wholesome meal. MrsG commented to Hubby that she had boiled the peas for ages but they still tasted a little bit tough to which Hubby replied "they should be ok, they're Birds Eye and I only bought them on Monday". MrsG said "they were in a food bag?".
YES – you guessed it!!!
Image courtesy of antpkr / FreeDigitalPhotos.net