Top 5 Best Bedside Bassinet of 2021 [ Safe & Affordable ]
With the coming of a newborn, one wants to keep her baby close. Moreover, a study shows that babies should sleep in the same room with their parents for the first 6 months.
Now, purchasing the bassinet for your little champ will help you keep a close eye on your baby. It also allows the little one to sleep in your room without requiring to make space for a full-size crib.
If you're looking for a bassinet, this article can help you find a safe, promising, and easy to use Bassinet for your baby.
Halo Bassinest Swivel Sleeper Essential Series
Halo Bassinest Swivel Sleeper bassinet gets your preferred bedside positioning made possible because of its 360-degree swivel and adjustable stand.
The base can easily tuck under your bed, so it does not consume a lot of floor space.
Parents appreciate the retractable wall that lowers to enable easy access to the baby, making it extremely helpful during the recovery phase post-birth and night nursing sessions.
The sheer mesh sides provide better vision and make breathing comfortable. This becomes a great choice as it leads to more closeness and extra safety.
And the feature that makes it really, best is its electronic device, which generates vibration, sound, night light, and music to soothe the baby at night.
But if you really want a hand that soothes your baby at night, try a modern baby bassinet. Its cry detection technology, auto-sense the baby cry and response according to that.
Let's check some of its pros and cons to get an overview of this bassinet.
| | |
| --- | --- |
| Pros | Cons |
| Mesh Side makes breathing easy Provides adequate safety Flexible design for safe sleep 360 swivel to bring bassinet over the bed Makes access to baby easy – Auto restore side | Heavyweight, difficult to move Large in size, Not good for small room |
Baby Delight Besides Me Dreamer Bedside Bassinet:-
The Beside Me Dreamer Bassinet and Bedside Sleeper can be put to use both a standalone bassinet and as a bedside sleeper to co-sleep. It has been designed such that it can fold up and is travel-friendly and easy to store.
In bassinet mode, the baby is surrounded by breathable mesh walls that keep air circulating and provide the baby with its own sleeping area. For Bedside Sleeper mode one has to unzip the side panel closest and hold up the Beside Me Dreamer right up to that same side.
I like this adjustable leg that makes it one of the best bassinets with adjustable height. You can be left it up to the size of your bed to do the safe sleeping with infants.
It is lightweight and moves from one room to another convenient. The attached straps secure the Sleeper to your adult bed, ensuring it stays strongly snug and rightly in position.
It has a waterproof fitted sheet and a fiber-filled mattress.
| | |
| --- | --- |
| Pros | Cons |
| Height makes adjustment easy. Lightweight. Easy assembling. Aesthetic design to suit the home interior. Strong straps and bedding. Baby visibility is good. | The suggested weight restriction is 40lbs. |
Arm's Reach Mini 2-in-1 Co-Sleeper Bedside Bassinet:-
This sleeper promises to keep your baby at an arm's reach — one can consider it as their bed side-car. The Arm's Reach Mini is definitely one of the freestanding bassinets that comes with four breathable sides.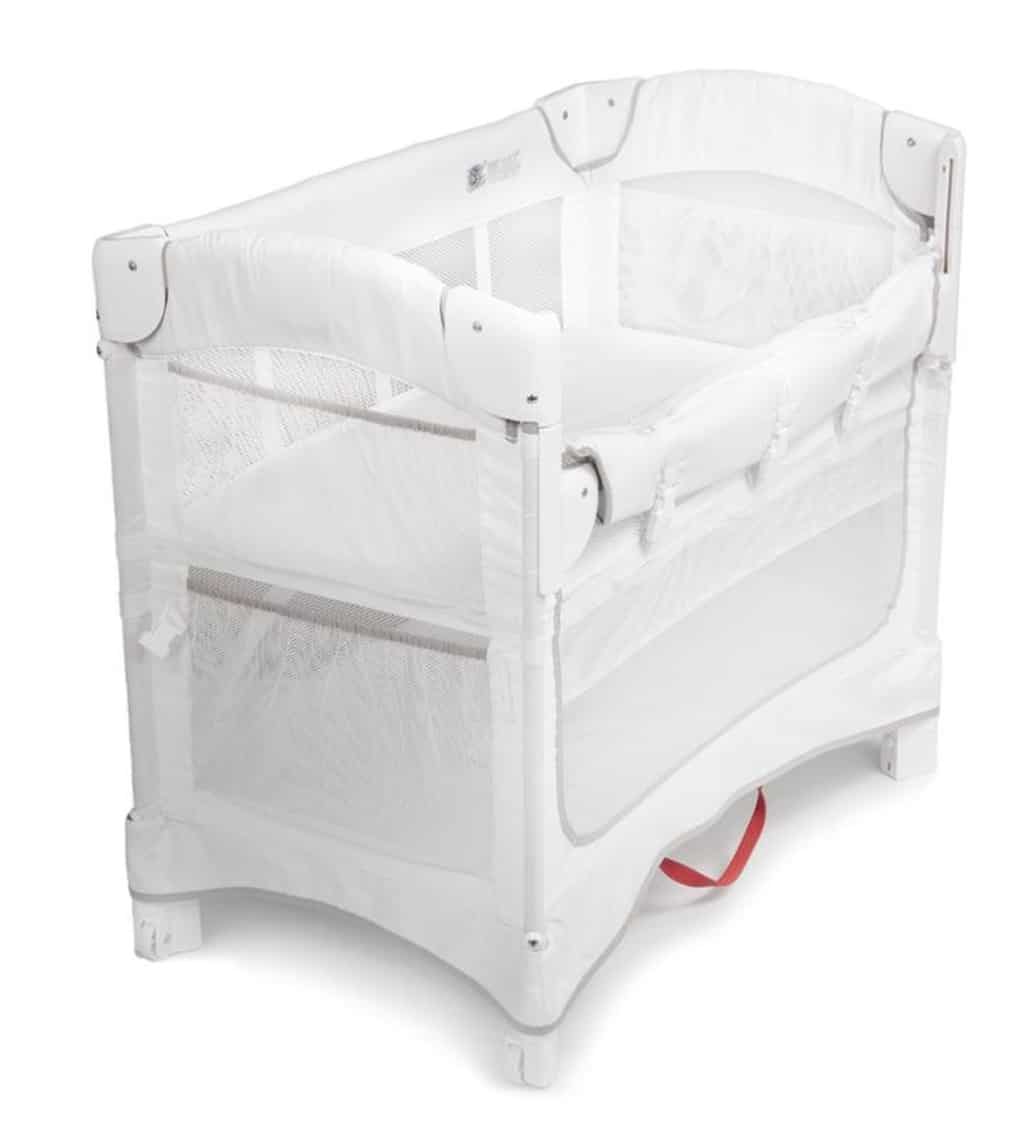 The catch here is that one side drops down and securely attaches to the bed, which ultimately helps you bring up your baby to feed efficiently. You can use it as a stand-alone bassinet to a place where you want in the room and infold a condition.
And due to its high side wall, the baby can't come outside of the bassinet.
There's a good amount of storage space available for diapers, wipes, swaddles, etc. Inbuilt wheels make it extremely portable, and it is lightweight, which makes it travel friendly.
| | |
| --- | --- |
| Pros | Cons |
| Portable and Lightweight Affordable and safe Breathable mesh side on the bassinet Can use as a standalone bassinet storage under the bassinet Waterproof mattress and easy to clean | Extension needs to be purchased with a higher bed. |
Graco Pack n' Play Reversible Napper & Bedside Bassinet
The Graco Pack 'n Play Playard Seat & Changer promises a portable mobile care station! Its inbuilt reversible unit quickly transforms from a cosy play space into a changer for easy changes to keep your little one neat and content.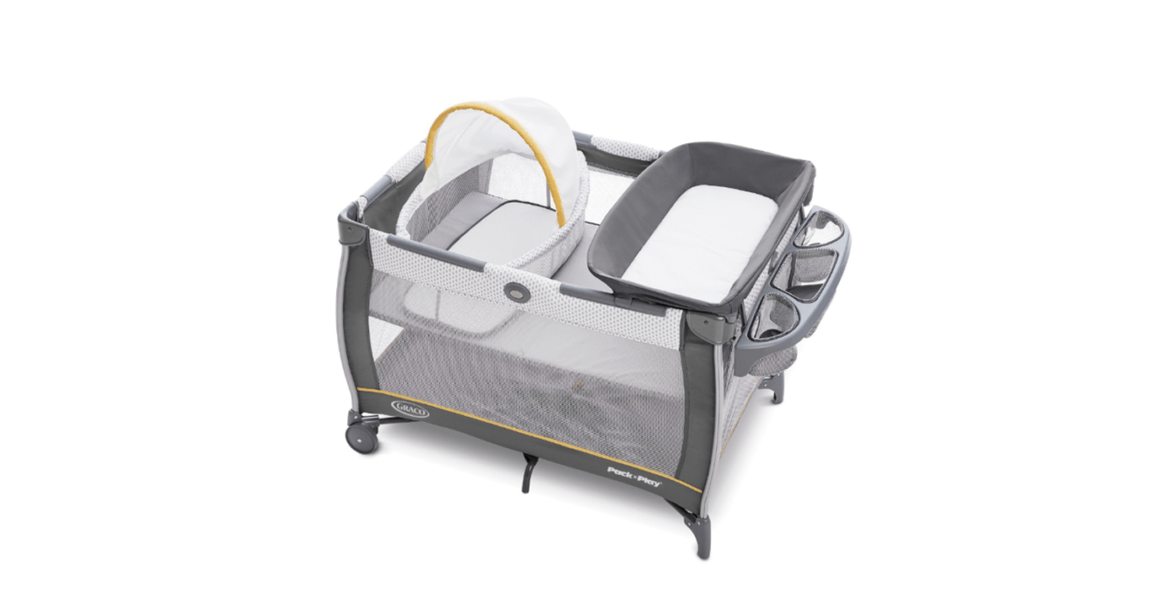 Features like diaper stackers keep essentials for convenience, toy mobile for entertainment, and wipe-clean changer fabrics for effortless cleaning. This playpen grows with the baby from being a newborn to being a toddler.
The changer quickly switches to a seat as and when required. Wipe-clean fabrics make cleanups super easy at a snap, and an integrated diaper stacker keeps baby's essentials nearby.
| | |
| --- | --- |
| Pros | Cons |
| Dynamic design Strong built Changer switches to seat Integrated diaper stacker Extremely portable | Assembling the napper is difficult. |
Arm's Reach Concepts Clear-Vue Bedside Co-Sleeper
The Arm's Reach Concepts Clear-Vue Co-Sleeper is similar to a play yard however it comes with a fold-down side that makes reaching out for the baby extremely convenient when the sleeper is pulled up right next to your bed (it straps to your bed frame for added strength and stability).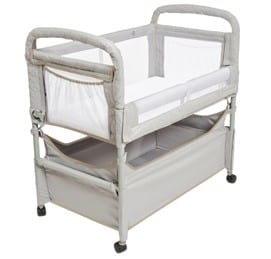 Unlike other bedside sleepers, Clear-Vue is on wheels, making it extremely convenient and easy to move around. It comes with a large and flexible storage basket, and it costs way less than the competitors with similar features.
The Arm's Reach Clear-Vue Co-Sleeper was designed to allow maximum visibility. It makes it extremely easy to see your baby at all times. Like all other Co-Sleeper bedside bassinets, the Clear-Vue Co-Sleeper allows the parents and babies to sleep together comfortably.
This bedside bassinet also promises you to reach over and keep your baby close for feeding, comforting, and bonding. The dynamic design has built-in leg extensions to adjust quickly in varying bed heights; It also has a large storage basket.
| | |
| --- | --- |
| Pros | Cons |
| Extremely good storage space. Easy portability. Has two modes. Affordable Easy access to the baby Assembling simple | Quality of the material slightly disappointing. |
The Arm's Reach Clear-Vue Co-Sleeper is available on Amazon, click here.
CONCLUSION
Older bassinets were only required to have voluntary safety standards and if you're buying used or a second-hand one do an extra check for safety standards. One must invest in a good bassinet to keep the parents and the baby close and comfortable at all times.
Bassinets in today's day and age are extremely dynamic and promising and keep the baby comfortable, and the parents content.
Don't forget to share the article with the person who is in need, thanks!!!!