Too cute for words
It's the 'too cute for words' moments like these that make me so happy that I decided to take up blogging, not because of something that I am being given by a brand but because these are the moments that I want to treasure forever.
Capturing memories
Sure you can have a photograph album like millions of families have done over the years but with a blog, I can save the photographs and write the memories alongside them. I can look back at the memories myself, I can share them with family and friends or readers who are interested to see them. Mostly though, this will be something that Little Bean and Beanie Boy will be able to look back over when they grow up to see the funny things they have said and done or these 'too cute for words' things which they probably won't remember themselves.
Too cute for words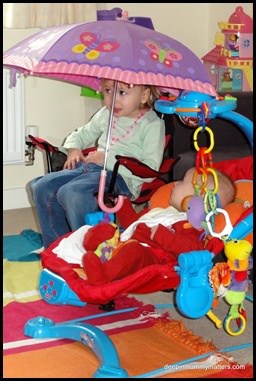 My Little Bean never ceases to amaze me with the things that she gets up to, this morning whilst I was preparing their breakfasts I left them both playing happily in the playroom and watching Scooby-Doo.  When I went through to fetch them I was greeted by this site and had to giggle to myself, they looked just too cute for words cosied up in their chairs watching TV together.
I'm not sure if the umbrella was to make it into a den, to protect them from the rain (it's a new house so hopefully no leaky roof just yet) and it wasn't overly sunny. Whatever their reason, I love it.
Just look at Beanie Boy holding onto the umbrella in the top photograph – such a clever boy!