Self-soothing nightmares!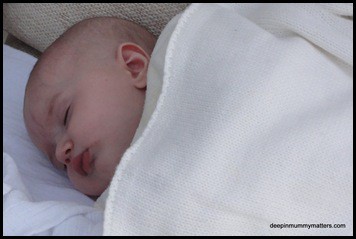 Did you see my post last night? In search of sleep, well perhaps I'm a little impatient but I'm still in search of sleep.  Beanie Boy just doesn't seem to be able to settle himself without me nursing him to sleep or Daddy rocking him.  We keep saying that we're going to try the "cry it out" method but I don't think either of us are strong enough for that.  We don't exactly rush up the stairs the minute he starts crying but we've never made it to five minutes yet. 
Tonight I fed him until he was almost asleep and then laid him in his cot, the second his head hit the mattress his eyes burst wide open.  I tried going downstairs and leaving him to get on with it but after 10 minutes he was screaming.  I went up to him after 5 minutes and just patted his back without picking him up until he stopped crying then I sat down next to his cot in the chair.  He tried sucking the label on his blankie but it kept choking him so he stopped that, he tried sucking his fist but kept getting stressed out and then began screaming again and so it went on for almost two hours!  He looked and sounded exhausted but my children appear to have my stubborn tendencies tenacity and he just would not give in.  He cried so hard that he made himself cough, then choke and then sick, it was so upsetting that I ended up caving in and picking him up, within 5 minutes of being held by me he was asleep.
Can anyone give any suggestions for how to get my little man to soothe himself to sleep?