11 Tips for Planning a Wedding on a budget
It's hard to believe that Simon and I have been married for 11 years this year; I still remember our day like it was yesterday. Not only was I excited to marry my best friend, but I always had a huge sense of pride as I walked down the aisle and looked around at how beautiful everything looked. We didn't hire Wedding Planners, you see; we did most of our wedding ourselves with family and friends' help. Making your wedding look like a million dollars is easier than you think; you must plan and shop around.
If you are planning a wedding and worried that costs could spiral, check out our top tips for planning a wedding on a budget.
Guest List
The first place to start is your guest list; that way, you will know how many people you are catering for; catering software from Inhouse Manager is ideal for helping with this. Remember that whilst you want everyone to see you on your big day, don't feel pressured into inviting every person and their dog. Invite the people who mean something to you both or set yourself a limit of guests and stick to it. You can always invite more to the evening party when costs will be more reasonable.
Smarter Jewellery Choices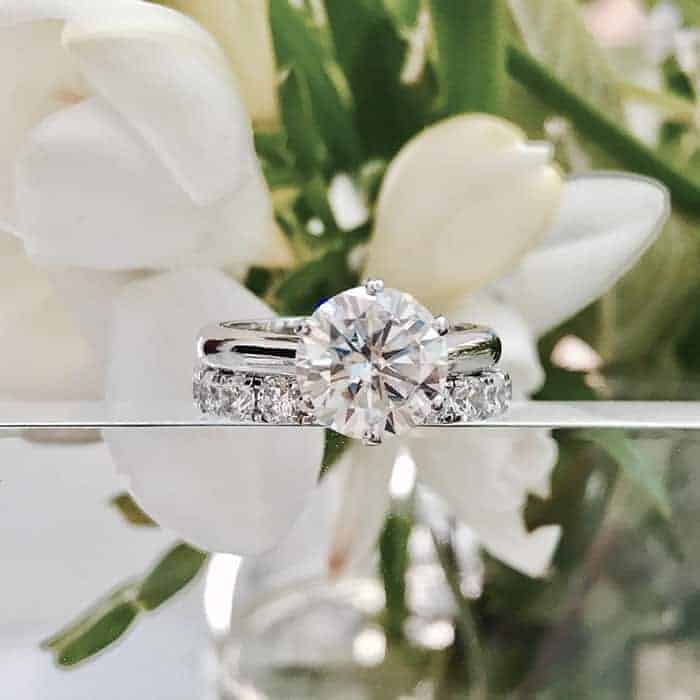 If you are looking for a stunning engagement ring or wedding set, then you've just been doing some research about diamond prices, which you can see is incredibly expensive. The wedding itself isn't cheap, and you're probably looking to buy a house down the track, so what should you do?
We'll share a little secret with you.
Moissanite will be your first choice. With amazing clarity, colour, and a wide selection of cuts and carat sizes, moissanite engagement rings are gaining popularity as one of the best alternatives to conventional diamonds. It is possible to have the luxurious engagement ring of your choice at an affordable price.
Pre-Wedding Celebrations
One of the fun parts about getting married is having a hen/stag party with your friends and family. We decided to hold our hen and stag parties on the same night; we started at opposite ends of a town and worked our way through the bars until we all met up in a club at the end, which was great fun. We played several hen party games along the way, and since I was to become Mrs Green, it was decided that I was only allowed to drink 'green drinks' all night – yes, you can imagine a headache the following day!
Weekdays are cheaper
It's a well-known fact in wedding planning that getting married mid-week is far cheaper than on the weekend, in some cases saving you 50%. The only downside to this is that some of your guests might be unable to make it due to work/travel commitments.
The Dress(es)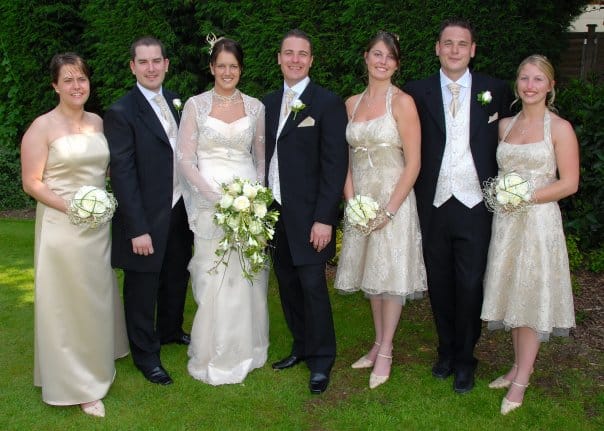 As with most things in life, I went about planning our wedding a little backwards. Most brides would buy their wedding dress first and then plan a wedding around that. Not me! I bought the Bridesmaids' dresses first because I loved them so much! The two prom-style dresses were only £30 each from TK Maxx. It isn't easy to see the detail on them, but the fabric was beautiful. My sister-in-law opted not to wear hers, but we found her a two-piece matching colour that looked beautiful.
I had ideas about the dress I wanted, but they all looked awful on me. My Mum found my dress, the colour was called 'cappuccino', but in this photograph, it looks ivory. I loved it! It was a fitted fishtail, and it felt amazing; you could wear it with or without the jacket. I only wore the jacket for a few photographs. It wasn't an expensive dress by some standards and came in at sub-£1000. For cheap wedding dresses, you can find many online wedding stores, like AW Bridal.
Always Haggle
People rarely pay the prices they are initially quoted, so always be prepared to haggle. Once you have done it a couple of times, it becomes much easier, and you'll find it quite a fun process. By getting quotes from different suppliers, you will have more strength to haggle about the price as they will be keen to secure your business.
Digital RSVPs
Once upon a time, it was considered the 'done thing' to send our pre-paid envelopes with your invites so that your guests could send their RSVPs without any cost to them (but at a great cost to you). Pop a designated email address on the bottom of the invite (you can get a free email address easily online with sites like Gmail and Yahoo).
One Venue
We married in a beautiful old stone coach house hotel with a large courtyard and garden to the rear. The ceremony, Reception and evening party were all held in the same room but were made to look very different for each part of the day. In between times, we spilt out into the Courtyard and gardens for canapes, drinks and mingling with our guests. This meant we reduced our transport costs, and once everyone was there, they could relax and enjoy the day without moving between the ceremony and reception.
Flowers and Favours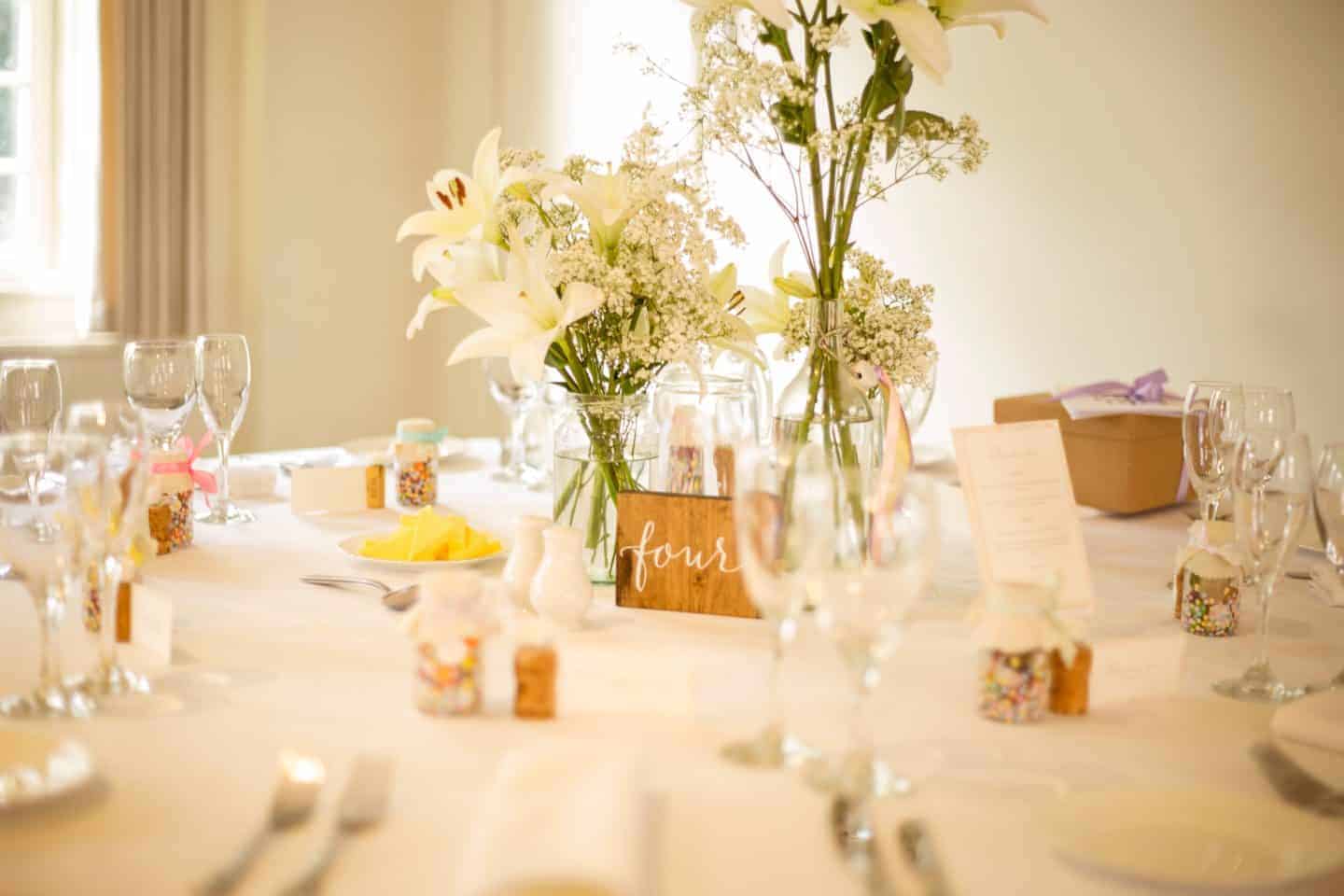 We found a local florist wholesaler with amazingly talented staff who did flower arranging for about half the local florists' price, so do your homework. This is also a time you can look to your friends; more and more people take classes for fun and have hidden talents. Perhaps you have a friend who could do your flowers for you, and the payoff is you get mates rates, or perhaps you can return a favour by doing something special for them.
Speaking of favours, my Mother-in-Law kindly made all of our wedding favours by hand. We stuck to the traditional sugared almonds in voile, but some great resources for wedding favour ideas under £1 online. Another handy tip is if you put the guest's name on the favours, you won't have to buy place cards.
Hair Bling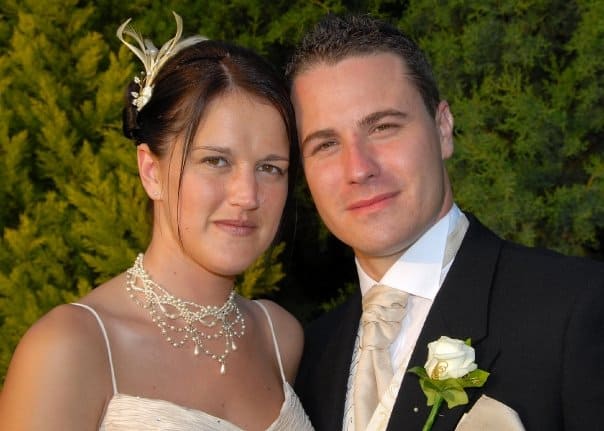 I didn't go with the traditional tiara on my wedding day; for one thing, I didn't want to waste money on something which would sit in a box for the rest of my life gathering dust and for another, I wanted something more personal, so I bought feathers, diamante stems, ribbon and hair combs and created hairpieces for myself and my bridesmaids. It cost me less than £20 for all four, and they looked perfect on the day.
Something Borrowed
If you have seen something at a friend's wedding or a friend's house, don't hesitate to ask if you can borrow it. It is a wedding tradition to have 'something borrowed' anyway. When we got married, I worked for a motor dealership and dotted around the dealership were artificial topiary trees. I asked if I could borrow the topiary trees, clean them up and put cream roses in them to line the aisle and dot around the Reception. They looked amazing, and so many people commented on how pretty they looked throughout the day.
I think the important thing to remember is that it is your day (as in you and your partner), so it doesn't matter if you don't follow protocol or tradition; the day is about celebrating your relationship and what is important to you so do what makes you happy. If you don't want a big cake, don't have a big cake; if you don't want full morning suits, don't have them.
The day passes so quickly, so stop to take the time to enjoy it, take a breather once in a while and bathe in the atmosphere. Enjoy the stolen glances from your partner, revel in the relaxed laughter of family and friends and lock it all into your memory.