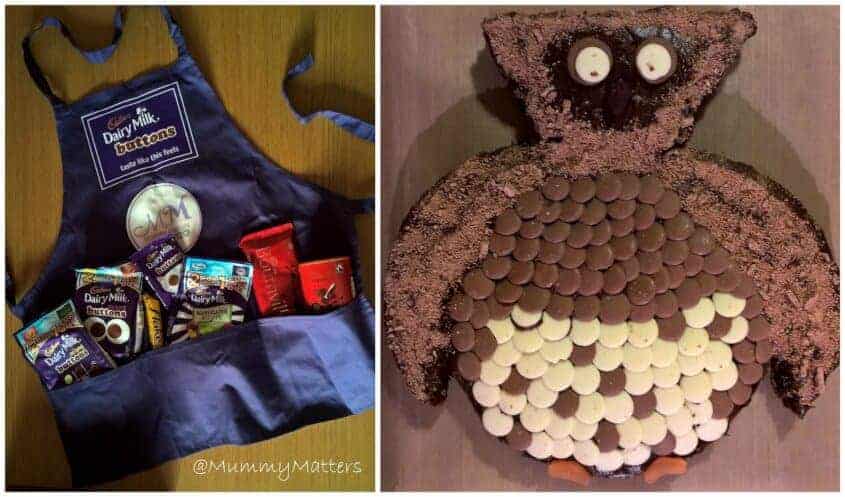 Baking with children – Cadbury Owl Cake
The Task
Every year since the Beans were born I have tasked myself with making their birthday cakes. Last week we celebrated Beanie Boy's 6th Birthday and he asked if I could make him Hedwig from Harry Potter. This was music to my ears because I had just been sent a goody bag of chocolate supplies from Cadbury who had asked me to have a go at making their Cadbury Owl Cake.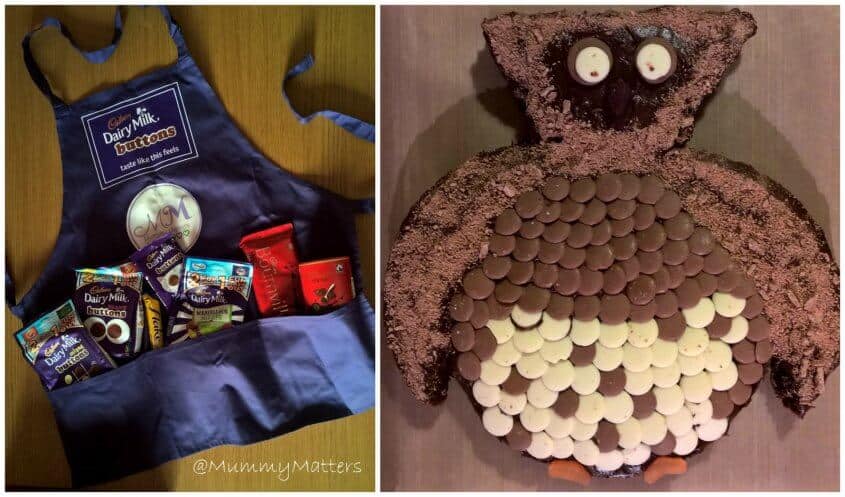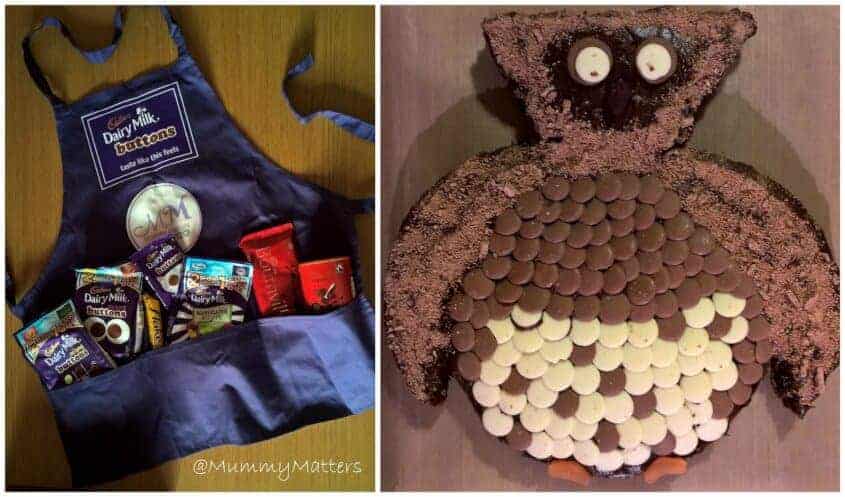 Now I have no idea where the time is going at the moment, since the Beans have been back at school I seem to be constantly chasing my tail and getting just about nowhere so last week was spent mostly flying around town trying to find the right presents for our soon-to-be 6 year old son. Before heading out on Tuesday morning I quickly whipped up my chocolate cakes and popped them in the oven so that I could take them out and have them cooled for decorating when I returned.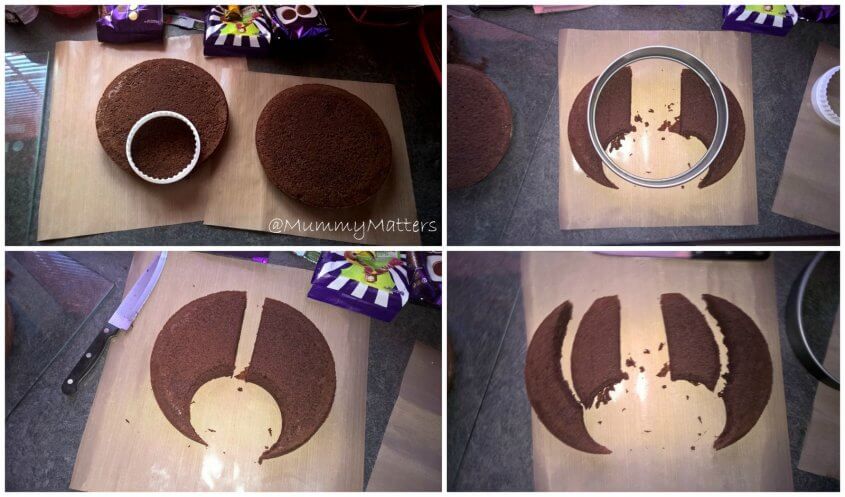 Creating the Cadbury Owl Cake shape
The Cadbury Owl Cake recipe suggests baking the cake in a square tin but since I only had round tins, that was how I baked mine. I used a large round pastry cutter (smooth side) to cut the head from the bottom of one circle and then use my large baking tin to cut the inner edges off so that my 'wings' would sit neatly against the body. This method worked really well so I was very happy with the end result. Perhaps my only regret was not being able to make the head slightly bigger.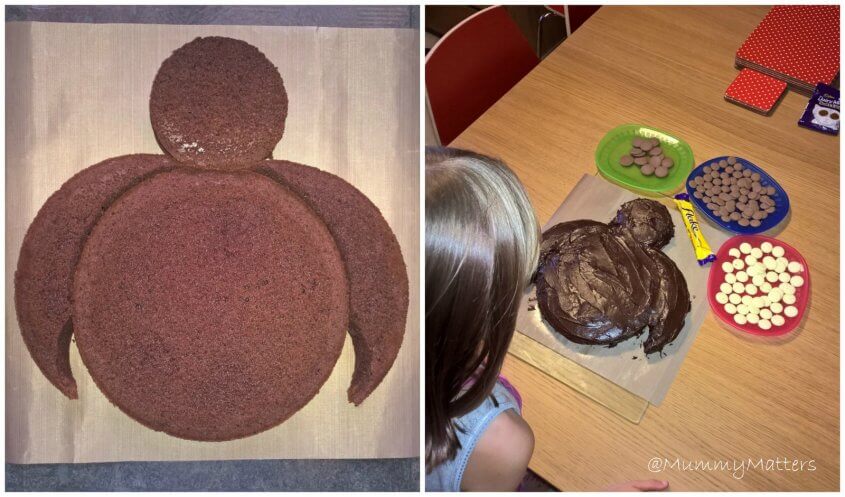 Decorating the cake, one for the cake, one for me . . .
Next we made a chocolate ganache as per the instructions on the Cadbury Owl Cake Recipe and then Little Bean and I set to work on decorating the owl using a selection of large chocolate buttons, normal chocolate buttons and white chocolate buttons. We didn't really have enough white to be able to make 'Hedwig' but we used as many as we could and Beanie Boy didn't seem to mind.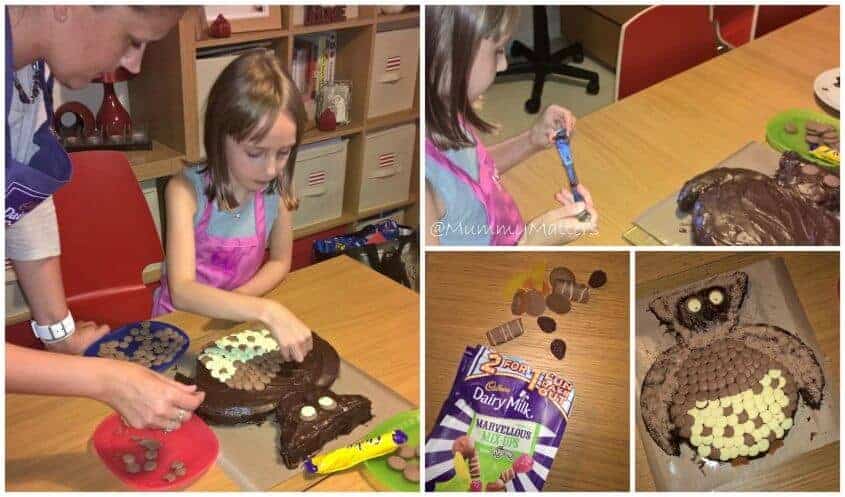 For the eyes Little Bean used two large chocolate buttons and then placed two white buttons on top. She felt they needed a little 'life' adding to the eyes so she put little dots of chocolate ganache on the white chocolate buttons. Layering the chocolate buttons on top of each other in rows gave a great feather effect. We then selected one raspberry gum from the Dairy Milk Marvellous Mix-ups and Little Bean spotted to orange segment gums from the pack which she thought would make good feet for our owl. To finish I sprinkled his wings and around his head and ears with crushed up Cadbury Flake.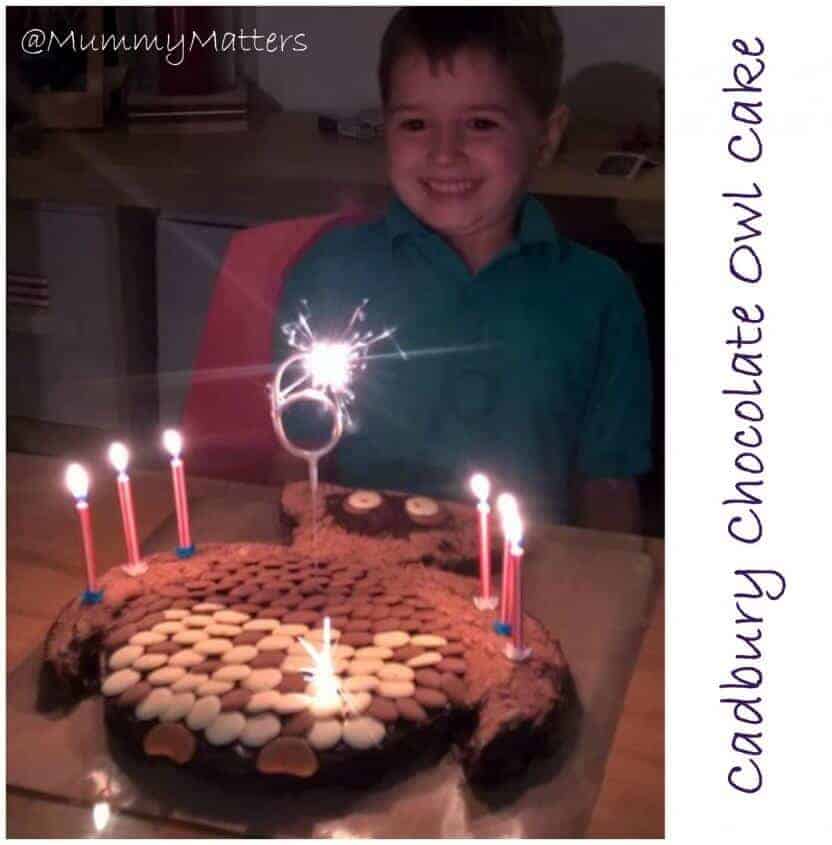 Happy Birthday to Beanie Boy
I think his little face says it all, Beanie Boy was over the moon with his cake and it tasted delicious. This was just about one of the easiest cakes I have made for the Beans ever and it was lovely that I was able to do it with Little Bean's help too. I can definitely see me making this cake again, I'm sure Jelly Bean won't remember if I make it for his birthday one year.