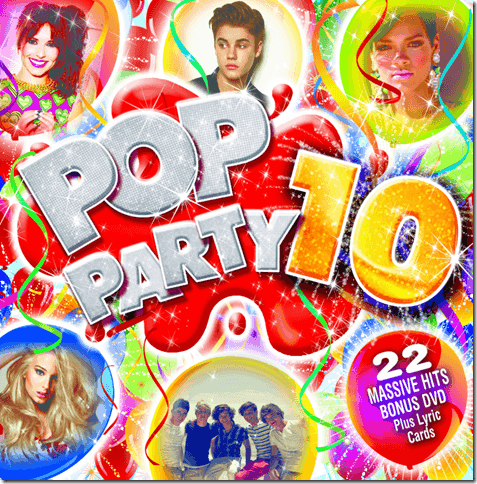 The tiddlers show you how to dance to Pop Party 10!!!
So it hasn't been all sunshine and roses at our house just lately with most of us being poorly and Daddy being in hospital but then again, we DID have music! Music is the one thing which is guaranteed to bring about fun and laughter in our house, I often use it to make tea-time a little more bearable or to give the children something to focus on when they are being particularly difficult. But at the weekend I decided to use music for something different, we had been listening to Pop Party 10 each time we went out in the car for a few days and both of the tiddlers had been dancing in their car seats to Carly Rae Jepson's – Call Me Maybe. On Sunday they were really missing Daddy so to lift the mood I put the music on in the kitchen and we all had a boogie. Now I'm not about to show you my moves as the bump doesn't move so well these days but I will share this little gem with you. Because I have recorded it on my phone I haven't worked out how to trim it so you'll have to excuse the rubbish editing and even more so Little Bean sticking her tongue out at the end, it's her new 'thing'!
As for Pop Party 10, I had a pretty good feeling that I would like it before it arrived as we have the previous Pop Party albums already. It's funny how you change over time but before I became a Mummy, I hated compilation albums, preferring to stick to a particular artist or genre of music but when you have to share your listening time a compilation album is perfect as there is something for everyone.
Beanie Boy will happily tell you which songs are my favourites and has committed them to memory because I will turn the stereo up and sing along to the likes of Ne-Yo with Let Me Love You, Fun featuring Janelle Monae with We Are Young (I LOVE this song!!), Olly Murs with Dance With Me Tonight and Rizzle Kicks with Mama Do The Hump (although I particularly love the video for this one and was disappointed it didn't make it to the accompanying DVD Music Videos).
Against my better advice Little Bean and Beanie Boy both get out of their seats and jump around in their own little style to PSY – Gangnam Style (sorry but I can only think of Rylan when this song comes on and it's not good!). Little Bean is a fan of Jessie J's Domino and Beanie Boy is sticking with the Peterborough crowd and supporting his 'home boy Aston' and JLS with Proud.
For those of you who like to think you are a bit of a Pop Star yourself there is a Lyric Card included so that you can learn all the lines and sing along, personally I'm soooo cool I know all the words already and I am a popstar waiting to happen (in my own dreamland!!) the fact that the children tell me to stop just shows what bad taste they have!
As the Christmas season is approaching I definitely think this CD/DVD should be a feature on your loved ones Christmas list or in their Christmas stocking as it's sure to get the party started!! There are 22 tracks to choose from plus 13 Music Videos and 2 Behind the Scenes Videos. And the best news of all? It's available to buy NOW!!!!