I know what you're thinking? Where's the challenge in that? Well, in truth there was no challenge in at all. Last week, the Beans and I met up with fellow Qbloggers Jaymee and Natasha with their families at Peterborough Museum to see what the delightful retailers of Queensgate have to offer in the way of Easter treats and decorations. Obviously, the Beans didn't need asking twice as they had remembered when I attended the Qblogger Easter event last year (and were insanely jealous).
Easter Decor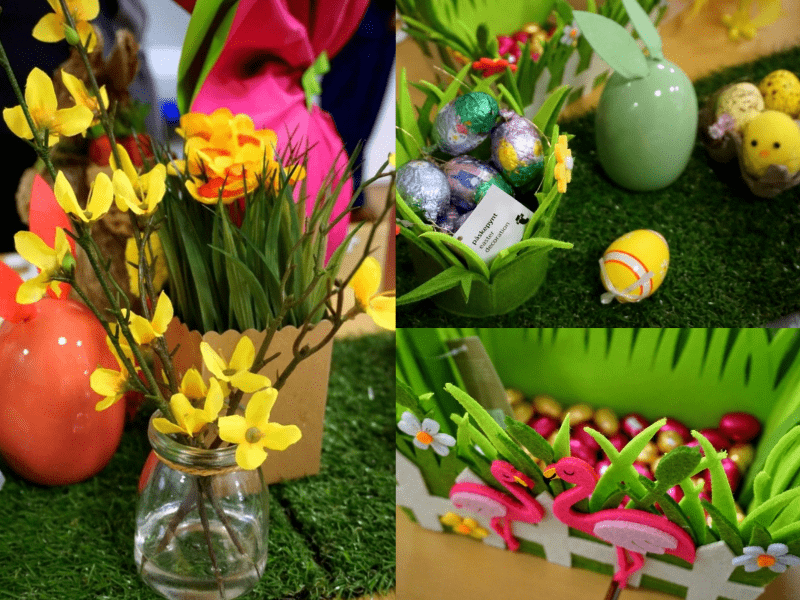 My favourite part of Easter, believe it or not, isn't the chocolate. It's the decorations, so many pretty and bright colours, Easter always feels so cheerful with the likes of Tiger and John Lewis selling beautiful Easter decorations, there really is no excuse for not having a pretty house this Easter.
M&S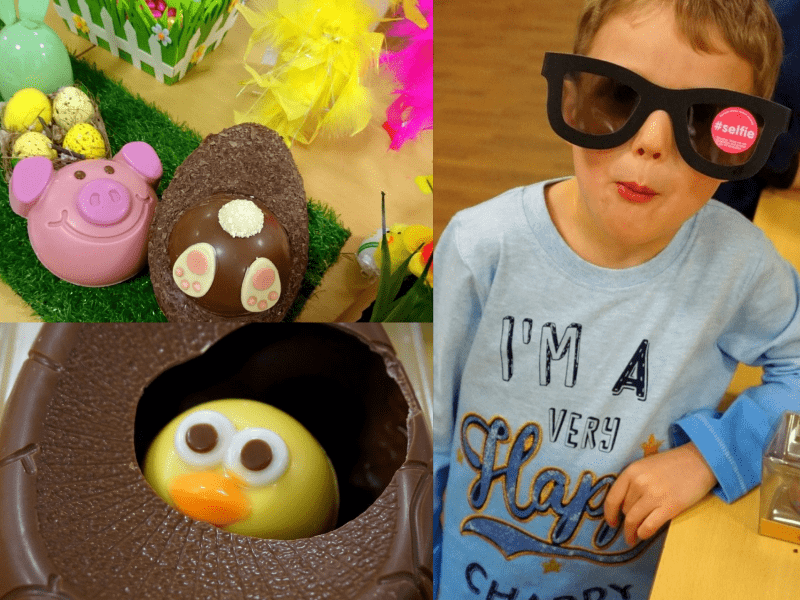 As you probably saw from my M&S Foodhall post last week, they have an amazing range of Easter goodies once again this year. Last year's favourite Laid Back Lamb £15.00 has been joined by super cute Burrowing Bunny, also £15 and mine and Ollie's personal favourite Percy Pig (though I didn't spot the price for him).
Carluccio's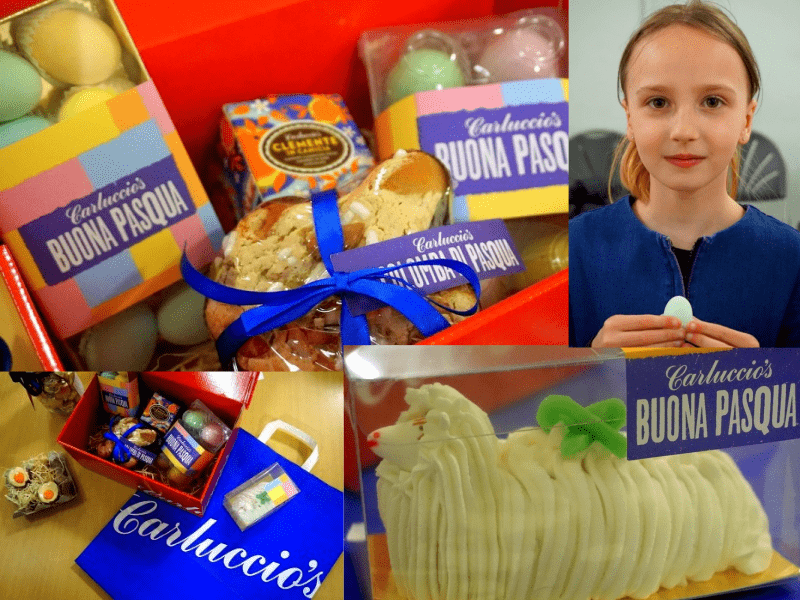 Carluccio's is the one shop which always seems to slip my radar when shopping, I always forget that they have a food shop in their restaurant which is well worth a visit. If you can't make up your mind, you could also stop for a coffee whilst you ponder your decisions. They have a beautiful selection of Easter products; Half Dozen Chocolate Hen's Egg £10.95, Marzipan Lamb £12.95 (I thought this was Dougal from the Magic Roundabout), Milk Chocolate Stars with a gianduja filling £12.95, Gianduja chocolate egg £2.95, Chocolate covered clementines £17.95 and Colomba 30g cake £7.95.
Hotel Chocolat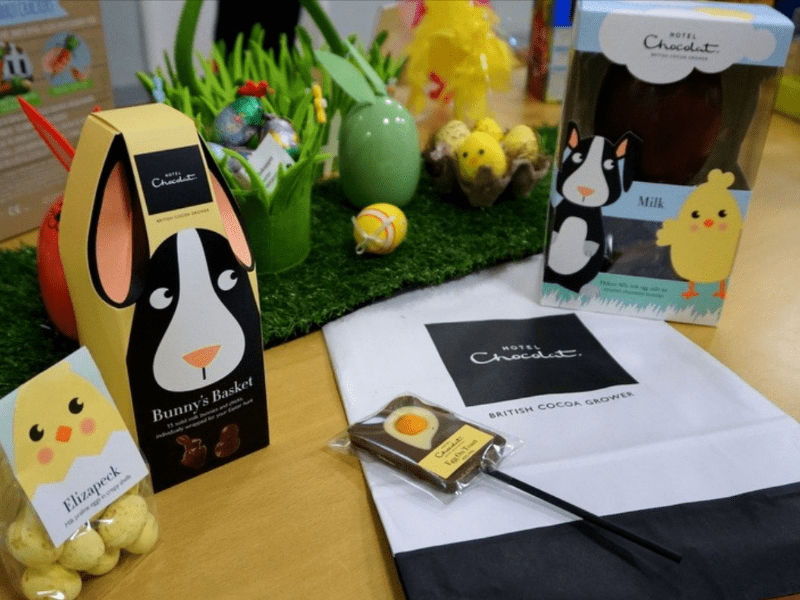 I think it's probably Hotel Chocolat's fault that I didn't lose a single pound in weight last week – I may have lingered by their City Chocolate Caramel Bunnies (£6 for a box of 16) for a little longer than I should have done. Lillie was a definite fan of the Sunny Side Up chocolates for £6 and the Elizapeck mini speckled eggs for £6. The Chocolate Easter lolly at £2 is a great little Easter treat too.
Lakeland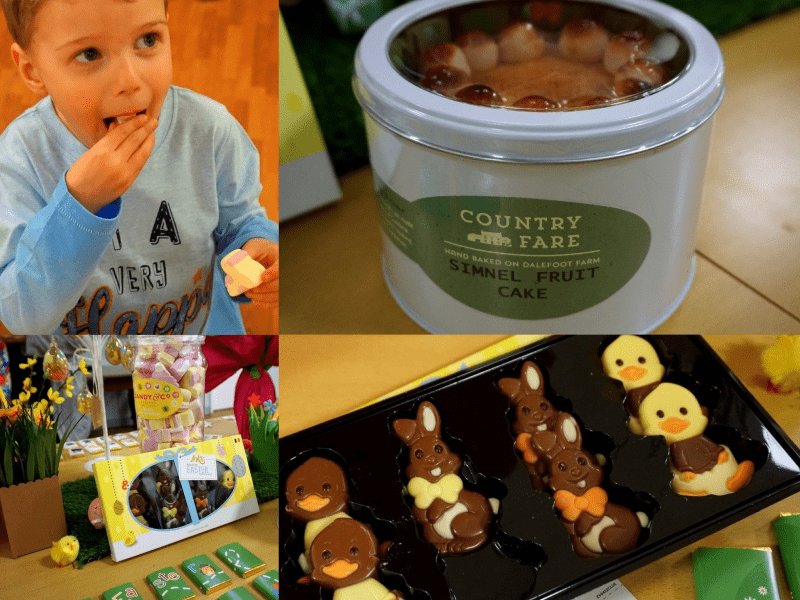 The first thing Albie spotted when he walked through the door was a large jar of Marshmallows (£6) from Lakeland and it was pretty hard to tear him away from them. If you are looking to organise an Easter hunt then the Easter Treasure Hunt Chocolate Slims (£5.99) even come with clues to make the game more fun, you also have the opportunity to add a few of your own. Little ones will love the Bunnies and Ducks Gift Box (£4.99). We always have a Simnel Cake on our table at Easter and this beautiful Country Fare Simnel Fruit Cake tasted delicious (£16.99).
John Lewis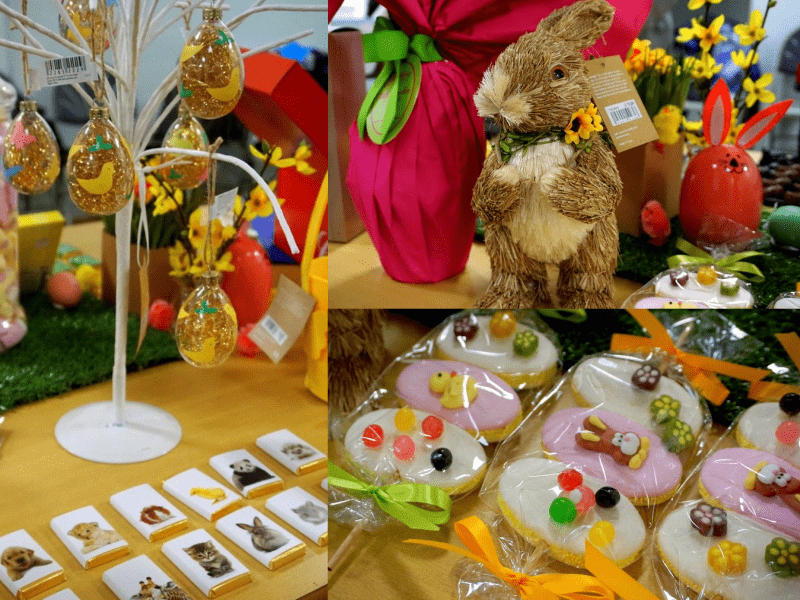 When it comes to celebrations, John Lewis always know how to put on a good spread and this Easter they will not disappoint. Lillie was very taken with the Straw Bunny (12.50) and the hanging eggs (£2.50), we have a white tree which the Beans love to decorate with hanging eggs. Albie's favourite was the fill your own Carrot Crackers, he had lots of fun filling and pulling these over and over again, he and Lillie also managed to come home with a pair of fluffy Flamingo pens – who knew Flamingos were a 'thing' at Easter?!
The Winners
Truth be told, it was pretty hard to pin the Beans down to choosing just one favourite each but this is what they had to say;
Lillie – I love all the decorations but my favourite chocolates were the Elizapeck Mini Speckled Eggs and the City Caramel Bunnies.
Ollie – The Percy Pig Egg was the best but I really liked the chocolate foil wrapped eggs too.
Albie – The Marshmallows in the jar and the Marshmallow lollies, and the chocolate bunnies and the carrot crackers and the flamingo pen and the chocolate lamb . . . I just liked it all Mummy!
Me – Judging by what I ate the most of I would say Percy Pig and the City Caramel Bunnies but I also really liked the Simnel Cake and Marzipan Lamb (do I sound like Albie now?).
Thank you to the retailers of Queensgate, it's fair to say we had a brilliant time sampling all of your Easter delights.