Suckle Feeder – for a natural and safer baby bottle feeding experience
Deciding on how to feed your new arrival – whether to bottle feed or whether to combine bottle with breastfeeding – is often one of the most crucial and difficult decisions new mums are faced with…
Haberman Suckle Feeder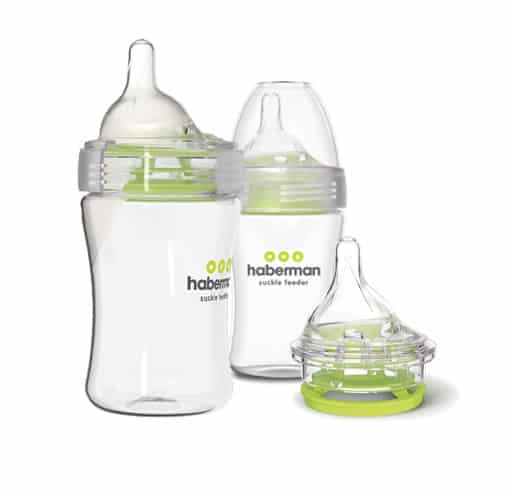 Thanks to Haberman's latest innovation, the BRAND NEW Suckle Feeder, this decision has become a much easier one. It is a revolutionary and innovative new feeder that, unlike other bottles, does not require your baby to learn a different way to feed. The Haberman Suckle Feeder works to significantly reduce wind, guzzling and colic, prevents overfeeding and lowers the risk of feed entering the middle ear or respiratory tract.
It complements and supports breastfeeding, and is easy to assemble – even one-handed at 3 am with a baby in your arms! Based on unique technology endorsed by healthcare professionals around the world, the Suckle Feeder is designed specifically with both mum and baby in mind. It is perfect for mothers who either aren't breastfeeding or who wish to combine breastfeeding with bottle feeding – working best for those babies who have not fallen into 'lazy' habits from using another bottle.
Launched in Boots nationwide on Monday 23rd September, the Suckle Feeder was born out of a real need for a product that addresses how – through personal choice, work commitments or for paternal bonding – an increasing number of women do not (or cannot) breastfeed, and even more want to combine breastfeeding with bottle feeding.
· Over 25% of women with newborns do not (or cannot) breastfeed
· Over 50% of women are not breastfeeding at 6 weeks
· Less than 1% of babies are breastfed exclusively at 26 weeks
There are clear and demonstrable health differences between babies who are bottle-fed and those who are breastfed and the Suckle Feeder was developed to combat these and provide a much more natural and safer way of bottle feeding.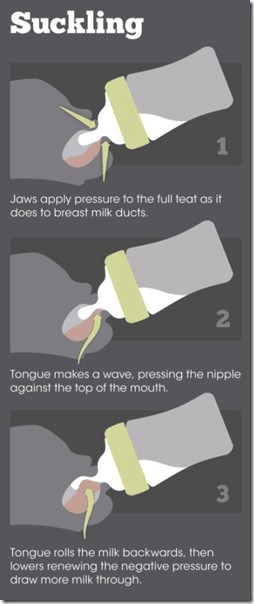 Suckle System
Unlike other bottles, the Suckle Feeder allows the baby to feed on a closed teat, resulting in a more natural suckling based system that mimics the breast. This way the baby can feed in a more upright position and milk is delivered by suckling on the teat, rather than flowing under gravity (as with vented bottles). This leads to improved speech development, reduces colic, overfeeding, guzzling and the risk of feed entering the middle ear or respiratory tract. Helping to avoid over-feeding is important because published medical research has shown that rapid weight gain in the first few months significantly increases the risk of obesity, heart disease and diabetes in later life."
Reducing Air Ingestion
The Suckle Feeder has created a revolutionary, more natural approach to reducing air ingestion that is designed to make the baby feed slowly and actively work. The closed teat means that air cannot be swallowed from inside the bottle. The teat stays filled at any angle and a filter system removes microbubbles of air from within the milk before it enters the teat.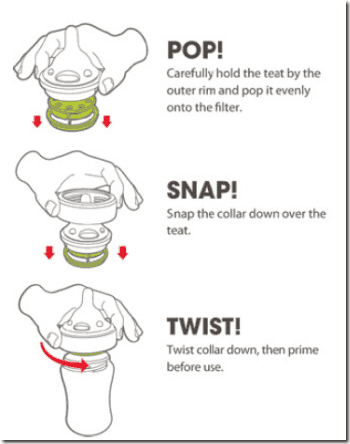 Easy to Assemble
Designed with Mum and Dad in mind, the Suckle Feeder is easy to assemble hygienically at 3 am with a baby in your arms.
Pop! –  Hold the teat by the outer rim and pop t evenly onto the filter.
Snap! – Snap the collar down over the teat.
Twist! – Twist collar down, then prime before use
The Suckle Feeder Technology
Designed by Mandy Haberman, – the pioneering British inventor behind the world-famous Anywayup® cup – the product incorporates:
– The latest research and opinion from a broad selection of pediatric experts
– Extensive computer modelling and analysis from engineers
– Material trials and optimisation
– 2 years of process development for the revolutionary teat
– "Voice of customer" driven design
– Extensive testing
Suckle Feeder is better than a bottle!