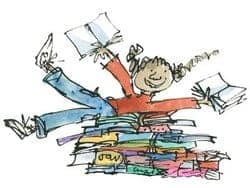 The Ultimate List: 100 Books to Read Before You're 14
Booktrust marks Children's Book Week by unveiling top reads for kids and teenagers
Parents take note: the charity Booktrust today celebrates Children's Book Week, by announcing their definitive list of 100 books every child must read before they're 14.
Drawing from over 90 years' experience of recommending children's books; Booktrust experts selected the final 100 from an initial list of 500 books. They are asking everyone to join the debate and vote online for their favourites from the list (www.booktrust.org.uk/cbw), – with the nation's top books announced on November 25th.
The exciting 100 combines an eclectic mix of traditional classics and modern greats that Booktrust believe are must-reads to fire children's imaginations and turn them into life-long readers. The cut-off age of 14 was chosen as beyond that, children tend to progress to more adult literature.
Perhaps unsurprisingly, A.A. Milne's classic tale Winnie the Pooh has a firm place on the list as a favoured read for the under eights. Published in 1926 it is the oldest book on the list and has been read by generations of children.
Roald Dahl is the most named children's writer on the list, with three books in the selected 100: The BFG, The Witches and Matilda – all illustrated by Quentin Blake. However, perhaps controversially, The Twits and Charlie and the Chocolate Factory are not included.
Further surprise omissions include R.L. Stine's popular Goosebumps, which has sold 100 million copies worldwide and Richmal Crompton's classic nostalgia series, Just William.
And Booktrust is not sitting on the fence when it comes to modern literature. They have made the bold prediction that modern greats like The Hunger Games and J.K Rowling's Harry Potter – which have been turned into global brands, securing millions of pounds for their creators in merchandising and film adaptations – will be classics still read by children for years to come.
Claire Shanahan, Head of Arts at Booktrust, said: "We want to celebrate Children's Book Week by starting a discussion about the very best books for children. We know there will be some debate around the list, and we welcome it! Has your favorite childhood read been left out? Would your child whole-heartedly agree with us, or be dismayed by an oversight? We've tried to include stories for everyone – whether it's an old picture book, a classic adventure story, or a modern tale tackling contemporary issues – the emphasis for us is on wonderful, wacky, and world-changing narratives."
DISCLAIMER: I have not received any payment for this post.