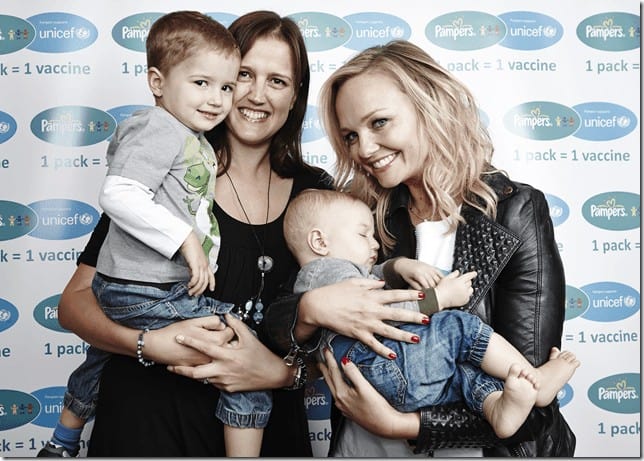 It's time to make a difference: eliminate Maternal and Newborn Tetanus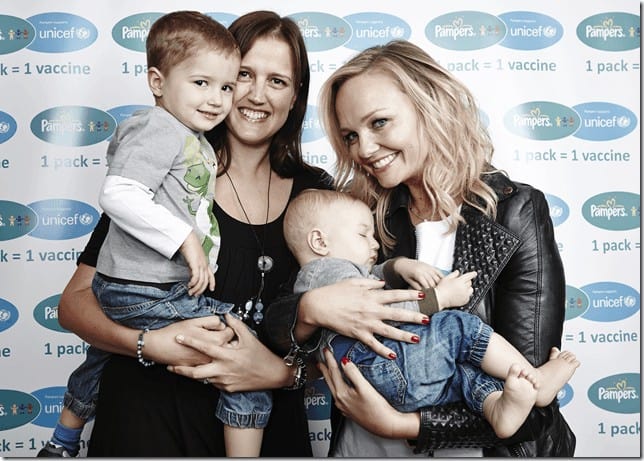 Pampers and UNICEF have come together for their eighth year running in their campaign to eliminate Maternal & Newborn Tetanus (MNT). So far the campaign has managed to eliminate MNT in 10 countries which is a huge achievement but we still have a long way to go.
This time last week, I travelled down to London with my boys, my friend Karin and her son Sammy to meet up with other Mums for Afternoon Tea hosted by 'Baby Spice' Emma Bunton who is this year's Campaign Ambassador with Pampers and Unicef. Last Tuesday marked the beginning of this year's campaign . . .
1 pack = 1 vaccine
For every specially marked pack of Pampers purchased between October and December 2013, Pampers will donate the cost of one vaccine to help UNICEF in the fight against Maternal and Newborn Tetanus. This is your opportunity to save a life and make a difference.
When you become a parent, it doesn't matter where in the world you live, we all have a common dream for a healthy start in life for our babies. I know that, if you're a parent then you know that, Emma Bunton knows that and that's why she was chosen to be the Campaign Ambassador. Emma is Mum to two boys aged 6 and 2, they live a happy family life together here in the UK, they have good access to healthcare should they need it, they have clean running water and electricity. But in some of the world's poorest countries families aren't so lucky with parents having to travel hours and sometimes days in order to access healthcare and basic services for themselves and their children because they live in some of the hardest to reach areas.
Since 2006, Pampers have donated funds for 300 million tetanus vaccines, helping to protect the lives of 100 million mothers and their newborns against MNT. To date this firm partnership has eliminated MNT in 10 of the world's poorest countries: Burkina Faso, Cameroon, Ghana, Guinea Bissau, Liberia, Myanmar, Senegal, Tanzania, Timor Leste and Uganda. This is a huge achievement but the fight isn't over, there are still babies in 30 of the world's poorest countries who are at risk from this fatal but preventable disease.
With the right vaccinations MNT can be so easily prevented yet 58,000 babies still die from this disease each year and today there are approximately 100 million women and their newborn babies who are at risk from MNT.
Ways you can help
1 pack = 1 vaccine
Pampers will donate the cost of one tetanus vaccine to support UNICEF for every specially marked pack purchased during October – December 2013.
During October – December 2013 you can help Pampers and UNICEF to protect women of child-bearing age and pregnant women in the developing world against tetanus simply by viewing/sharing the video below. For every view/share Pampers will donate the cost of one tetanus vaccine to support UNICEF.
UNICEF Pledge Donations
All parents want their children to be secure, well nourished, educate and healthy. By reaching out, you're helping children that need it most, but there are many more who are vulnerable and urgently in need. By becoming a monthly donor to UNICEF today you can join thousands of other parents who donate every month to improve the lives of these vulnerable children. Visit www.supportunicef.org/Pampers to see the difference you can make.
DISCLAIMER: I have not been paid to write this post but I received afternoon tea and my travel expenses were reimbursed.