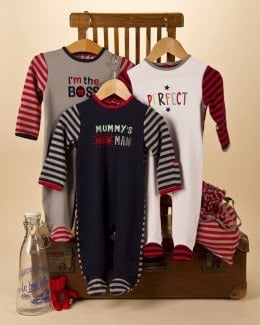 Review: The Essential One Newborn Essentials
Choosing what your newborn baby will wear when they come home from hospital is a big thing, well it is for me. I still have all of Little Bean and Beanie Boy's clothes as they have grown up. I haven't thrown away a single thing although I know now that I have to. The trouble is, I have such a photographic memory that I remember events in time just from an item of clothing so I am keeping certain items in a special memory box.
A few days before Jelly Bean was born I ordered him the short sleeved bodysuit below which says "Finally Arrived" on it because although he was only 5 days late I felt like I had been waiting ages to meet him. As you can see, he needed to grow into it!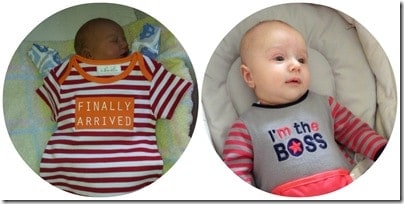 When it came to choosing something for Jelly Bean to wear, I didn't want to go for the traditional baby blue colour, I wanted something a little more funky, something more bold and then I saw some lovely Newborn Essentials sets from The Essential One. The bodysuits all come in the gorgeous red/grey stripey bag which I now use to store Jelly Bean's spare outfits in my changing bag for emergencies.
Being my third baby you would have thought I would have learnt about how small babies are when they enter the world but no I didn't! I ordered size Newborn which were still miles too big for Jelly Bean so sadly he wasn't able to wear them when he came home from hospital but within a couple of weeks they fitted perfectly.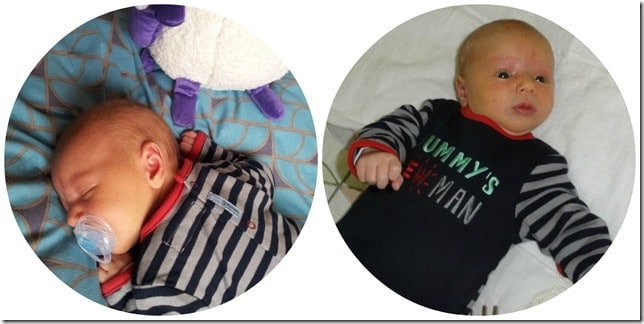 The first thing I noticed about the bodysuits, other than just how cute they were, was how snuggably soft they are. The fabric is thick and supersoft with the poppers up the back which gives them a totally different look to others from the front. Initially I didn't think I would like the poppers up the back but actually I do, I lay Jelly Bean either face down on his changing mat for a little tummy time or I lay him across my knees, either way he is more than happy. The sleeves have turn over cuffs which double up as scratch mitts so you don't need to worry about them falling off every five minutes and they protect their little faces from their sharp finger nails when they have no real hand control.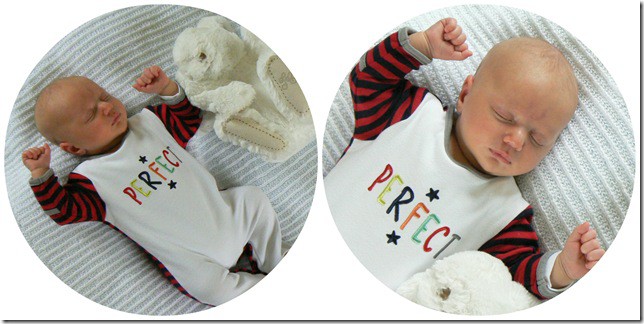 My only problem with the suits from The Essential One is that Jelly Bean is growing at such a rate that he has just about grown out of them now but the positive in that means I have an excuse to get back on their website and find him some new ones!
DISCLAIMER: We were sent the Newborn Essentials Trio Set for the purpose of this review. All words and images (apart from the first image) are my own and may not be used without my permission. My views are honest and I was not instructed what to write.