Review: Baby Bjorn Baby Carrier Miracle
I have always been a fan of babywearing and during my time as a Mummy I have worn various different baby carriers, they all have their advantages and disadvantages but the Miracle from Baby Bjorn is the cream of the crop.
Good support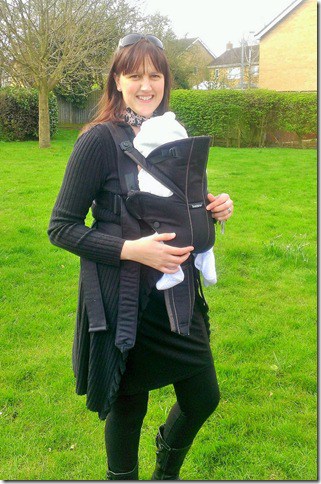 Having gone through three pregnancies and being in a car accident some years ago my back and shoulders aren't as strong and healthy as they once were, not only do babies and children get heavy but lifting pushchairs in and out of cars, carrying moses baskets up and down stairs and even carrying a changing bag can take it's toll so if you decide to try babywearing for yourself it's important to get a carrier that really supports your back and helps to spread the weight.
Miracle by Baby Bjorn
The great thing about the BabyBjorn Miracle carrier is that it can be adjusted to each person using it so that the pressure of carrying a baby can be either spread equally between the back, shoulders and waist or you can transfer the weight to the stronger area to take pressure off weaker areas. Some days I really struggle with neck and shoulder pain and so I loosen the shoulder straps which allows the waist belt to sit on my waist/hips to let them take the load. As a result, I am able to wear the carrier for longer periods.
The straps are all wide and padded which again helps to spread the pressure around and makes the carrier more comfortable for both you and the baby, all adjustments for comfort can be made from the front so you don't need a team of helpers to make the adjustments for you. I was alone when I first received the carrier and being excited by its arrival I put it on straight from the box and adjusted it to fit me with no help from anyone else. Hubby and I find it far easier to share this carrier than we did with previous carriers because it is so easily adjustable. There are no internal seams so no nasties to rub babies' delicate skin and yet keep them safe, secure and comforted by your closeness.
Why use a baby carrier?
I used a baby carrier right from birth with each of my tiddlers for two reasons; the closeness with my baby and the convenience of being able to pop the carrier on and not have to mess about with a pushchair. It gives you the freedom to explore places that aren't readily accessible with prams and buggies. You can still go for those long family walks in the woods or down on the beach. When Beanie Boy came along I would carry him in a baby carrier whilst still having Little Bean in a pushchair and now it's Jelly Bean's turn to snuggle whilst Beanie Boy rides in the pushchair and Little Bean walks alongside. It makes life so much easier for me. I often use the Miracle carrier for doing the school run because car seats are waaaaay too heavy to carry back and forth between the car and school.
How long will it last?
The Miracle baby carrier can be used from birth providing the baby is over 8lbs/3.5kg in weight. In fact, the carrier was designed alongside paediatricians to ensure that the needs of a baby were being met. As the baby grows you adjust the buckle on the inside of the front of the carrier (whilst not wearing the carrier) according to the baby's height measurement. When I first tried to adjust this I thought it was broken as it was so stiff but when I looked at the literature for the carrier it said that it is intentionally stiff for safety reasons. The recommendation is that the carrier can be used until Jelly Bean weighs approximately 26lbs, at approximately 15 months.
The carrier comes in a range of colours, mine is Organic Brown/Black and I love it. It's definitely my favourite carrier to date.
Miracle Baby Carrier Discontinued
Unfortunately, the Miracle has now been discontinued. Of course, that doesn't mean you can't still have a Baby Bjorn baby carrier, there are new designs that you should consider:
Baby Bjorn One Air
The Baby Bjorn Carrier One Air has a wide leg position, 4-way front and back carrying, and a front-facing option. It is perfect from newborn to 3 years old.
The ergonomic carrying position in the Baby Carrier One Air supports babies' natural spine shape, which will help them develop strong muscles for sitting independently earlier than using another type of carrier.
The 4-way front and back carrying option is the easiest way to carry a baby on your back when you are doing chores around the house. The front-facing option allows you to closely interact with the baby while he or she is facing you.
BabyBjorn Baby Carrier Harmony
BABYBJÖRN Baby Carrier Harmony is a carrier that can be used from birth and up to 3 years. The carrier has an ergonomic design that is comfortable for both you and your baby. There are also hip-friendly positions for your baby, which allows them to sit more comfortably. This feature takes the strain off of their legs, hips, and back.
The BABYBJÖRN Baby Carrier is adjustable with different settings for the babywear depending on what stage they are in. You can also use it hands-free or as a backpack if you need to do things like cook dinner or go grocery shopping.
BabyBjorn Baby Carrier Mini
BABYBJÖRN Baby Carrier Mini is a small, easy to use baby carrier for newborns. It can be used facing in or facing out. It is perfect for the first baby carrier since it is low in weight and has no adult-size adjustments.
It can be used from 0 to 12 months, meaning it may even last the whole first year after your newborn's birth! The carrier has an adjustable seat width that can grow with your child until they are about 3 years old.
DISCLAIMER: I was given the Baby Bjorn Miracle Carrier for the purpose of this post. All words, opinions and the main image are my own and may not be copied without my express permission. I was not instructed what to write.