Review: Samsung Techwin Baby Monitor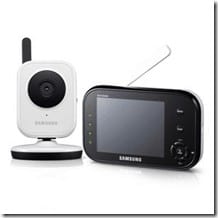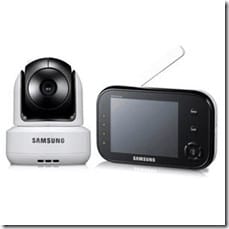 Being a new parent can be daunting, I'm sure I am not alone in saying that I have spent many an hour whilst my babies have been sleeping just 'checking' on them. Feeling their chest for a heartbeat or looking for the rise and fall as they breathe. From the moment they are born you worry about them but the worst time in the early weeks and months is during the night when you need to catch up on sleep yourself. If you're sleeping, who will watch over the baby for you? Samsung Techwin will, that's who!
In March this year, Samsung Techwin released two new baby monitors to its growing range of security products, the SEW-3036W and the SEW-3037W. Both monitors are sleek in design and feature a super-bright, colour VGA resolution screen (640×480) 3.5 inch wireless LCD video monitor and a separate compact wireless camera. The pocket-sized monitor is lightweight and powered by an internal rechargeable battery, it has a belt clip which means parents can be hands-free so they can get on with their jobs around the house and garden whilst the baby is sleeping during the day.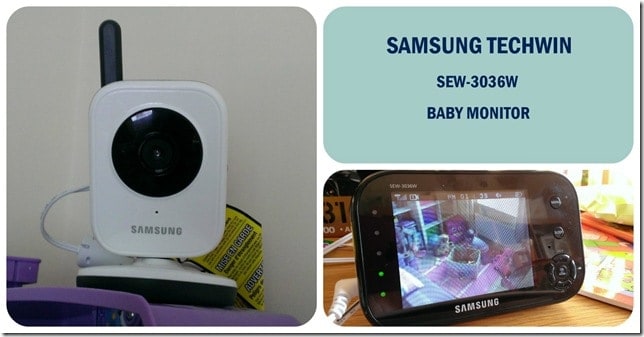 What is really clever about the Samsung Techwin baby monitors is that you can attach up to four cameras per monitor. I love this feature as with three small children I need eyes everywhere and moving the camera from room to room can be a struggle, it's hardly as though the children stay in one room for a period of time. With four cameras I can have one in each of their bedrooms and one in the playroom. It's a blessing when it comes to resolving the arguments of "she pushed me" or "he pulled my hair" because I can see it all in action. These are baby monitors which can be used long past the baby days, they can even be used as your own home security system if necessary. The cameras feature infra-red night vision which means that you can see everything even in the darkest of rooms, then during the day, the screens are full colour.
A two-way audio system means that you can talk to your child through the monitors which is a brilliant way of reassuring your child if you are trying to reduce contact with them once they have gone to bed but you don't want them to feel like they have been abandoned.
The monitors are purely digital which means they produce crystal clear audio with no interference from wireless routers, microwaves or cordless phones. The very first monitor we purchased for Little Bean was taken back to the shop the following day and exchanged for something better as the interference was so bad we couldn't hear Little Bean when she cried at all.
We have been testing the SEW-3036W for the past couple of weeks which has been very impressive. The SEW-3037W has an added feature that would be perfect to use in a larger room. The camera has the ability to pan, zoom and tilt so you can look everywhere in a room that you want/need to.
To extend the battery life of the monitor units there is a useful 'sleep' mode where the screen remains off but if the baby cries or makes a sound, the monitor will spring into action so you can see immediately what is happening.
We are big fans of Samsung in the Mummy Matters household, they produce high-quality technical equipment which doesn't let you down and when it comes to looking after our children, we want that kind of reassurance.
The Samsung SEW-3037W and SEW-3036W wireless baby monitoring systems will be available in the UK at the beginning of February with a RRP of £145, SEW-3036W and RRP £159, SEW-3037W. Additional cameras are also available to purchase, for the SEW-3036 users require the SEB1019 RRP £85.00 and SEW-3037 users require SEP-1001 RRP £105.

For more information please visit http://www.samsungsecurehome.eu
DISCLAIMER: I was loaned the Samsung Baby Monitor for the purpose of this post. I did not receive payment and was not instructed what to write. All words and images are my own and may not be copied without my permission.