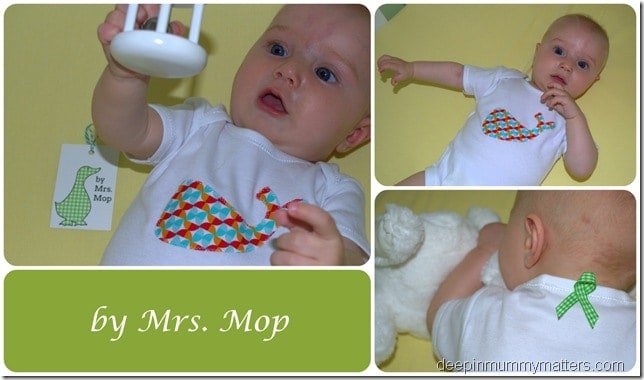 Review: by Mrs Mop – handcrafted baby clothing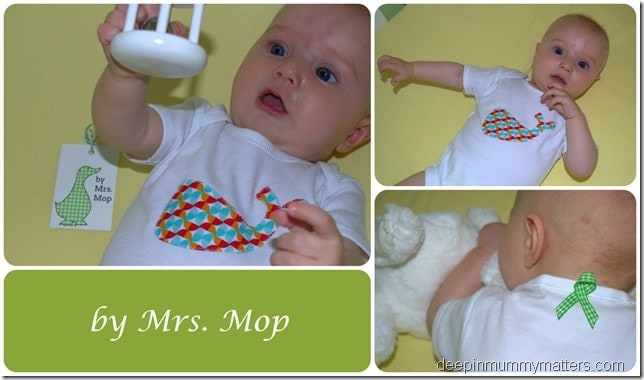 Being a full-time Mum myself I often dream of one day starting my own business and the obvious thing for me would be crafts as I love the feeling of creating something that others will love and cherish. One Mum has made that dream come true; Claire McCormack is a full time Mummy who decided to leave her career in order to focus on her nearly 18 month old daughter and follow her love of crafts to set up her business called 'by Mrs Mop'.
All designs are hand-drawn by Claire and then appliquéd using a variety of new and vintage fabrics and ribbons, making them limited editions and unique.
Claire sent Jelly Bean this really cute vest with a colourful whale on the front. I was really pleased to see that she hadn't used a 'cheap' vest which loses its' shape after just one wash and the colours from the whale do not run. It's the small details which I like; the cute little ribbon on the back of the neck and the gorgeous green gingham tag which makes it look special. I would be happy to receive a gift like this for my new baby and equally would definitely buy one as a gift if I knew of anyone with a new baby.
If you are looking for a gift for the new tiny person in your life then do head over to by Mrs Mop, Claire currently has vests, t-shirts, bibs and door hangers in her collection, all at great prices and absolutely beautiful! My new favourites are the Baa Baa Black Sheep vest and the Cheeky Monkey t-shirt.
DISCLAIMER: We were sent the Wally the Whale vest free of charge for the purpose of this post. All words, images and opinions are my own and may not be copied without my permission. I was not instructed what to write and my views remain honest.