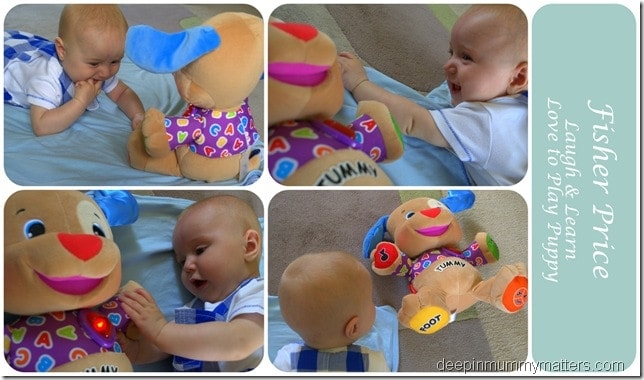 Jelly Bean's loving Fisher Price!
It has never been a secret on Mummy Matters just how much we love Fisher Price products, in fact it feels like part of the family so it makes sense that as Jelly Bean is becoming more interactive with his toys that he too should have fun with Fisher Price too.
Laugh & Learn Love to Play Puppy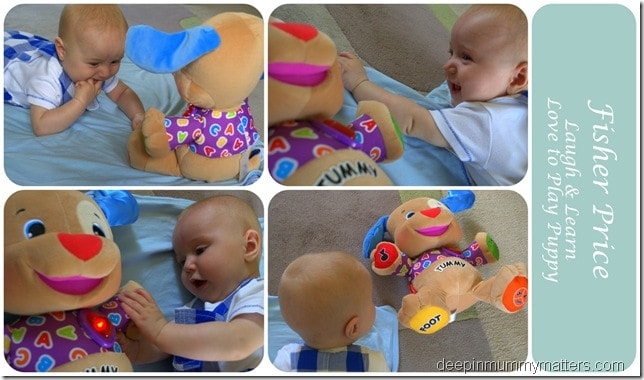 At the moment Love to Play Puppy is almost as big as Jelly Bean so I thought he might be a little daunted by him but as you can see from the pictures, he was an instant hit. I think Jelly Bean will be able to interactive with Love to Play Puppy once he is able to sit up himself, at the moment he is loving the brightly coloured spots on his hands, feet and t-shirt. Every now and then he will manage to trigger the music or words when playing with a hand or foot.
Love to Play Puppy is designed for ages 6-36 months so there is plenty of aspect for play with him, for now I think he is just someone to carpet wrestle with but as he grows Jelly Bean can learn body parts, colours, ABCs and counting as well as enjoying the music. It's great for developing his fine motor skills, learning nursery rhymes such as Itsy-Bitsy Spider, Pat-a-Cake, This Little Puppy Went to Market and more. I think there is every chance that Love to Play Puppy will become a firm friend of Jelly Bean's over the next few years.
Laugh & Learn Animal Friends Book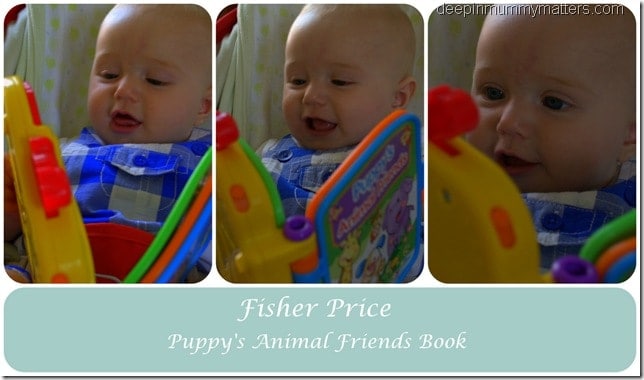 You're never too young to enjoy a good book and these pictures just prove that. The bright colours, friendly faces and music really entertained Jelly Bean. Again this is a toy he will be better able to enjoy once he is able to sit unaided but for now he is having lots of fun sitting on Mummy's knee as we sing the songs together, read the book, turn the pages and rotate the wheel on the side.
A roll of the wheel on the side of the book gives you the options of sing-a-long learning songs and animal sounds. Turning the pages with the easy-to-grab tabs is great for developing motor skills and hand/eye coordination. The story can be played aloud or turn it off and find an adult (or older sibling) to read for them. Sliding the bookworm along the top of the book allows you to play peekaboo with Puppy and hear fun sounds and phrases.
Suitable for ages 0-12 months.
Laugh & Learn Puppy's Piano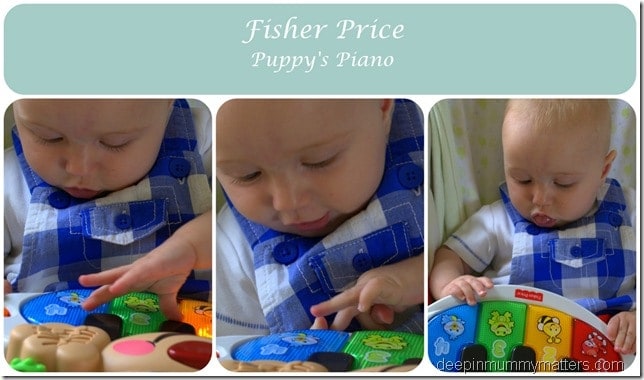 A love of music is pretty much a pre-requisite if you want to be part of the Mummy Matters' family, we have music playing every single day, I think it's great for lifting your spirit and getting you moving. Jelly Bean is already a lover of music and will laugh and smile at Mummy and the tiddlers dancing around the house looking silly.
Puppy's Piano is perfect for little hands with it's large, brightly coloured keys which light up when they are pressed teaching cause and effect. They each have friendly faced characters and numbers on them to enhance the learning experience. Puppy's Piano features 3 modes of play; sing-a-long songs, ditties and phrases introducing colours, counting, animals and more; music mode and at the flick of a switch Spanish mode so even Mummy can get an education too!
This is another great toy for developing motor skills. It is aimed at children aged 6-36 months so again is a toy made to last.