Ravensburger 3D Puzzle Buildings Review
Ravensburger is famous for its amazing range of puzzles for children aged 0-99 years and in particular the Ravensburger 3D Puzzle range which includes famous buildings from Around The World. We love a challenge and so were excited when not one, not two but FOUR Ravensburger 3D Puzzles landed at our door to review.
Within each box, you will find all the pieces you need to build an amazing 3D Puzzle as well as an Instruction Booklet which has only pictures because they really do not need very much explanation. At the back of the instruction booklet, you will also find a little write-up about the history of the building which is fun to discuss with the children if you are doing it as a joint project.
Ravensburger 3D Puzzle – One World Trade Center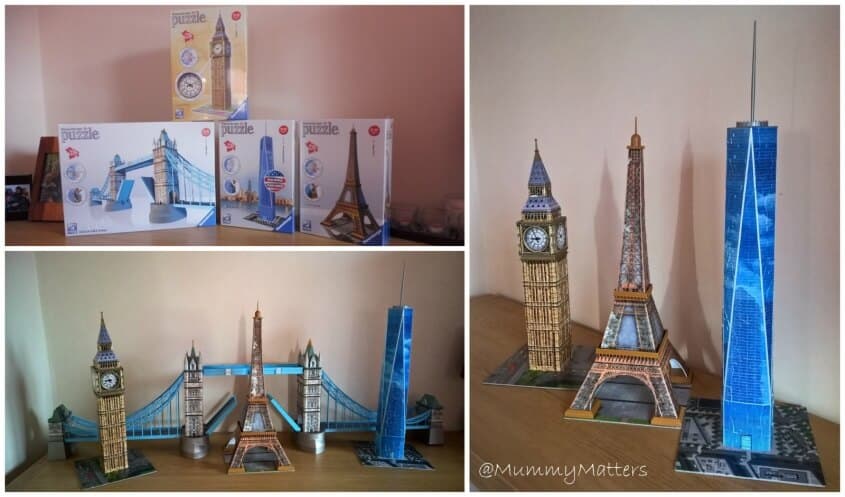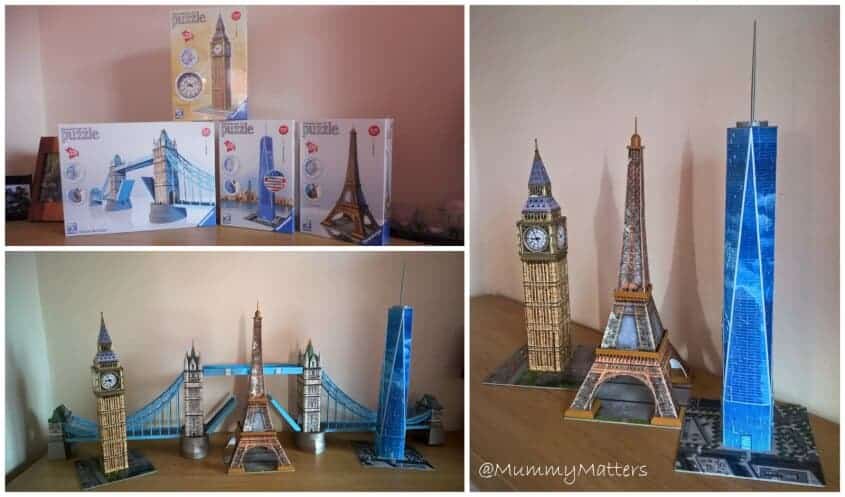 Curly was the first to get stuck in, choosing to make One World Trade Center. This wasn't Curly's first 3D puzzle so he knew what he needed to do and set to work quickly. Each puzzle has 216 pieces and each puzzle piece is numbered on the reverse with an arrow pointing to the position of the next piece of the puzzle. If you wanted to really challenge yourself then you can ignore the numbers and build the 3D puzzle by matching the picture side. I'm afraid we were not feeling that brave so we followed the numbers to build our puzzles.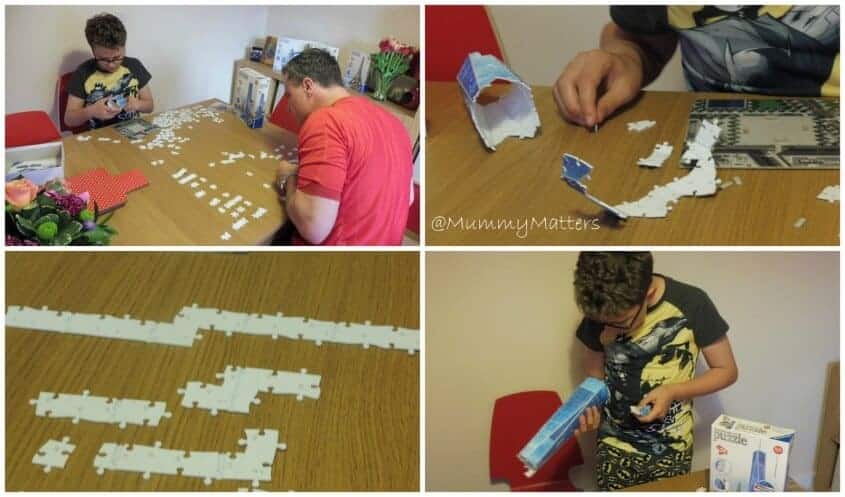 Curly said he enjoyed building One World Trade Center and completed it with relative ease. Some of the corner pieces which require bending can be a little tricky and require some patience so Daddy had to step in and lend a hand.
Ravensburger 3D Puzzle – Big Ben and Clock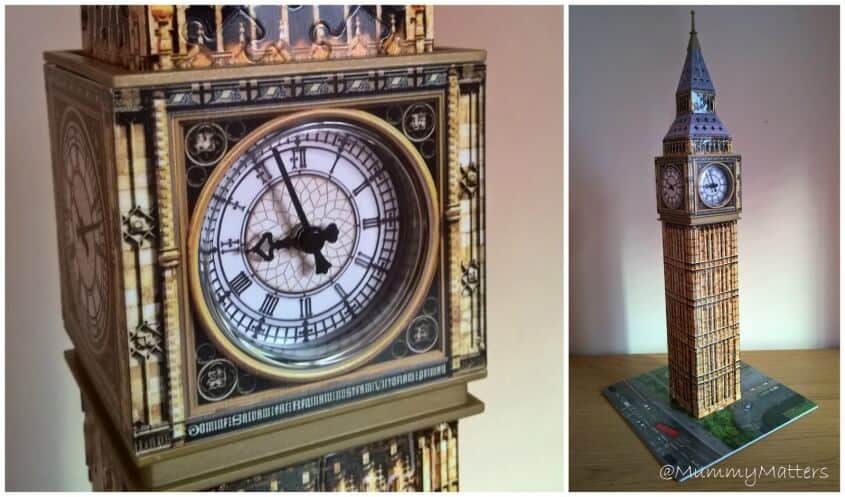 Next up Curly chose to make Big Ben and was really impressed that it featured a real working clock. On the whole Curly found Big Ben quite easy to build until he reached the pitched sections at the top and then he had to call in the reinforcements again for a little help with the fiddly bits. I think Big Ben is my favourite of the four buildings we received because of the detail in it and the working clock, although if the clock isn't your thing you can also put a puzzled face there.
Over the weekend, Hubby and I decided to have a bit of fun with the Eiffel Tower and Tower Bridge so we set to work on them independently as a race. Hubby chose Tower Bridge which left me with the Eiffel Tower.
Ravensburger 3D Puzzle – Eiffel Tower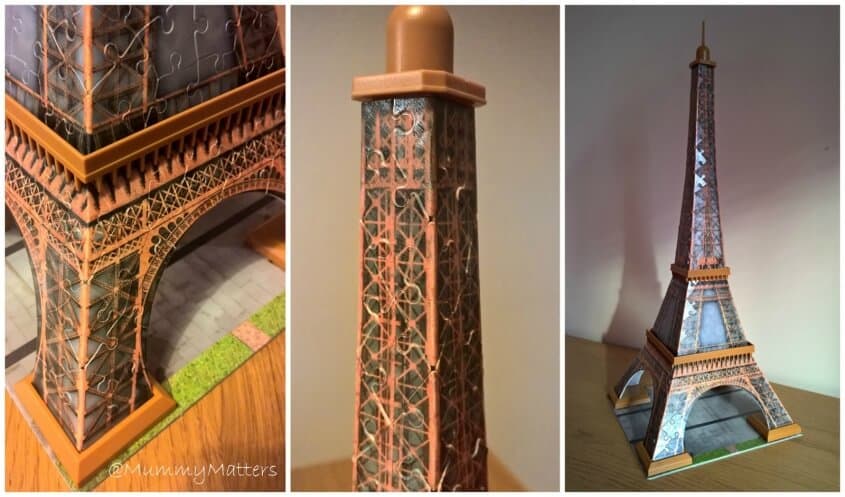 Rather than diving straight in with my puzzle pieces, I like to work through things methodically so I began by making rows of numbered pieces 1-10, 11-20, 21-30 and so on to 100. That way I was able to quickly link my pieces together and felt like I was achieving something. It took longer in the initial stages but when it came to the building I was able to just pick up my next piece and move on. Once I reached 100, I put the semi-complete tower down and worked on organising the remaining numbered pieces into rows once more.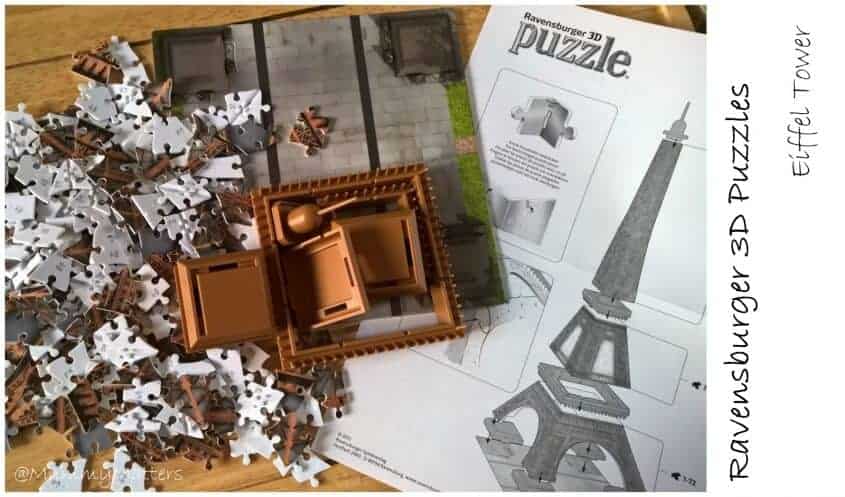 The four feet, two platforms and the observation deck are pre-formed and just slot into place to hold the 3D Puzzle structure together and add the finishing touches.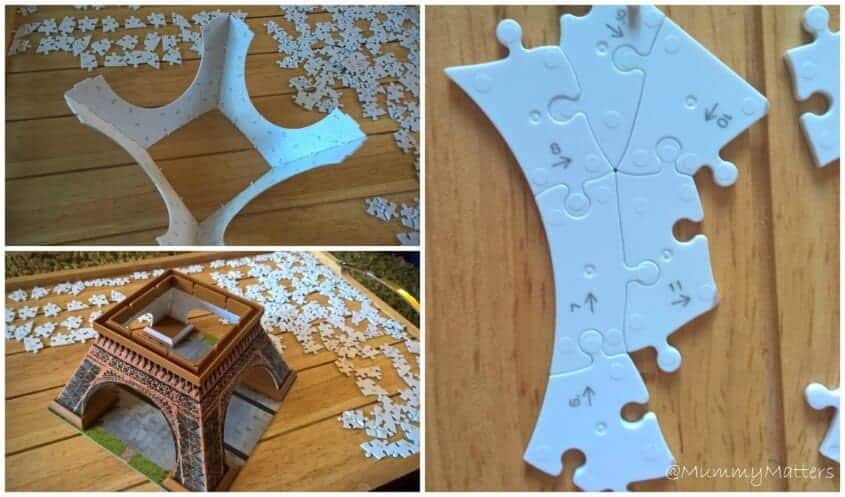 I must admit the higher up the Tower I went it did get very fiddly on the narrow top section when it came to joining the corner pieces which have to be bent in half but the pieces are quite robust and do not break. I did manage to ping a few pieces off by trying to push too hard to fit the last few pieces in but I wasn't about to be defeated and with a little patience and concentration, I completed the Tower before Hubby.
Ravensburger 3D Puzzle – Tower Bridge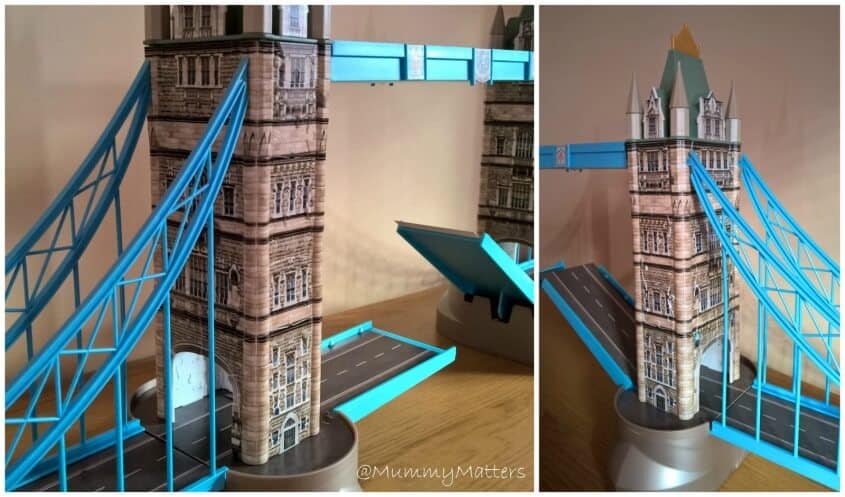 Hubby and I tackle things very differently but that doesn't mean that either of us has a better way. Hubby set to work first on bending all of his corner pieces and clicking them into place so they stayed in form. Next, he selected numbered puzzle pieces that were close together as he discovered them and then fitted larger sections of the puzzle together which formed the Towers quickly.
The Ravensburger 3D Puzzle Tower Bridge has four 'Towers' which need building separately and then they are joined together with the preformed section of bridge which includes the four bases, the roads, bascules, high footway, side spans and Tower roofs.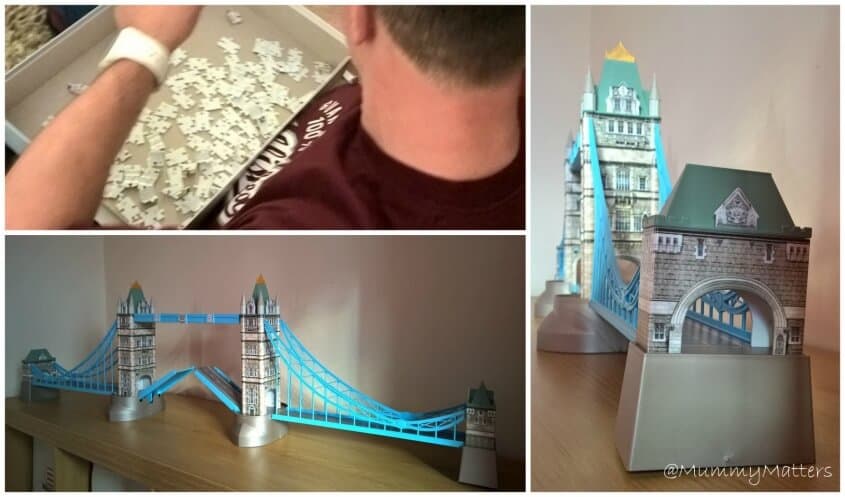 I don't think Hubby would mind me admitting to you that he may have uttered a few naughty words when connecting the side spans and high footway to the Towers as the pressure used to push them into the holes did make some puzzle pieces ping off but we got there in the end and then we both think the end result is extremely impressive. The finished 3D Puzzle Building is very long-standing at 117.4 cm x 46.2cm.
Other Ravensburger 3D Puzzles
If you have a love of architecture and buildings from around the world there are some amazing buildings in the range, some of them even light up which adds a further dimension to the puzzles. I really like the Brandenburger Tor and the Empire State Building.
DISCLAIMER: We were sent the above puzzles for the purpose of review. All words, images and opinions are my own and may not be copied without my permission. I have not been instructed what to write.