Our Luxury Spa Break at QHotels Nottingham Belfry
As my 40th Birthday was fast approaching I knew that I wanted to have a little girlie getaway with family and friends but I wanted to keep the cost down so that others were able to join me. I asked around for recommendations of places to visit for a one-night spa break and was told to check out The Nottingham Belfry which is part of the QHotels group.
QHotels Nottingham Belfry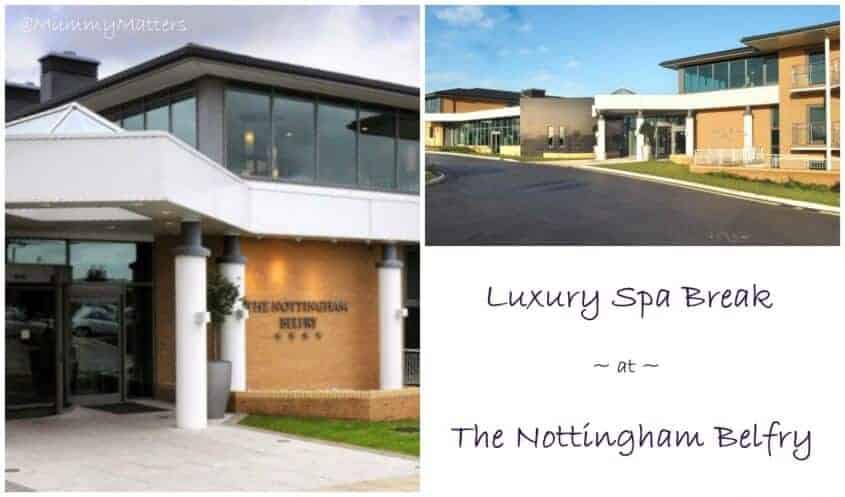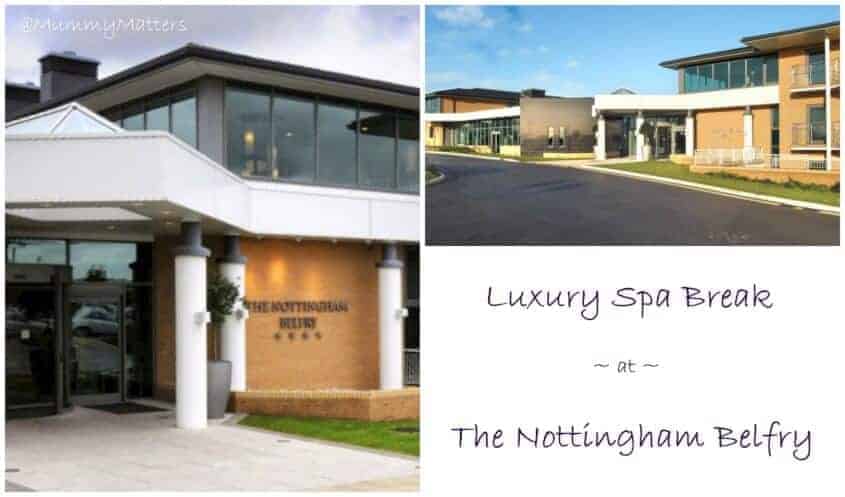 I immediately liked their website because it was easy to navigate with quality images and a good choice of spa break options. We booked the Luxury Spa Break which at the time of booking cost us £120 per person and this included lunch, dinner, overnight stay and breakfast as well as one 60 minute spa treatment or two 30 minute spa treatments.
Booking the break was easy, you could call their booking hotline and make the booking with a real person on the end of the line. When I made the booking they were also able to book in all of the treatment times so that their spa times were secure and tried to get as many of the bookings in at times as close as possible to each other.
Checking In
We just happened to arrive at the hotel at the same as a large hen party so we had a little wait on our hands whilst they booked in and since a few of us were booked into the spa shortly after our arrival we needed to sort our bags out in the reception area so that we had all we needed for the spa. We had assumed (wrongly) that the lockers in the spa would be big enough to take our overnight bags too so if we go again we would pack an overnight bag and a separate spa bag.
Spa Treatments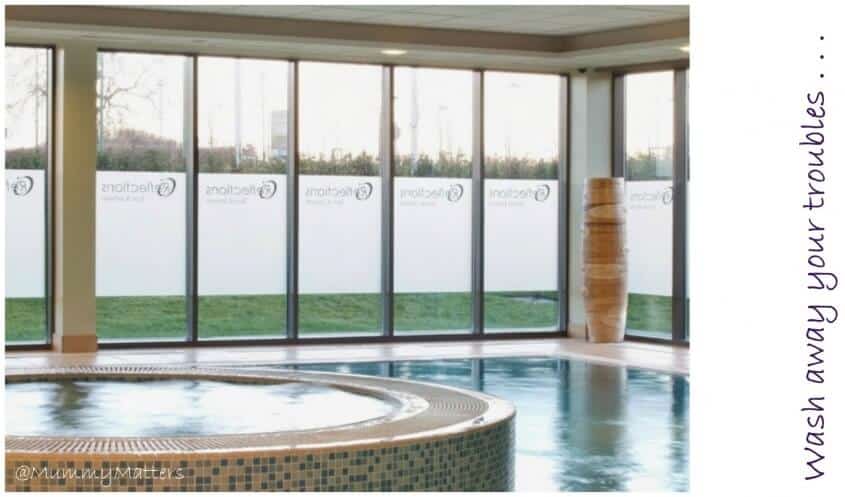 Included within the price it says you have 60 minutes spa time but this is actually 10 minutes of consultation and then 50 minutes of treatment OR 10 minutes consultation and 2 x 25-minute treatments. There are ample treatments to choose from and the slightly confusing thing that we found was that we thought we had to choose AND book our treatments before we arrived at the hotel but you will be given a list of treatments available when you arrive at the spa and can make your choice when you are there.
The Spa Rooms are very calm and luxurious, exactly as you would expect from a spa room and the staff are all very and make you feel immediately at ease. We did all agree that we didn't really like the brown robes though, they are extremely unflattering so I ditched mine as soon as I'd had my spa treatments in favour of a Kaftan instead.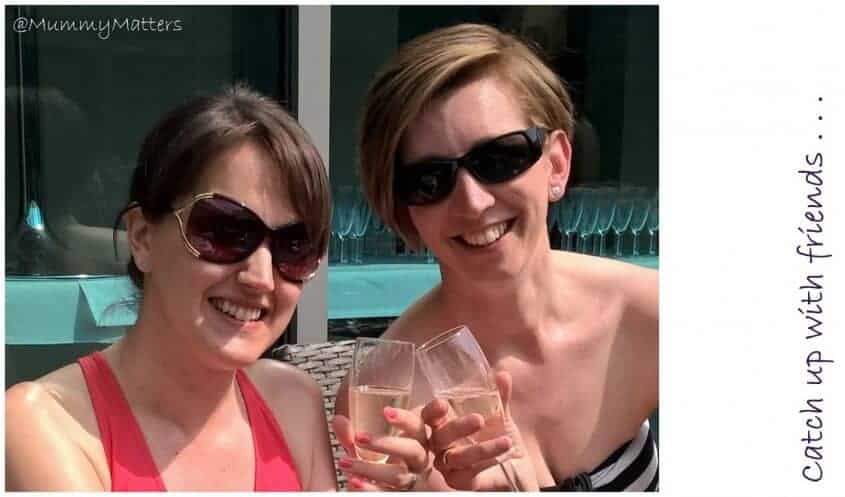 I opted for the Fit for Business Back and Leg Massage which was blissful. I suffer lots of headaches as a result of neck and back problems thanks to a car accident nearly 20 years ago so a neck and back massage is always my first choice of pampering treatment. My masseur, Emma, listened carefully to what I wanted from my massage and was keen to get the pressure right so as not to hurt me but also for me to feel the benefit of my treatment. I came out of my massage feeling relaxed and just a tiny bit sore from all the knots she had to iron out of my tense muscles.
Since it was my birthday I also treated myself to a Facial and Foot Massage. The facial was supposed to include an Indian Head massage but I didn't fancy having oily hair so we skipped the head and concentrated on my neck and shoulders a little more. As for the foot massage, pampering at its finest.
Facilities
The only thing which I felt let the QHotels Nottingham Belfry down a little was the lack of space around the poolside, there were only a handful of loungers and since I had been told that I should try to leave my oils on my skin for as long as possible I didn't go in the pool, steam, sauna or Jacuzzi. I just wanted to sit and chat with the girls so we ended up in a side room called the Chatterley's which is a darkened room with beanbags on the floor. There were drink making facilities but sadly these hadn't been topped up so when I arrived there were no cold drinks available. We asked at reception for some jugs of water to be brought in but they didn't arrive for 40 minutes.
Food Choice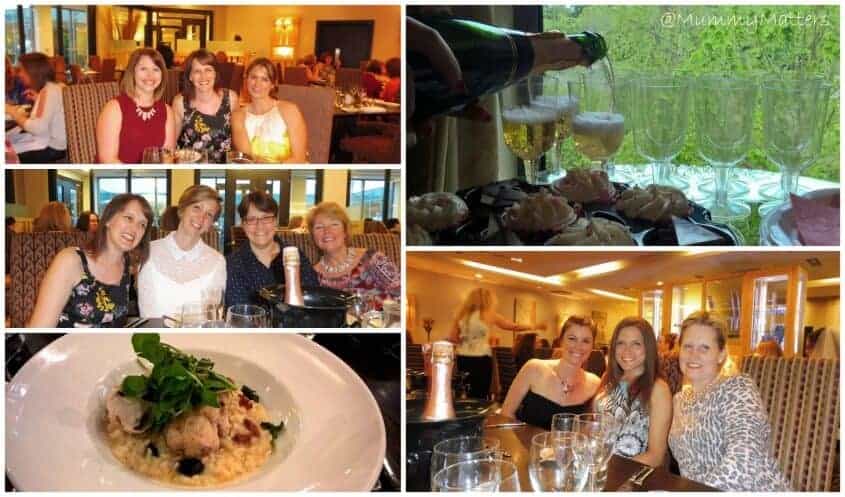 Lunch was buffet style and I really couldn't fault it at all, there was ample choice of foods, all healthy, topped up regularly and it tasted delicious. The restaurant itself was spacious with large comfortable chairs. The waiting staff were really friendly and helpful.
Whilst eating our lunch we were given a menu choice for the evening so that we could all select our evening meals and tell them our booking time. There was such a good selection to choose from it took us ages to decide exactly what we wanted and I still ended up returning to the restaurant in the afternoon to change my selection.
In the end, I chose a Chicken Risotto which was mouth-wateringly delicious. The portion sizes were really big too, I perhaps should have only eaten half of my meal but it tasted so good I finished the whole bowl!!
Breakfast the following morning was just the job after a night of a little more alcohol than we would usually drink on a night out. A continental-style buffet breakfast with cereals, full English, fruits, cheese, meat, pastries and as much tea, coffee and juice as you could drink.
Outside Spaces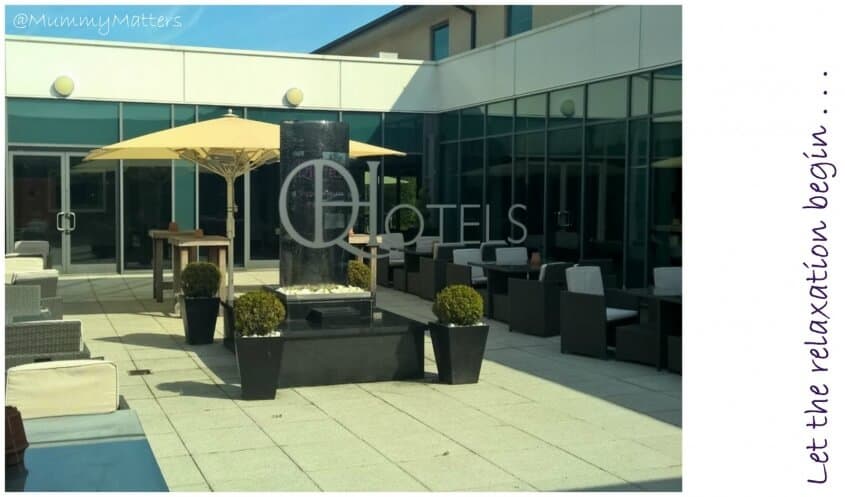 We were lucky enough to be staying on a very hot weekend so we were eager to find outdoor spaces to relax in the sunshine with a bottle (or more) of Prosecco. At the front of the hotel (near the car park) was a small patio area with tables and chairs to relax in the sunshine but we already had our eye on the central courtyard with rattan sofas, chairs, tables and parasols. This was PERFECT for relaxing and we stayed there for most of the afternoon.
Accommodation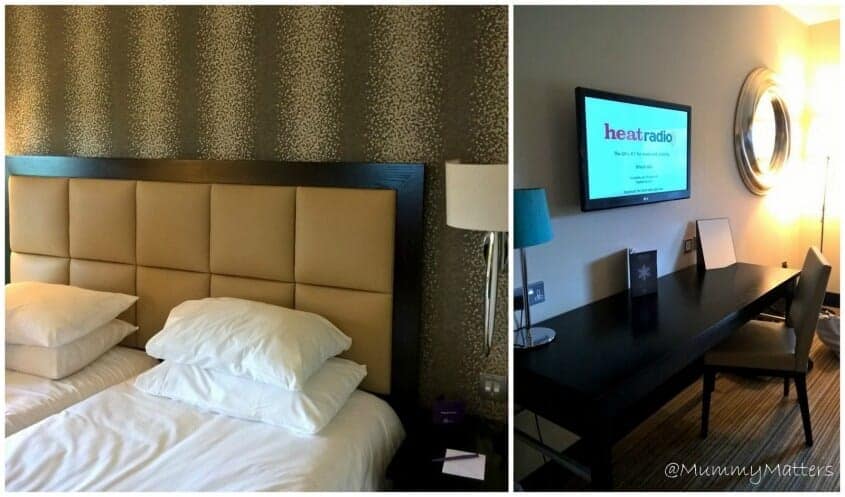 The QHotels website stated that check-in would be at 3.30 pm so we kept popping back to the Reception to see if we could check-in. The staff were very friendly but they said that the hotel had been fully booked the previous evening so they were running behind. In the end, we didn't manage to get checked in until nearly 4.30 pm. We did receive a few bottles of Pink Bubbly to make up for the delay which was much appreciated and definitely helped to get the party started.
The interior décor was finished to a high standard and the beds were sooooooo comfortable. One of our party even took the details of the beds and pillows as they were eager to buy the same for their home!
Our bathroom had a large corner shower as well as a bath which we really liked. The corner shower made a lovely change from a shower over the bath which you often get in hotels.
Other features which made a nice finishing touch to the room were the two comfortable lounge chairs and table, the iron, ironing board and trouser press, the hairdryer, large wardrobe and drink-making facilities.
Value for Money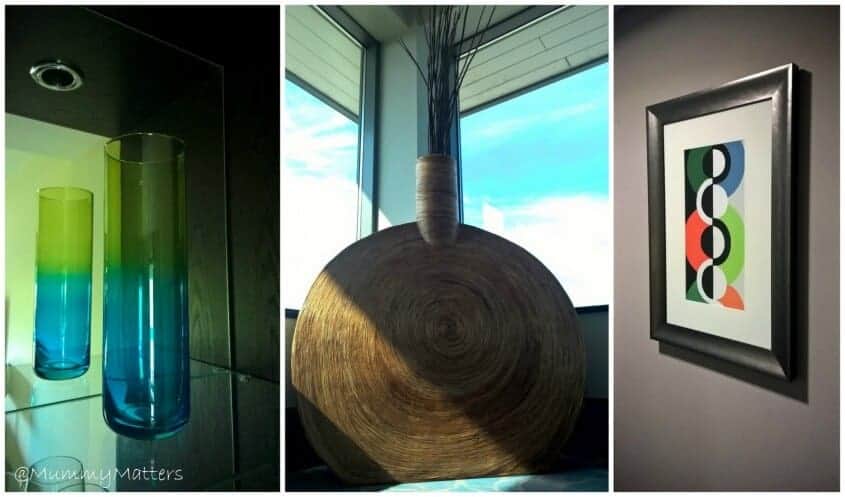 We all agreed that whilst there were just a few minor things which could have made everything perfect the value for money was fantastic and we wouldn't hesitate to try a QHotels Spa Break again.