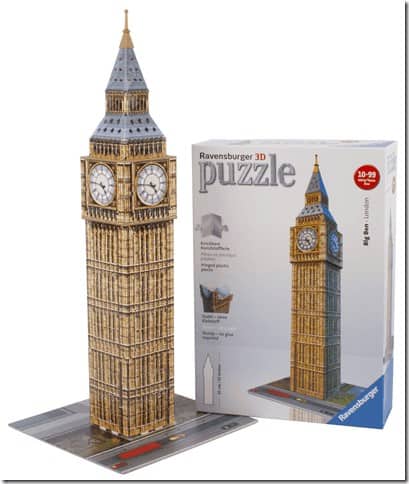 So when is a puzzle not a puzzle? When it's a 3D puzzle of course! Sometimes just doing a plain old flat picture puzzle isn't challenging enough for some people and so that's where the Ravensburger 3D puzzles become THE present to buy this Christmas. Hubby once told me that his Mum used to have a tradition every Christmas of putting a puzzle on a table over the Christmas period and has people were passing by or having a chat over a glass of mulled wine they would just pick up the odd bits of puzzle lying around and pop them in place so that the puzzle became a group venture. I like ideas like that, I like the thought of people doing things together over the festive season because it is the perfect opportunity for families and friends to come together.
A Ravensburger 3D puzzle is a great gift for someone who wants that extra challenge and something impressive to show for their time at the end and if they just so happen to be a fan of building structures or even just a fan of London then what could be better than Big Ben.
The puzzle pieces are made from a tough plastic which clicks together to help form a solid structure (without the need for glue) and if you're feeling a little flummoxed by the puzzle don't worry because the pieces are all numbered too which helps a lot with a structure like this one where the pieces tend to all look very similar at the bottom of the tower.
Other puzzles in the series include; The Eiffel Tower, The Empire State Building and a red and white Lighthouse. Each puzzle has 216 pieces and retails for approximately £20.