Ravensburger Marvel Avengers Infinity War 100XXL Puzzle
This week it was Ollie's turn to receive a surprise parcel in the post and he was extremely excited when he opened it to see the words Marvel Avengers Infinity War on a Ravensburger puzzle box. We are a family of Marvel fans and we are especially looking forward to seeing Infinity Wars.
Ravensburger Marvel Avengers 100XXL Puzzle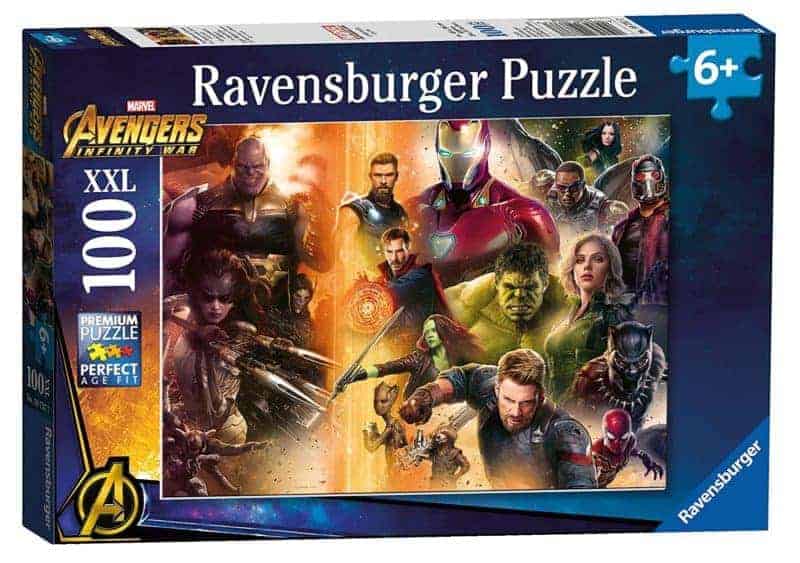 Ravensburger is the name in jigsaw puzzles and we have quite a hefty collection which regularly keeps us entertained on chilled days at home. The 100XXL puzzles are high quality 100 piece cardboard jigsaw puzzles with extra-large pieces for children aged 6+ years.
Marvel Avengers Infinity War
"Iron Man, Thor, the Hulk and the rest of the Avengers unite to battle their most powerful enemy yet — the evil Thanos. On a mission to collect all six Infinity Stones, Thanos plans to use the artifacts to inflict his twisted will on reality. The fate of the planet and existence itself has never been more uncertain as everything the Avengers have fought for has led up to this moment."
Ollie gets stuck in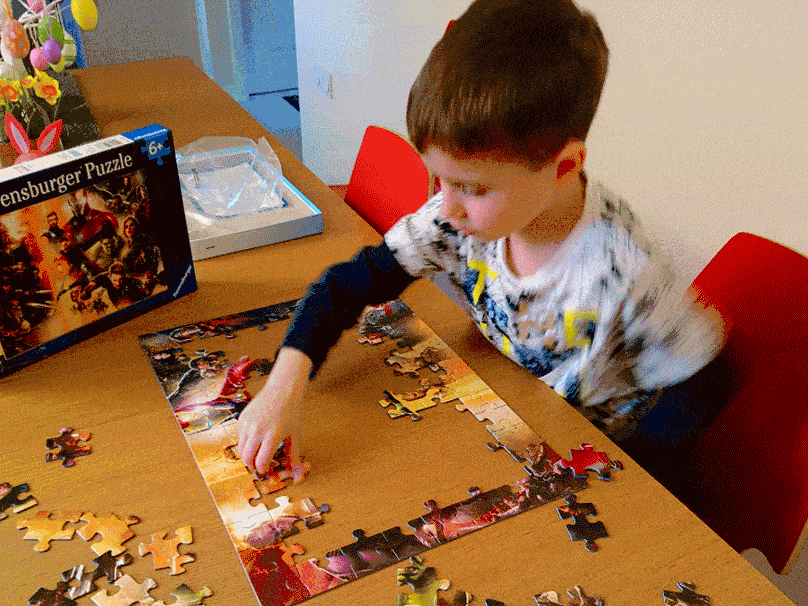 When Ollie opened the puzzle he began sorting the pieces into 'straights' and 'curves' so that he could begin with the outer edge and was able to do this very quickly. I love to see how different people tackle a jigsaw puzzle, I tend to work in colours and search for pieces of a similar colour before studying the picture. I have noticed others who look for specific piece shapes and edges but for Ollie, it was his knowledge of the characters which helped him to complete the puzzle with ease. He knew to look for specific parts of their suits or weapons which enabled him to quickly spot the pieces he was looking for.
The completed puzzle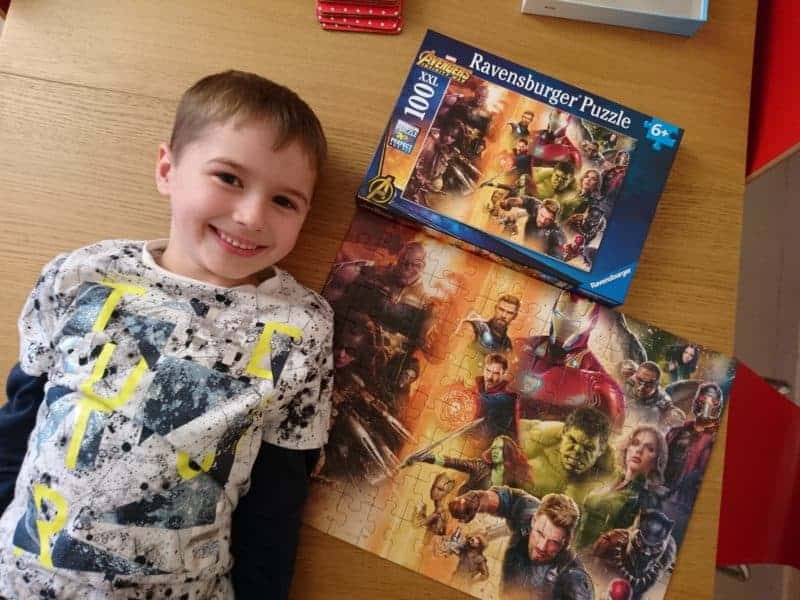 The finished puzzle looks very impressive and has a lot of detail for a child's puzzle. Ollie really enjoyed getting stuck in and has actually completed it another 4 times since he first opened the box. He has even challenged Lillie to a 'puzzle off' with her Ravensburger Inside Out puzzle to see who could complete their puzzle first.
Puzzle benefits
In the modern age of technology, I love that my children still enjoy taking time away from screens to do jigsaw puzzles which help to exercise their brains. We had lots of fun during October half term doing Halloween puzzles together on a rainy day. When I read up on how a puzzle helps children to development I discovered it helps in the following ways:
problem-solving
develops cognitive skills
exercises fine motor skills
hand-eye coordination
good for self-esteem
DISCLAIMER: Ollie received the jigsaw puzzle in exchange for our honest opinion. All words, images and thoughts are my own and may not be copied without my permission.