Playhouses are full of fun!
DISCLAIMER: We were given a discount on purchasing this playhouse for this review. All words, opinions and photographs are my own and may not be copied without my permission.
When I was a little girl, one of my favourite things to play with was my playhouse, a little plastic construction made of push together poles and a tent-like canopy over the top with a sliding door. I could never have dreamed of the gorgeous wooden playhouses that are available for our children today.
The lure of playhouses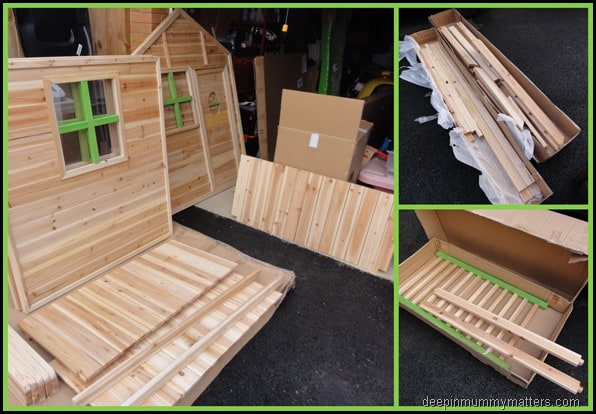 Since we moved to our new house, the second we let the children play outside, they disappear to our neighbour's houses to play because they have wooden playhouses in their gardens and both Curly and Little Bean loves them!
We have been hoping to buy a playhouse for our garden in an effort to try to tempt the children to play at home instead (with their friends of course!) and last weekend we finally made the purchase and bought Pinewoods Den Wooden Playhouse from Playhouses.co.uk
Ready, Steady, Go!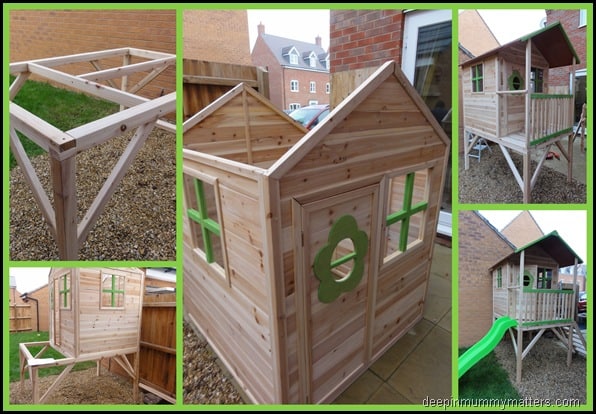 Pinewood Den Wooden Playhouses
The playhouses are really well packaged and come complete with full written instructions, which are fantastic if you read them before you have a go at building your playhouse. Hubby got a little carried away in the beginning and didn't take into consideration that there were different lengths of screws, and subsequently, we had to take the base apart and start again once we realised that he had been using the wrong screws!
The second time around building went much smoother, and the use of an electric screwdriver is definitely recommended to make the job a little easier on your hands.
Once completed, the Pinewood Den Wooden Playhouse feels really strong and sturdy and has perspex windows to give them a little protection from the elements. We have put some rubber matting down on the floor inside the house to make it a little cosier for the children and I am going to make them some curtains.
The children's faces were a picture when they first clapped eyes on their new playhouse, and Beanie Boy insists on climbing steps, walking in the house, shutting the door and then coming down the slide every time we leave the house (yes, it's getting tiresome already!).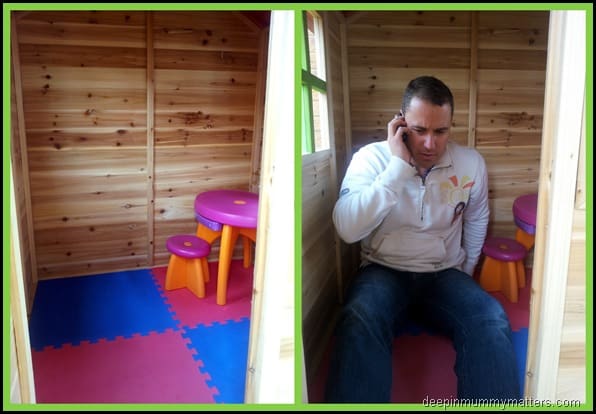 Even Daddy likes it, somewhere for him to hide when he's in the doghouse!
Just in case you've considered buying one of these before but think it would be too difficult to build, we recorded our build for you to see that it's easier than you might think!