That's the spirit . . .
I don't know about you but I love the run up to Christmas, especially now that our house is full of children, they just make it all so much more special and exciting. As Christmas draws nearer I love taking the children to all kinds of Christmassy events to make it special for them. Last weekend we were invited to "The Big Switch On" but this was a big switch on of a different kind. This was no shopping centre or town switch on, this was to witness the switching on of the Christmas lights at someone's house. This someone in particular works at Citroen in Peterborough, part of the group of franchises where my Hubby and my Mum work so we were invited along.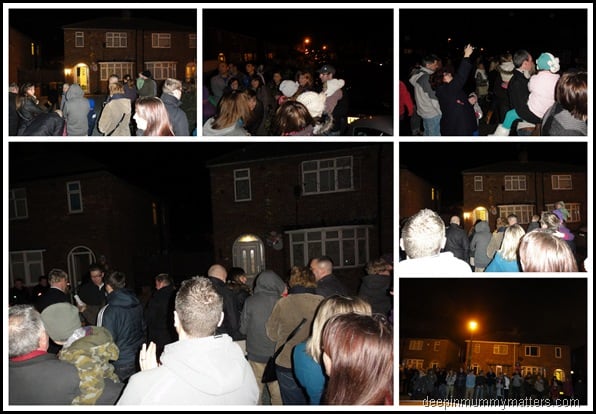 This might all sound rather strange but there is a reason that John invites everyone to his house at Christmas to see the lights being switched on. A couple of years ago John's father-in-law passed away after a battle with cancer and so now John and his wife raise money for Macmillan Nurses and Sue Ryder Care at Thorpe Hall in Peterborough. This year they had a record turnout of people from friends, family and neighbours. There was a brass band playing, fireworks and even guest appearances from Grant McCann from Peterborough United and no Christmas celebration would be complete without the main man himself, SANTA!!! All children received a small gift from Santa and everyone who came to watch donated money to the two great charities whilst having a thoroughly enjoyable night out – just the way we like it!