Feed their imagination with a Playhouse
Collaborative Post
When I think back to my childhood, I can still remember my Playhouse (or Wendy House as they were known when I was a child). I didn't have a wooden one; I had a plastic red and yellow one I loved. I would forever be taking my dolls and teddies into it for tea parties and playdates. It featured a lot in my childhood. Likewise, when Little Bean was 3 years old, we had a raised playhouse in the garden, which she and Curly played in constantly; it was their pirate ship, their home, their schoolhouse and a space ship. It literally kept them amused for hours on end. The only reason we sold it was that as the Beans continued to get bigger and then Jelly Bean was born, it became apparent that our playhouse wasn't going to be big enough for four children, and Curly was getting too big for the playhouse on the whole.
How to Choose the Right Playhouse
So how do you choose the right playhouse for your child(ren)? They aren't always the cheapest things to buy, but I promise you they will be worth it. I've rarely heard of a family who has bought one that their children haven't played with. I would suggest the first place to start is looking at your child's play 'style', favourite films and characters. Do they have a love of Pirates, Space Ships, Princess Castles?? If you are short on outdoor space, then you might want to choose a fold-away playhouse that can be packed away when space is needed. Choose a raised wooden playhouse to add height to a garden, create a further play space underneath (perhaps somewhere to add a sandpit), or add the fun of a climbing wall and slide. If cost is an issue, then plastic playhouses are a good affordable option. They are sturdy, brightly coloured and will last for years. There are lots of options for boys and girls.
Playhouses for Girls
I have always found it easier buying things for girls than I have for the boys, but perhaps that's my little girl within. WhatShed.co.uk have found some beautiful playhouses for girls in their new league tables feature. Whether you are looking for something lightweight for indoors like this Enchanted Garden and Fairy Woodland Playhouse or a little more sturdy for outdoors like the BillyOh Gingerbread Playhouse with Bunk and Picket Fence, they have got it covered.
Playhouses for Boys
Despite its name, I think the Emma Axi Playhouse is a great little 'crooked house' for boys and girls; it conjures up images of faraway places. I imagine cowboys living on a ranch retreating to a house like this. Or perhaps the Shire Jailhouse, with boys I often find that play always resorts to the good guys and the bad guys, so what better than a jailhouse to lock away the baddies!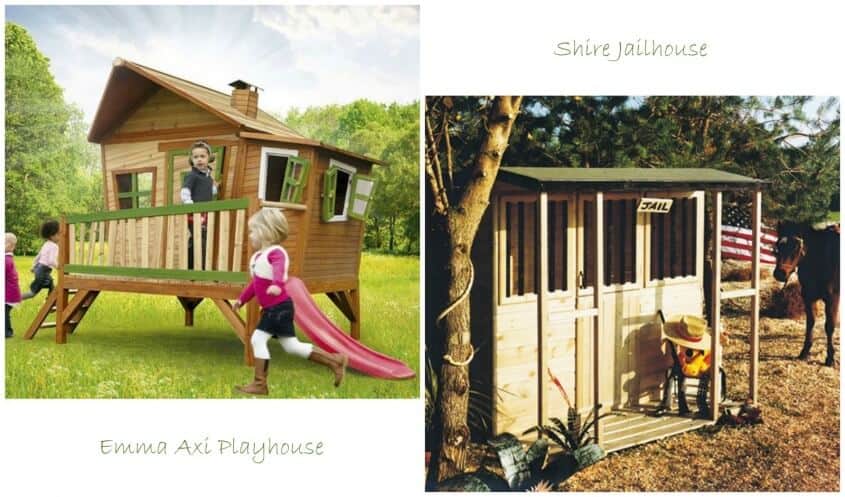 Alternative Playhouses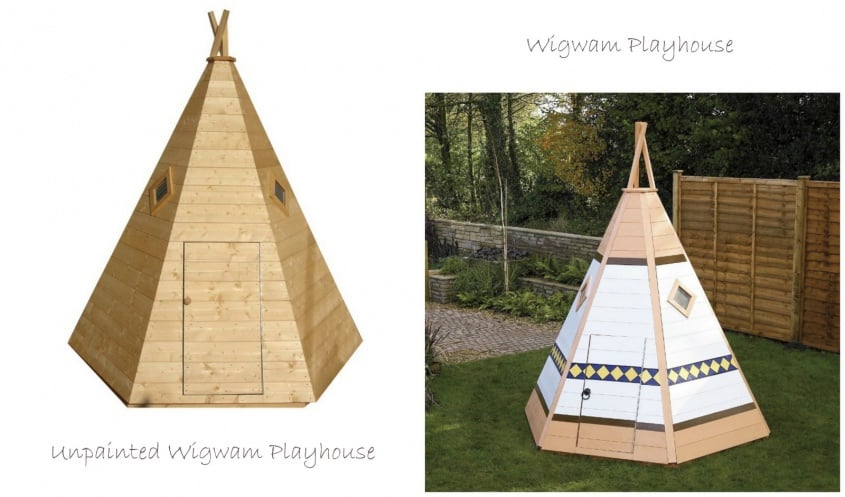 We have a small collapsible Wigwam which the Beans love to play in whether they are inside or out. This wooden Wigwam playhouse would be perfect for a game of cowboys and Indians or pretend they are at a festival like the Beans often do. As adults, we only see what is in front of us, but children see so much more. I would love to buy the unpainted Wigwam and let the children paint it themselves; they could repaint it every year as their imaginations develop.
When searching for the perfect playhouse, you need to do your research, check out sites like WhatShed.co.uk to see what they have found. They have done much of the hard work searching for a dream playhouse, so you don't have to. Then once your playhouse is in place, all you have to do is sit back and relax . . . or summons up your inner child and play alongside your children.